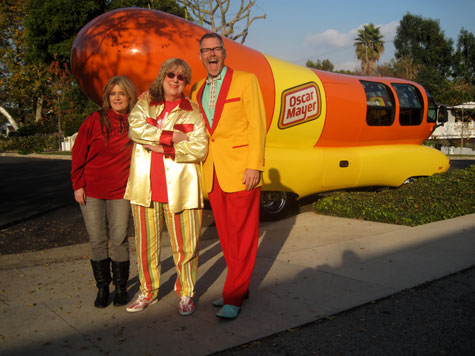 If you're just jumping aboard The Wienermobile, please exit through the rear and check out Part 1 of my adventure with Susan Olsen,a.k.a. Cindy Brady, and Charles Phoenix, without which Part 2 lacks context. Wagging the tail without the (hot) dog as it were.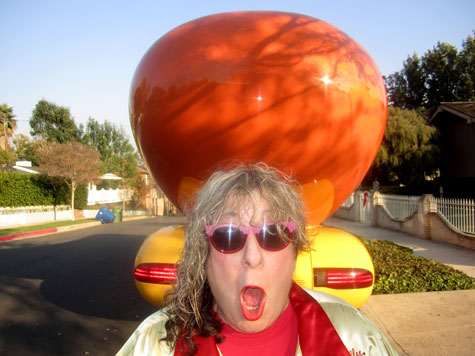 Now, assuming you've fully digested part 1, join us aboard the Wienermobile as we head east from the Brady Bunch house…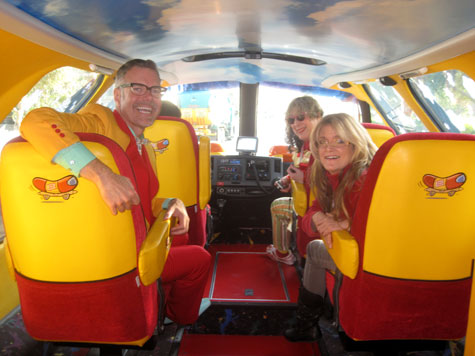 …to another iconic wiener in  the neighborhood, Larry's.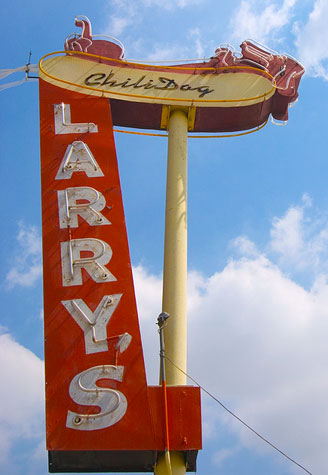 The Wienermobile ate up quite a lot of real estate in this four- table parking lot eatery.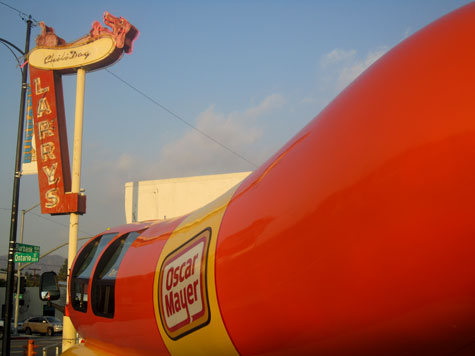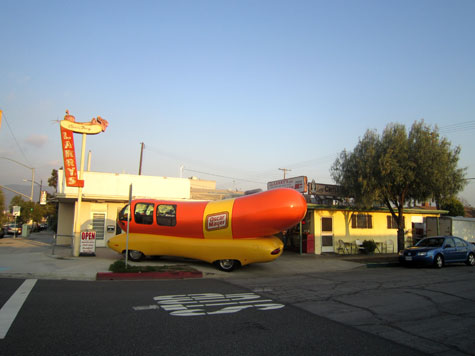 So we turned the vehicular wiener towards another vintage hot dog-related gem a few blocks away:
Isn't this where you would go if you were a hot dog?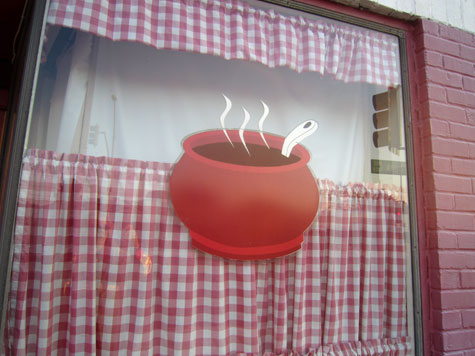 We knew Chili John's has very early hours but we jumped out anyway, praying the chili palace still might be open: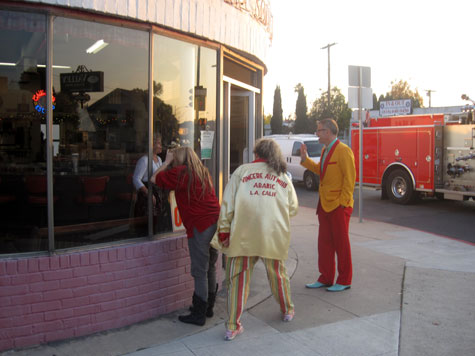 If you haven't been to this place, spit out your food and head there now. It's as authentic as the day it was born in 1941: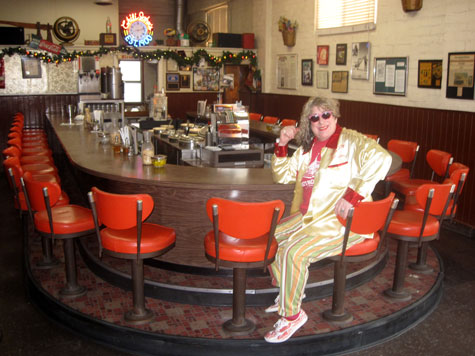 The counter is (perfectly and beautifully) makes up the entire restaurant.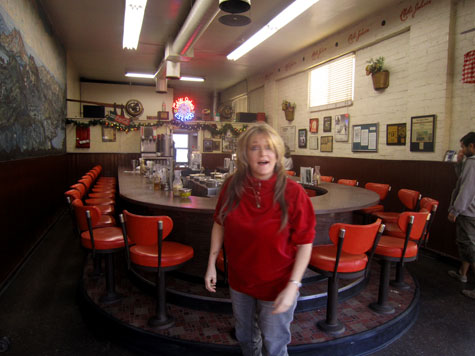 You can see the handpainted mural that runs the length of the restaurant better in this shot with Charles: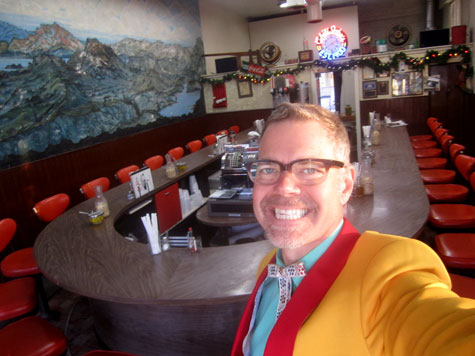 Up close it's apparent that the artist, Mr. Chili John himself, captured each and every crevice of the exploding Vesuvius terrain as possible. Perhaps this was to illustrate the constant lava-like flow of chili that runs through his namesake establishment daily.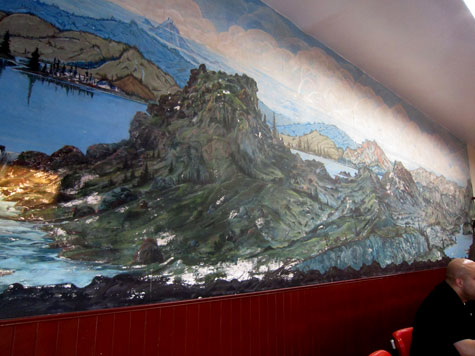 While we were there, there was an incredible photo opp for The Wienermobile: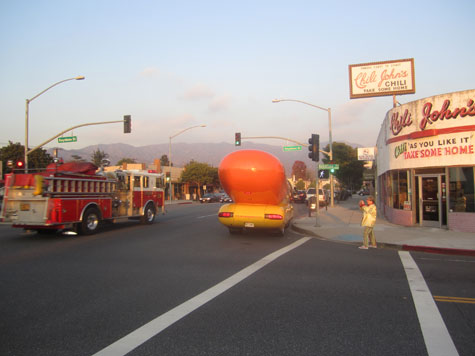 With hot dogs and chili under our belts, it was time to move on to burgers. Very few food symbols are as iconic as The Wienermobile, but surely the Big Boy at Bob's a few blocks away on Riverside has an equal place on the mountaintop.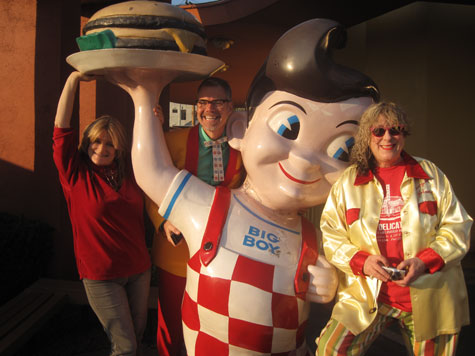 The sheer magnitude of these two sculptural icons together was overwhelming for kitsch lovers such as ourselves.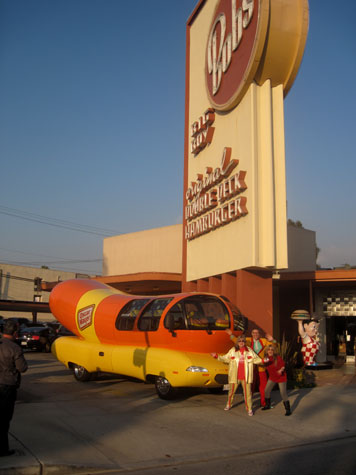 So we took lots of photos: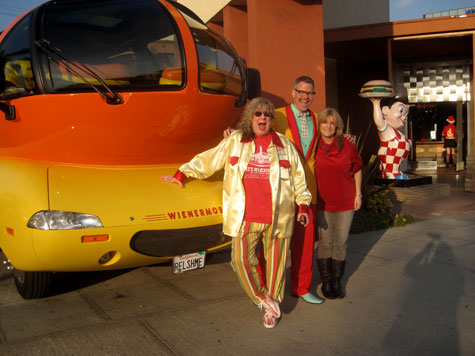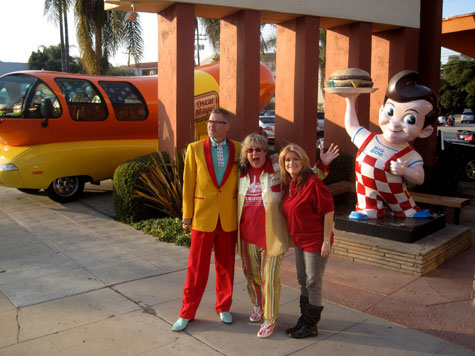 But, alas, the sun was starting to set and there was one place we knew we had to hit while The Wienermobile was still under our control: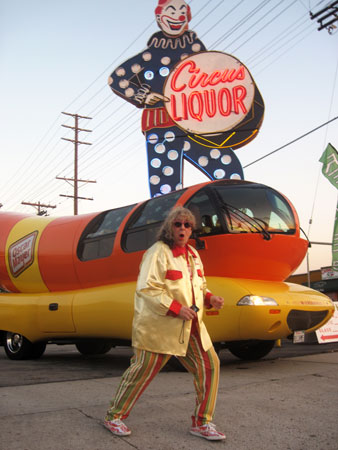 The Circus Liquor neon clown, on Burbank Blvd. just west of Chili John's, has been in countless movies and tv shows, not to mention I've dropped coin in there every time I need a bottle of anything, just so I can visit the clown.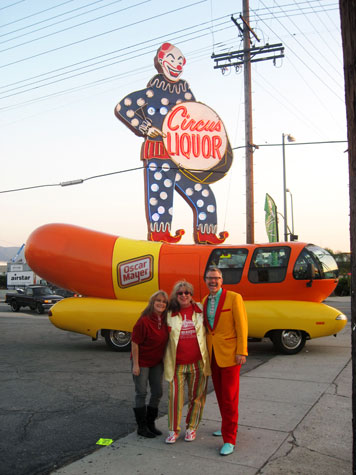 The height of the Wienermobile was an INSANELY perfect fit. If only the clown were permanently mounted on top of it.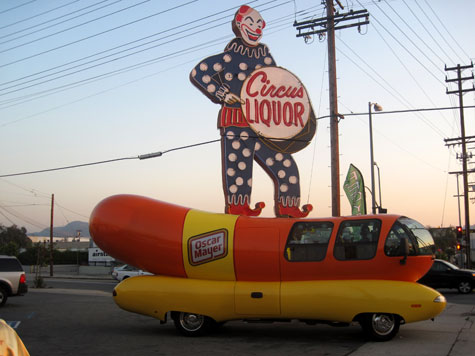 With the evening approaching fast we headed back to Willis Wonderland,…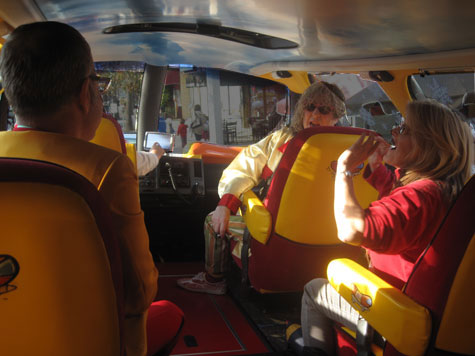 …already upset that our Wienermobile afternoon would soon be but a memory, albeit one grilled into our braincells forever.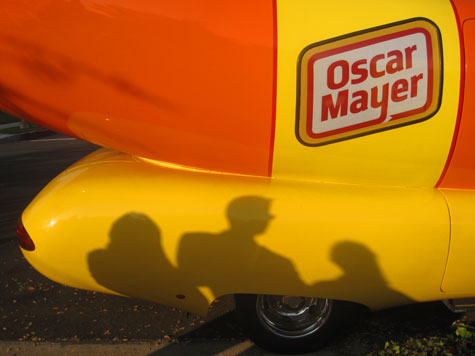 When we dislodged from The Wienermobile we got some parting gifts: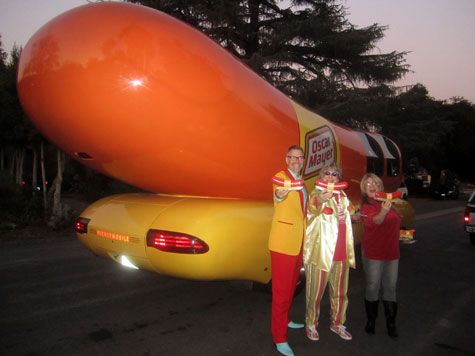 Some Wienermobile whistles, some of which were glow-in-the-dark, a plush toy Wienermobile, as well as this larger plastic one: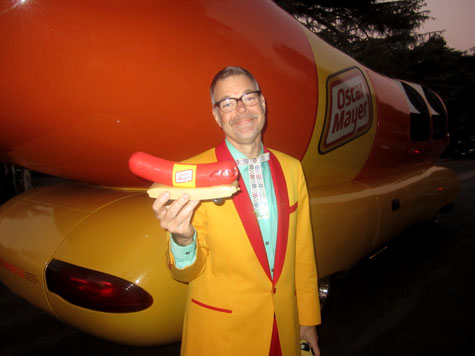 It was like we had all been dropped out of a time capsule. I'm someone who likes to have a good time but once I'm done with an activity I gotta clear the house and get back to work. But it was as if we all knew that when we separated we would somehow have to settle back into reality, hopefully just little bitty pieces at a time, that's how strong the magnetic pull of the Wienermobile was for all of us. So was only natural we sat down to a hot dog dinner to extend the wiener coma we were all in.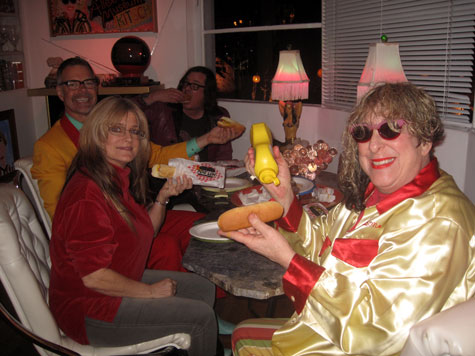 The dogs were cooked, as I said in part 1, on my newly acquired 1958 golf ball barbecue: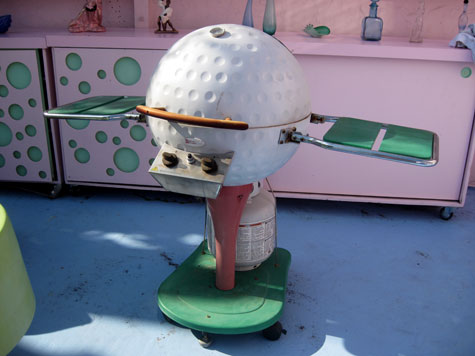 It was comforting to have such statuary in the yard, softening the blow of the departed Wienermobile as it disappeared into the night.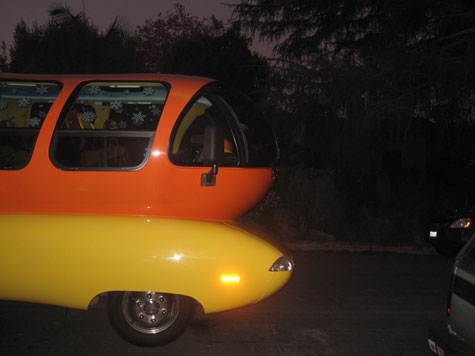 Thank you, Hot Doggers Traci and Yoli. You drove the Wienermobile like it was a delicate little Smart Car and put up with three drooling adults for longer than anyone deserves to be in ecstasy.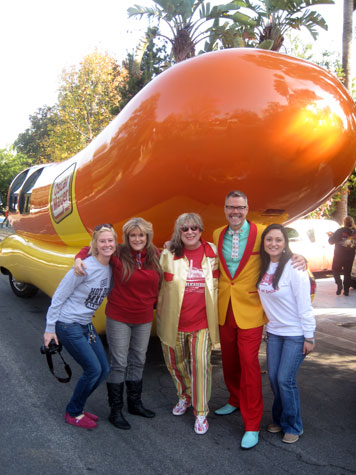 And thank you, Mark Blackwell, for documenting the trip, and I mean Trip.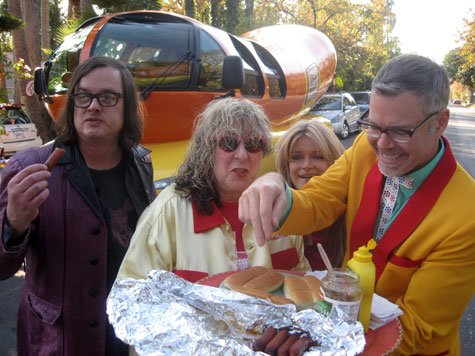 Susan, Charles and myself are forever grateful to have such a childhood and adult dream fulfilled, especially one that provided such insanely magnificent photo opps.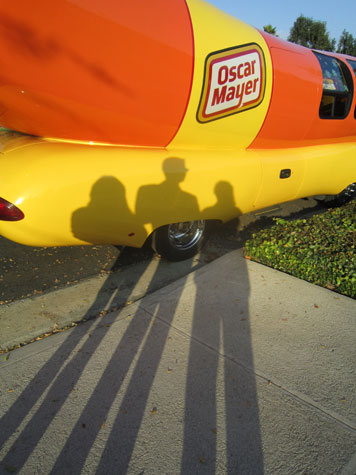 And we are grateful for the joy of celebrating a junk food that was a building block of nutrition throughout most of our lifetimes. Truth be told, although it has killed me, the foolishness of subsisting exclusively on such foodstuffs is starting to be rectified in my old age. But even Martha Stewart enjoys munching on a good wiener every now and then.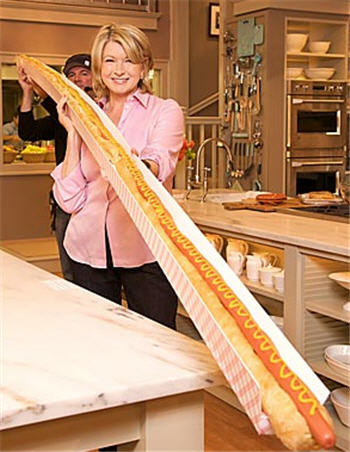 The Wienermobile experience was pretty heavy.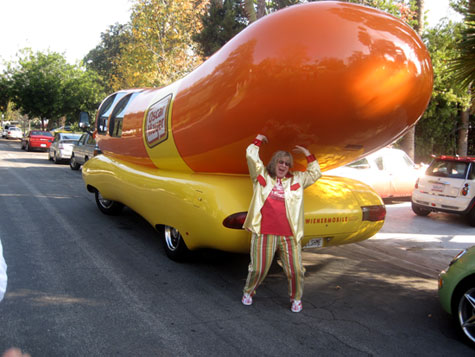 But alas, all things must end.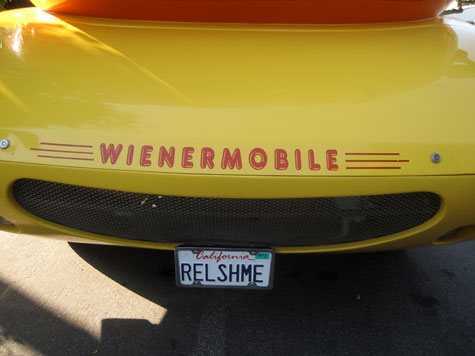 We love you, Wienermobile. Until we meet again…