I was going back and forth with someone about wrestling music a few weeks ago and the subject of this album came up.  The person I was speaking with is a raging wrestling fan and, to my shock and amazement, he didn't have this album! I was truly blown away!  Of course, this doesn't make him any less of a fan; it just makes him younger…muchyounger.  He likely wasn't "in the building," as they say, when this record was released.  Still, this record is the reason WWE uses music to this day.  It's the reason we have other wrestling albums which the younger fans are more aware of.  This is the one that started it all and all wrestling fans should have it, so I'm going to sell it to you.  Here we go.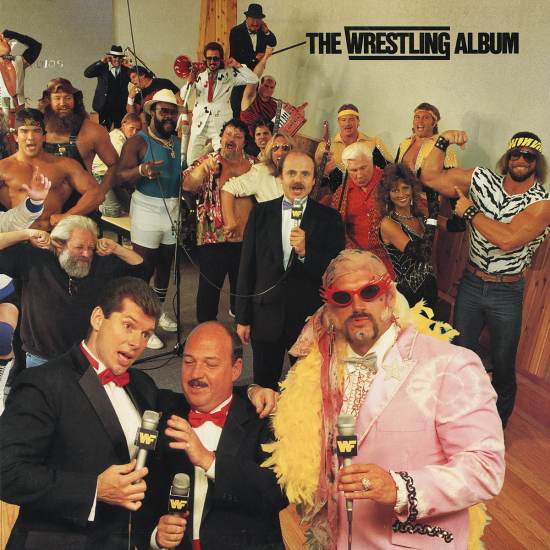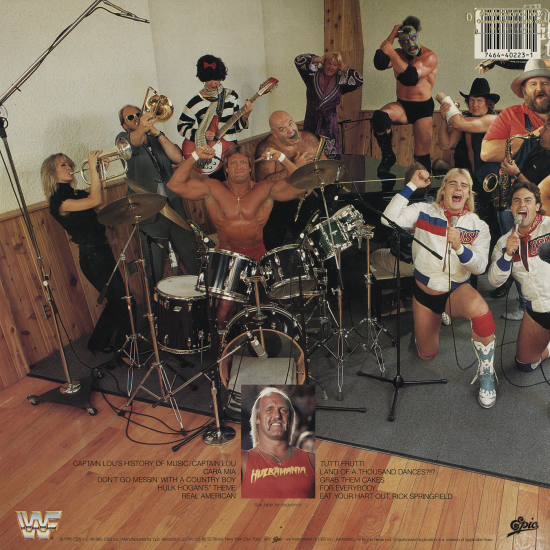 This record came about thanks in no small part to Cyndi Lauper.  Back in 1983, pops stars didn't come much bigger than Cyndi Lauper.  She made a video for a song called "Girls Just Want To Have Fun."  It's a fun video and she cast that video with people who were special to her.  Her mother is in it and so is "Captain" Lou Albano.  He plays her father.  The sight of him lip-syncing "what'chu gonna do with your life" is indelibly etched in music video history.  It was this simple act that started what we came to know as the "Rock N' Wrestling Connection."  There were many cool things that came out of it.  Lauper appeared on WWF programming – slapping Roddy Piper, managing Wendy Richter as she feuded with The Fabulous Moolah and won the WWF Woman's Championship from her, and so on and so forth.  All parties (Vince McMahon, Cyndi Lauper, and her manager Dave Wolff) put their heads together and decided they should do something no one had ever done before:  make an album.  A wrestling album.  This was the end result.
The album opens with a take on "Land Of 1,000 Dances."  Anyone who's heard the original tune knows it's a good time and that's what we get here.  It's a twisted mess with ad-libbed lyrics galore.  As you can imagine, almost no one bothers to sing here and the song is melodically driven entirely by background singers.  Some briefly sing but it's nothing to write home about at all. I couldn't care less about that, though.  It's much fun and a great way to open the record.
Junkyard Dog follows with his feature, "Grab Them Cakes."  It's a funky little dance track co-written by Cyndi's manager, Dave Wolff, and Dog acquits himself very well here.  Joining him on "vocals" is Vicki Sue Robinson ("Turn The Beat Around"), and she can just flat out sing.  She provides much-needed counterpoint as Junkyard Dog is not a singer.  What he is is an entertaining presence who pseudo-raps the tune and it works beautifully for him.
Next up is "Real American," a tune that was originally written for Mike Rotunda and Barry Windham but was quickly re-assigned to Hulk Hogan.  We are still hearing this song today and it's probably the most popular wrestling-related song in the history of sports entertainment.  There's no one who doesn't know the chorus (admit it – you're humming to yourself as you read this).  Rick Derringer ("Hang On Sloopy", "Rock N' Roll Hoochie Coo") is the vocalist/guitarist here and, as he is a real musician, he's more than capable of delivering this convincingly.
"The Mouth of the South" Jimmy Hart is another one who really is a musician/singer/songwriter.  On top of his work with the Gentrys in the mid-60′s/early '70′s, he also wrote numerous themes for both WWE/F and WCW.  He also sang backgrounds on Shawn Michael's "Sexy Boy" and Honky Tonk Man's "I'm Just A Honky Tonk Man."  Here, he writes the tune and sings it.  Jimmy can flat out sing!  He has an excellent voice and he can also write one heck of a song.  It's all about how his girl has a thing for then-huge-actor/musician Rick Springfield.  She's gone to his concert and Jimmy's doing what he must ("I got me a guitar and some red tennis shoes/ and I'm learnin' how to sing and I'm learnin' how to move") to get her attention again. This song has absolutely no apologies to make.  It's not this reviewer's thing but a solid tune is a solid tune and this absolutely qualifies.
Perhaps the most fun thing here is "Captain Lou's History of Music."  Captain Lou's opening bit with George "The Animal" Steele is just genius.  Lanito Basqueeps Albano…LOL!!!  The tune itself was actually written by Al Anderson and Terry Adams from the band, NRBQ.  It's a riot from start to finish.  Completing the joke is that "the Capper" (as Vince calls him in one of the many hilarious intros on the album) is credited with playing all the "instruments" on the song.
"Hulk Hogan's Theme" opens up the second side.   This song is notable in that the music would be taken back by Jim Steinman (WWF didn't use it long) and he wrote lyrics for it, titled it "Ravishing," and gave it to Bonnie Tyler for her 1986 album, "Secret Dreams and Forbidden Fire" album.  As music, it's fairly typical of what you'd expect from the guy who gave us Meatloaf songs like "I Would Do Anything For Love (But I Won't Do That)", "Paradise By The Dashboard Light," "Rock N' Roll Dreams Come Through" and Bonnie Tyler songs like "Total Eclipse of the Heart" and "Holding Out For A Hero" from the movie "Footloose."  The tune and production are gargantuan and, even though WWF didn't use the tune long, it fit the bill quite nicely for Hogan.  Of course, "Real American" is a far better fit but this wasn't bad at all.
"For Everybody" exists here in a…ahem..modified version.  Roddy Piper is the "vocalist" and he's as bad a singer as you think he'd be.  The tune is hilarious in this setting and the lyrical modifications are really funny.  Roddy, while not a singer, is game here and I can respect that.  The gang vocals are great and the lyric fits perfectly with who Piper portrayed at that time on WWF television.
The real surprise here is "Tutti Fruitti."  "Mean" Gene Okerlund is the singer here and he's actually really good!  He sounds like he's having a blast and the listener can have fun too as a result.  It's a really fun tune anyway but Okerlund makes it even more fun with his exuberant reading.
Hillbilly Jim is next up and he tackles "Don't Go Messin' With A Country Boy."  Mercifully, he does okay with his vocal too.  The tune is Country Boogie and it's a lot of fun. The fiddle playing is first-rate and the song is well-written.
Last up is the dreadful "Cara Mia."  Poor Nikolai Volkoff.  Part of his gimmick was the singing of the "Russian National Anthem" before his matches so we knew he was an okay singer.  Here, he's confronted with a fairly decent tune, "Cara Mia," but the production absolutely cripples everything.  I defy you to listen to this more than twice.  Just…yikes!
Rick Derringer and Dave Wolff are in the producers' chairs for most of this album with Joel Dorn taking over on "Cara Mia" and "Don't Go Messin' With A Country Boy" and Cyndi Lauper (credited as "Mona Flambe") doing the honors for "Captain Lou's History of Music."  The musicians are all first-call session players so the music has no real apologies to make throughout.  The WWF went all out on this one and the results are a real blast.
The connective tissue on these disparate songs is provided by the announce team of the time:  Vince McMahon, "Mean" Gene Okerlund, and Jesse "The Body" Ventura.  They introduce each song here and the chemistry they show here is just as good here as it was on WWF TV back in the '80′s.
I aimed to use the final paragraph to tell you how to get this album.  I mean, how can I sell an album to you if you can't buy it?  Sadly, that's the case here.  This album is, somehow, out of print.  The copyright on it is owned by Sony (unless WWE bought it back).  "Piledriver," the second album also owned by Sony, is out of print as well.  Every other WWF/E album can still be purchased/downloaded.  Bizarre.  I distinctly remember "The Wrestling Album" being back in print for a while some years ago.  Koch Records (a Sony imprint) put it out for a time but it appears to have gone back out of print.  If you're into LP's, those can still be found, though not in the mass quantities I imagined before I wrote this review.  Either way, if you can find it, get it.  It's a great record!
Incidentally, if you want to take a look at the fantastic cover artwork on this album, I have uploaded my LP (front, back, gatefold, and record labels) to my "album art" website and you can see it here.  Cheap plug, I know, but I do it honestly and for good reason.  I simply love the record.  I was sold on it nearly 30 years ago and hopefully, this article will get others interested too.  I also leave the link behind because I couldn't post all the images I had.  Since I'm not looking for cheap "hits," I'm totally fine if it's removed.