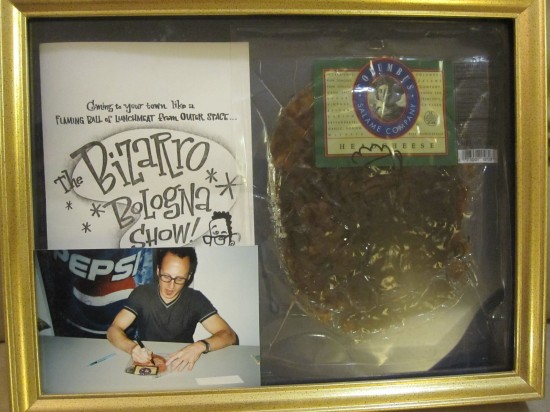 About eight years ago, I bought my husband some head cheese as a joke – I'm a vegetarian, he's a meat eater, and I wanted him to know how much I "appreciate" his food choices.
A few weeks later, we went to a talk by Dan Piraro, the author of the Bizarro cartoons. As the show was called "The Bizarro Bologna Show", my husband decided to bring along the head cheese and asked Mr. Piraro to autograph it. Somehow, it seems no one had ever asked him to autograph lunch meats before.
It's been proudly on display in this beautiful shadow box in our kitschen ever since. While it's a bit "aged" from years on the wall, we look forward to enjoying it for many years to come.