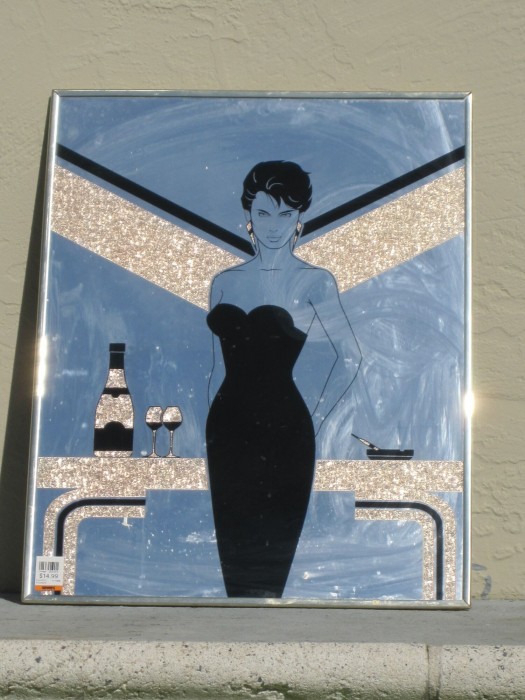 Nagel, Nagel, on the wall, what's the best Duran Duran album of them all?
I remember Nagel girls from college. As a shmoe from New York, these women were something out of my world. They spoke of jetsetting, Miami, hedonism, and probably cocaine. As foxy as the girls were at the mall, they were more of the big hair and chewing gum types. (Which, mind you, I still think is totally awesome!)
Anyway, Nagels pop up fairly often at the local thrift stores, but this I'd never seen before. When my wife and I go thrift shopping, we've generally got a good cop / bad cop thing going on where she wants to buy things and I fret about where it's going to fit in our house. However, when this lovely lady showed up, there was no question she was coming home with us. The mirror is about 3 feet high, with black and speckled gold forming the figure of this mystical maid in her quasi-art deco wonderland.
She beckons to you, yet when you come to her, your face is reflected in hers. As a guy who doesn't bother to shave often, it's a bit jarring.
Yes, I know, she could stand some windex, but I think that look in her eyes says she likes to be dirty.