When I first thought about opening up a virtual museum one of my biggest concerns was that 80% of the submissions would be crap and I wouldn't know how to tell someone that either they had no idea what Kitsch was or that what they sent me was just a hulking pile of junk. But to my absolute amazement, 97.3% of everything submitted has taken my breath away. I'm not only elated to have found that like-minded aKitschionados do, indeed, abound, but my brain and creative juices get constantly re-energized because of all the beautiful things you set before me.
I also thought that out of every 100 submissions I might find 4 or 5 to honor with a Certifikitsch Of AuthenKitschity. Once again, a good 82.4% of everything submitted qualifies for one. And, trust me, I'm a real straight shooter when it comes to handing these babies out as after collecting and loving Kitsch for 40 years I'm not about to damage my rep by bestowing one just to make someone feel good. But I find myself handing so many out that I feel I need yet another award to distinguish the grando supremeo submissions from those that are merely excellent.
So I hereby announce the Classique d' Camembert, an an even higher award than the already high Certifikitsch Of AuthenKitschity. The Classique d' Camembert will be given to the best of breed, the Kitsch that makes my eyes swim in circles and heart jump through flame licking hoops. Winners of a Classique d' Camembert will be included in my (thankfully very popular) Kitsch O' The Day blog which I also repost on Facebook as well as be eligible for special prizes and certain advantages in upcoming Museum contests and events.
Here's the lovely award: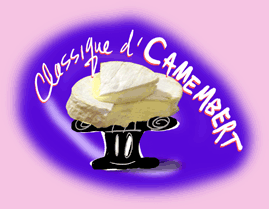 I'll be choosing the first recipient in the coming days. There's no timetable to this so just because you may not receive one immediately doesn't mean it won't happen next week, next year or next time I'm bored and flip through your submissions because they cheer me up so. Likewise, the first recipient isn't necessarily the best Kitsch in the house, only the first piece I stumbled upon when choosing something to feature in my blog.
Just as you receive an email notifying you when you've won a a Certifikitsch Of AuthenKitschity, you will also receive an email if you bag a Classique d' Camembert.
I wish you all the best!
Yours in excellent aged fromage,
Allee