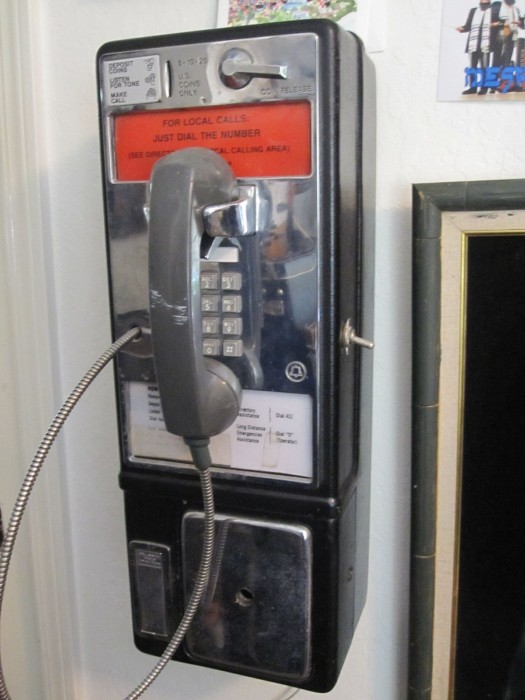 Ever notice all those sad, forlorn, used-to-be-a-pay-phone locations? You know, in bus stations, or restaurants, or casinos, near the restrooms, those rectangles on the wall that aren't quite as faded as the rest, with empty wall anchor mounts, and the tell-tale telco plate. Here, there once were banks of pay-phones, where so many promises, lies, jokes, taunts, and banal words were told. Dreams uplifts; hopes dashed.
Sadly, in the era of the cell phone, these have become less and less common, to the point where they are the exception rather than the rule. These phones were known by the telcos as a "fortress" – built of heavy gauge steel to withstand abuse and theft attempts.
According to the sticker on the unit, this particular one saw duty in an establishment called "Rob's Cat House" – I'm not sure what kind of business this was, but I used lots of sanitizer when I refurbished it. For better or worse, most of the pay mechanism was missing when I got it, so I took the guts of a similar vintage residential wall phone to get it working. It hangs in my studio, and yes it does work, though I don't make a habit of telling people change isn't required. I added a ringer on/off switch to the side so it stays mum during recording sessions.
There's something really nice in the tactile experience of using a pay phone. Perhaps the best part is the hang-up – the handset is so heavy you can almost hit the telemarketer in the head when you hang up on them.