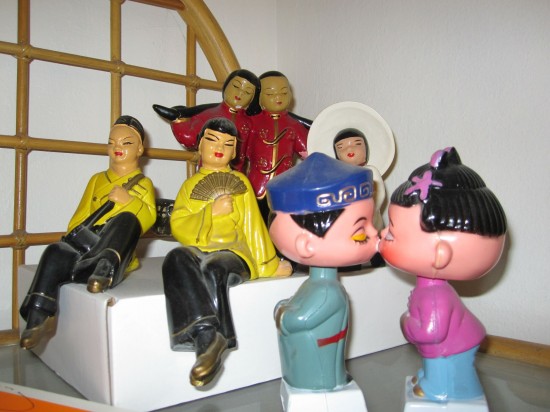 Nothing adds flair to a pedestrian home like the ceramic figurine. Delicate and painted in rich colors, they lend an air of sophistication to any room. And what better air to lend than the exotic mysteries of the Orient?
These figures lean towards the more positive aspect of stereotypes – the grace and modest charms that suggest ancient wisdom, collective farming and superior math skills. Let's just call it stylized subject matter.
Here we have two sitting figures in matching yellow outfits, she with a fan and he with a stringed instrument of some kind, doubtlessly wooing her. Behind them, a man and woman, here in red, share the burden of a heavy load, perhaps rice for the family. To their left, a kneeling girl in white enjoys the sun.
In front, we have kissing boy and girl bobbleheads, these of plastic, but their fine dress and innocent charms let them join the rest despite the material deficiency.