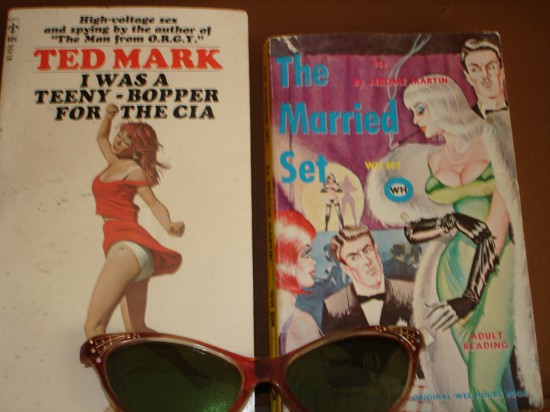 Two items of kitschness for the price of one! Three, if you count glorious spectacles which go with the literature. And you should. And you know it.
The classic tome, I WAS A TEENY BOPPER FOR THE CIA , was penned by Ted Mark – author of "The Man From O.R.G.Y." Both Ted Mark books are non fiction. I don't think you need me to tell you that. And no, I do not know what "High voltage sex and spying" is , but I do know if our cover girl was parading around in her underpants like that she couldn't have come from a decent home – and I just feel sorry for her is all. Wherever she is today maybe she has a better life and a subscription to O magazine. Poor kid.
To the right is Jerome Martin's THE MARRIED SET. This too is non fiction. The fair-haired woman on the cover has a few physical characteristics that I envy, although I know I shouldn't: the length of her left arm is mesmerizing. It seems mannequinishly lengthy if not flat out detached from the shoulder. This is of course a sign of a bad marriage; I believe there is a chapter in the book dedicated to this sydrome. Also, please note the fingers on the left hand. Aren't they white? And isn't that odd,since this does not match the rest of her skin tone? And since she's wearing gloves?