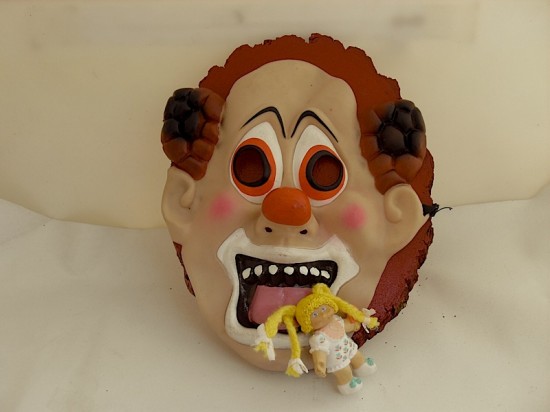 Cabbage Patch dolls were a mystery to me, why everyone had to "adopt" them. A weird concept to begin with. I'm sure this was a doll Angelina Jolie coveted and in great numbers.
They had strange faces and weren't particulary cuddly so i assumed they must be stuffed with heroin and started my own orphanage of cabbage patch. I wanted to hate them, but anything with a face i just cant hate (not counting Bush and Cheney and sarah palin..a side note. i think Sarah mouth is exactly like the wicked queen in snow white..check it out sometime..cruel.) I decided to put the little devils to work in my projects..this one is called DON'T FORGET TO EAT YOUR CABBAGE
The tiny cabbage patch doll came in a package from e mail, containing a full size doll..no papers of course..an abandoned orphan. the mask jumped out and scared me at the thrift store one day..so i put these two kind of scary things together and got the piece..i mounted it on a piece of wood i painted red. now it has a life of its own and i'm afraid to bring it in the house.