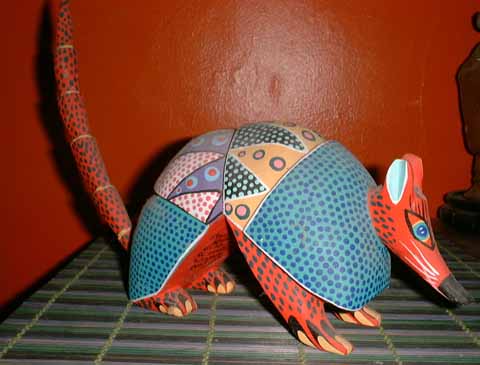 Alebrije is a slang term which means a difficult tangled thing, shaped in confusing or fantastic figures.
Manuel Jiménez was the man responsible for the beginnings of this particular artwork, which has become famous all across Mexico.
Jiménez was very ill when he first envisioned these strange and twisted creatures from the between place, the journey between life and death.
After recovering, he began this art form in paper mache at his studio in Mexico City.
Later craftsmen from the state of Oaxca, Mexico took on this art form, adding their creative input, carving the figures from green wood brought from the mountains.
The figures are painted in different colors and decorated afterward with drawings of stars or flowers.
They can take hours, or even days, to be done.
I have many of these creatures sharing my home.
Jef