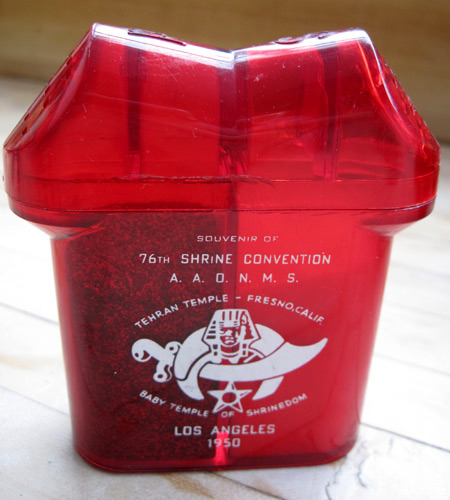 I've been collecting Shriners artifacts since I found a group portrait of hundreds of Zurah Temple members in their Fezes in the mid-1970s looking like little lined up Pez dispensers. I never knew the difference between Shriners and Masons or what either of them really did. I just like any organization that has hats, pins and a super-costumed regulated look. My alter ego, Bubbles the artist, has even honored them in her popular "The Funsters Of Zurah Temple" line of  collage art, ceramics and paintings.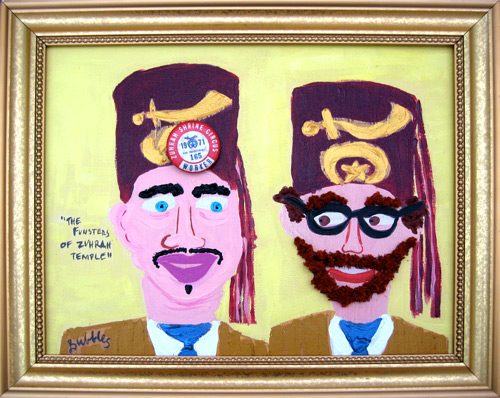 This transparent red plastic salt and pepper shaker is a two in one deal, salt on one side, pepper on the other.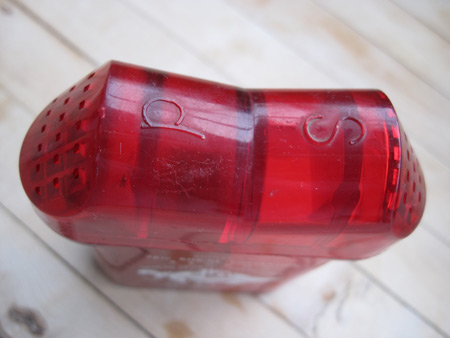 I imagine it was shaked over many a Salisbury Steak and meatloaf since its birth in 1950 when it was given away as a souvenir at the 76th Shrine Convention in Fresno, California, courtesy of Tehran Temple of Fresno,California, the "Baby Temple Of Shrinedon". I think that The Allee Willis Museum Of Kitsch is in its own way a "baby temple of shrinedom", more deserving of its own salt & pepper souvenir shaker for glorifying kitsch in all of its glory, not the least of which is this fantastic Shriner S&P shaker.