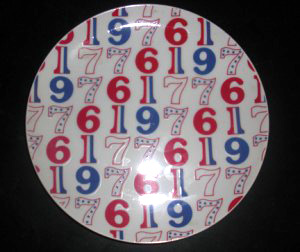 Its your turn to BUY a piece of the BI-CENTENNIAL.
This beautiful example of patriotic consumerism displays a repeating pattern of the dates 1776 1976 in traditional RED WHITE and BLUE on a pure field of white. and it was MADE IN JAPAN – naturally
This plate was created for that limited time when Donkeys and Elephants came together to create:
THE BUY-CENNTENIAL!
The back bears the markings: Villa Vanilla Palm Beach, Celebration, Taste Seller Sigma ,made in japan 231
Let me know if you're interested in buying the plate.