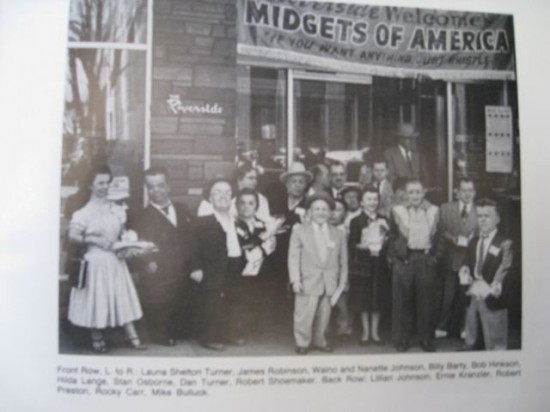 This gem is a hardcover (1982) 25th Anniversary souvenir yearbook for the LITTLE PEOPLE OF AMERICA which held its convention in Reno, Nevada. And it's signed by the entertainment industry's biggest little person, Billy Barty.
There are lots of great photos and articles in the book, but my two favorite items are from the minutes of the meeting of the 1957 National Convention (which, FYI, was when the name "Midgets of America" was deemed offensive and replaced by "Little People of America.")
Here are the two quotes from the minutes, verbatim:
1. Food Committee– to research and make recommendations toward petitioning the National Restaurant Association for half-price meals, lower cafeteria steam tables so "we can see what we are buying" and modify stools and chairs to aid eating. Committee also should urge Culinary Workers' Union employees to desist from such remarks as, "What will you have, sonny?"and pats on the head when serving little people.
2. Telephone Booth Committee– to meet with and importune Bell Telephone Company for telephone booths reachable by 4 feet persons; also to include glass paneling on BOTTOM of phone booths so when a little person is occupying a booth a big person will not be trying to"butt in."