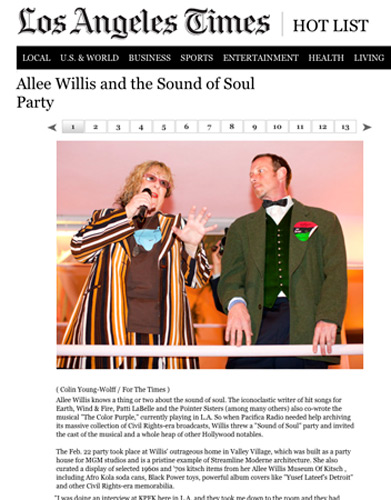 So I wake up the morning after I threw my big my Sound Of Soul party last week at Willis Wonderland, the physical arm of AWMoK.com, and there it is right on the homepage of the LA Times! The Sound Of Soul party/fundraiser, which I throw annually, honors all things Soul from the historic Black history audio tape collection of Pacifica Radio Archives, to music, some of which is my own and that of many of my guests, and my collection of whacked out Kitschified Soul artifacts that grace the shelves here at AWMoK. Thank you, Los Angeles Times for actually getting where it's at!

Although I've long considered my collection of Kitsch artifacts, and very specifically my Soul Kitsch artifacts, museum worthy I'm actually shocked and overjoyed by how serious folks who take real museums seriously take The Allee Willis Museum Of Kitsch. All of which is, of course, enhanced by all of your contributions to the Kitschenette.

Although I love everything I've amassed in my 40 years of collecting I have a special place in my heart for the Kitsch Soul artifacts because they're not just a bunch of goofy or funky stuff. When looked at in conjunction with some of the soul happenings I've been blessed to be a part of like Earth Wind & Fire and The Color Purple, the collection takes on a whole new meaning. As many of you know, it was James Brown himself who I worked with in the 1980s who encouraged me to keep collecting Soul memorabilia as there was usually no budget to market these products so they were only popular regionally. Like my game of Slang-A-Lang, Black Bingo, that was manufactured in 1969 in Detroit probably never got on shelves farther away than Cleveland.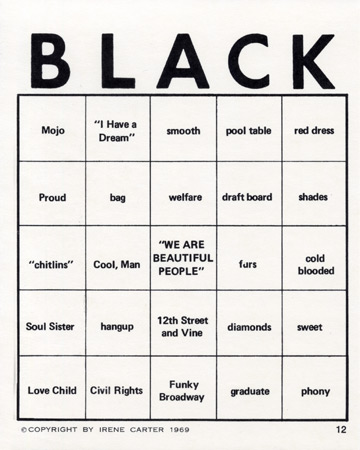 For those of you who may not know about my Sound Of Soul project we raise money to digitize never before heard, historic African-American audio tapes and get them into schools across America. At my first Sound Of Soul party in 2007 we raised enough money to restore hundreds of hours of tapes including speeches, casual conversations and performances by the likes of Martin Luther King, Ruby Dee, Ossie Davis, Malcolm X., Mrs.Coretta Scott King, Mohammed Ali, Angela Davis, James Baldwin, Alice Walker, Rosa Parks, Miles Davis, Dorothy Dandridge and way way more. Since I bequeathed the first collection to my high school, Mumford High in Detroit, the collection has been given to over 1500 high schools and colleges across America. We're still going strong.

So to Pacifica Radio Archives, Mr. Brown, the Los Angels Times, Colt 45 who tossed 15 cases my way to enhance the Soul, and to you, especially those aKitschionados who are passionate about consistently submitting eyeball blowing Kitsch, I say thank you and God bless. The Sound Of Soul Collection and our efforts to get these hundreds of hours of never before heard, historic African-American audiotapes into schools continues. And so does AWMoK!