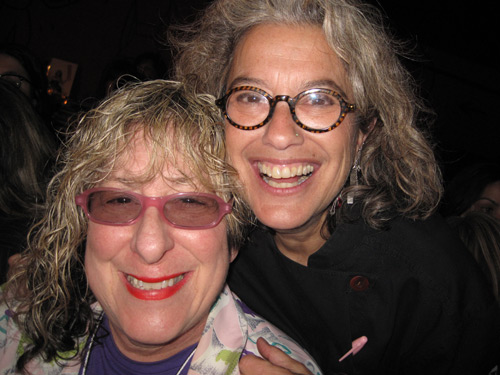 Last night I went to the launch party for the new season of Bravo's Top Chef Masters at Street, the restaurant I co-own in Los Angeles and home base for one of the competing TCMasters, Susan Feniger.
I met Susan in 1984 when my second art show ever, "Wear the Right Clothes Even at Home", was at LA Eyeworks, the first store ever to make outrageous, personality filled eyeglass frames, and the tiny restaurant next door, City Cafe, later the original Border Grill, where Susan and Mary Sue Milliken were the chefs. The food was as outrageous as the eyeglasses and without question this was THE hot spot on Melrose back in the day. My art was pretty good too, including the unveiling of my motorized art version of my hit song, "Boogie Wonderland".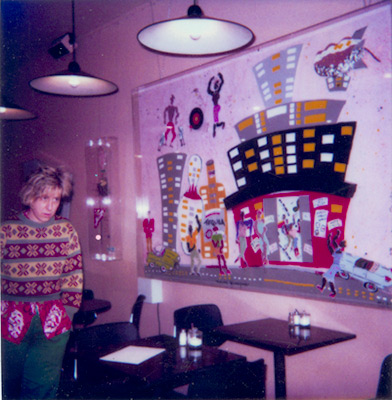 The next year Susan and Mary Sue opened City, my all time favorite restaurant ever in the world, on La Brea and 2nd. I had my own column in Details magazine at the time, "Some like It Smog", a diary of my daily life, and every column included the fact that I was sitting at City writing a song, meeting someone or throwing a party there like my big 4-0 that included Luther Vandross singing me Happy Birthday accompanied by my latest talent discoveries, the octogenarian go-go booted singing sensations, The Del Rubio Triplets.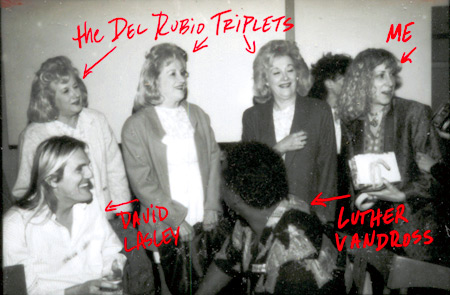 City was my home away from home and the first and last time that octopus was ever my favorite dish. I never got over when it closed in the early 90's and longed for the day when I had another restaurant to hang out in like that.
Every time Susan and Mary Sue opened another restaurant after that they asked me to invest. I was usually coming off a big hit but oftentimes the money that trickles down to the songwriter is so much less than legend has it it can induce cardiac arrest. So one by one I had to pass. They opened up a much larger version of Border Grill in Santa Monica and later in Las Vegas and in 1998 opened Ciudad downtown. All these restaurants were fantastic, exceedingly experimental and creative in their world vision of food. Susan and Mary Sue were also among the first chefs ever to have their own show on the Food Network, "Too Hot Tamales". Finally, when Susan went out on her own to raise money to open Street, my musical, The Color Purple, had just opened on Broadway and I was IN!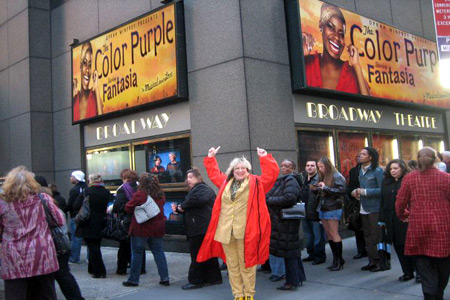 Street opened in March, 2009. It's fantastic, a total food adventure and usually where I am if I'm not at home.
Now back to last night and Top Chef Masters…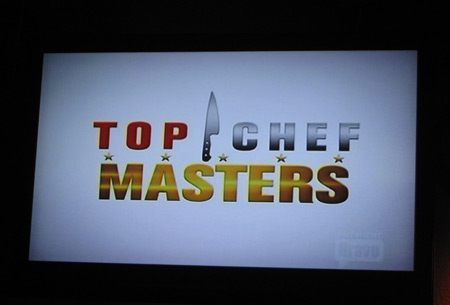 The party was totally happening, especially because Susan and her partner, Chef Tony Mantuano, won BOTH challenges and will be back to compete in the finals starting May 5th!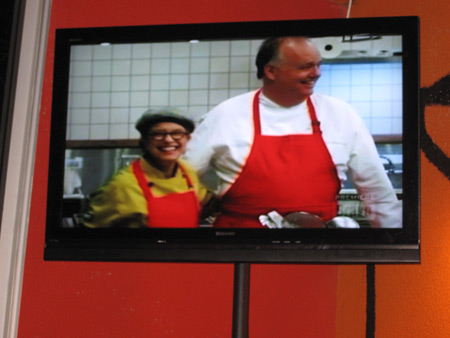 However, herein lies the advantage of writing a blog called 'ÄòKitsch O' The Day'. It's the ULTIMATE Kitsch to miss so many photo opportunities not to mention forgetting to photograph the very thing you're blogging about, food. So I'm at least proud of the fact that I lived up to my blog's name. I also forgot to shoot overhead shots of the 350 people jammed into the restaurant that normally only seats 100. I was too full and, as LA is in the grips of the worst allergy season in memory, my head too swimmy to remember such basics as these. So try to imagine constant choruses of "oohs" and "ahs" as neverending trays of Street specialties like Paani Puri, Lamb Kafta Meatballs, Brazilian Acaraje and Japanese Shizo Shrimp were passed around with little bottles of signature Street vodka drinks. On the patio, tables were the laden with a family style sit-down feast that folks busted into like pigs at the trough. Here's the menu (in lieu of the forgotten photographs):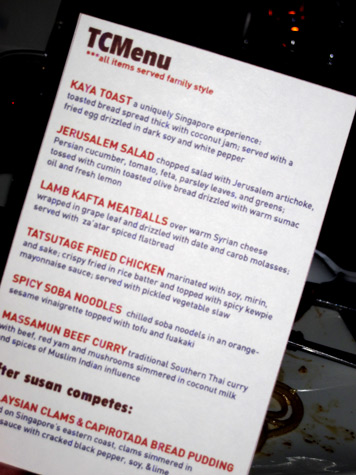 The last dish, Malaysian Clams & Capriotada Bread Pudding, was the dish that Susan won the second challenge with, swapping clams for shrimp as Whole Foods, where the teams shopped, only had two clams in the entire store.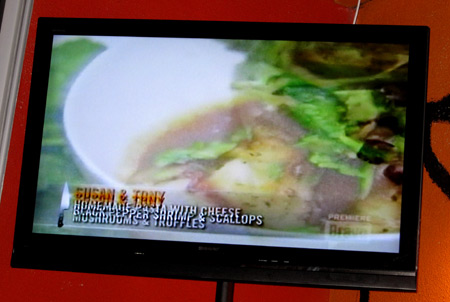 Insanely blurry I know. Blame it on the vodka with a hit of allergies.
The first Quick Fire challenge was one I could have nailed. The chefs were driven to Chinatown only to pull into a gas station to shop. This is a food palette I'm quite familiar with, non-chef/fast food junkie that I am. Susan and Tony did us proud with their top scoring Maple Bread Pudding With Caramelized Bananas.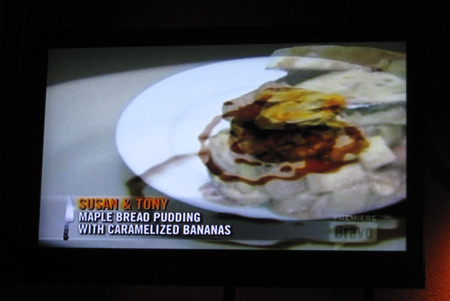 Susan narrated the evening standing on a windowsill that divides the inside of the restaurant from the outside patio.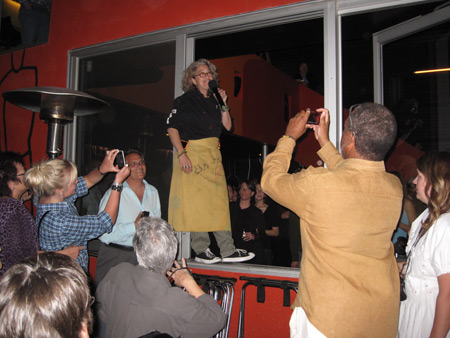 What's so fantastic for me is that Street embodies all of the creative tenets I live by. It's casual and serious at the same time, ever evolving, spontaneous and so far out of the box the sides aren't even in sight.
I had lots of friends there and we all left equally stuffed.
Barbara McReynolds, me, Susan Feniger, Karen Levitas, Rhonda Saboff: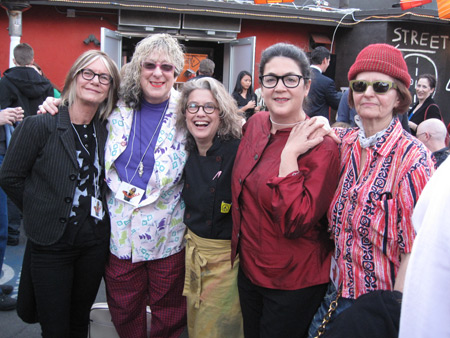 Prudence Fenton, Jordan Vadnais, me, Ryan Hartigan: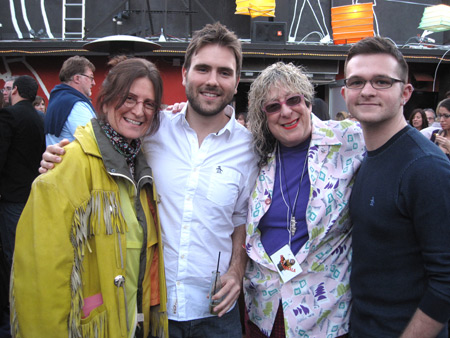 Me and Vicki Randall from the Tonight Show Band: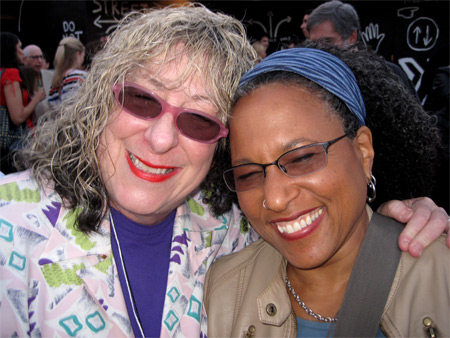 All proceeds from the night, both at the restaurant and from Top Chef Masters, went to Susan's favorite charity which she's been working with for 25 years, the Scleroderma Research Foundation. You can make a donation now too: https://www.srfcure.org/donate?view=donation. Make sure and say your gift is in honor of Susan Feniger. 100 clams or or more will get you an autographed cookbook. $500 or more will pop you in a seat at the May 25th "Cool Comedy – Hot Cuisine" event in LA featuring Susan's food and appearances by Ray Romano, Bob Saget, Bill Bellamy, Craig Ferguson and other special guests. I'll be there too (unless I'm chugging away at Street).