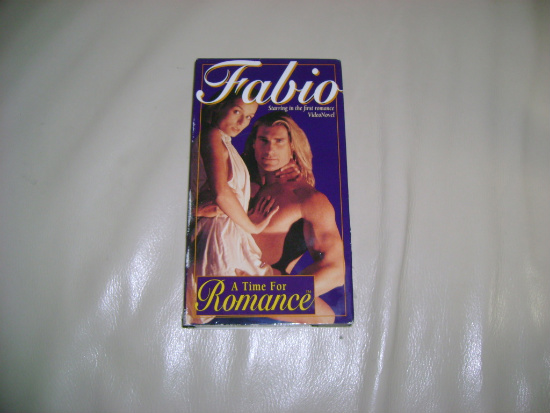 Clearly. This movie is the closet competition for ipecac I have ever seen. It's a brilliant party movie, and usually inspires monumental amounts of laughter, but is so cringe-worthy that often, people truly can not stand it. The last time I played it with a few people over, I heard, from the kitchen (a few feet from the living room), pterodactyl-like screeches and things like "NO! MAKE IT STOP!".
"There is a time for honor, a time for innocence and a time for romance" (That's actually trademarked). Was Fabio's time for innocence cut short by his discovery that it really wasn't butter? Even big strong, minotaurs like Fabio have their dreams crushed!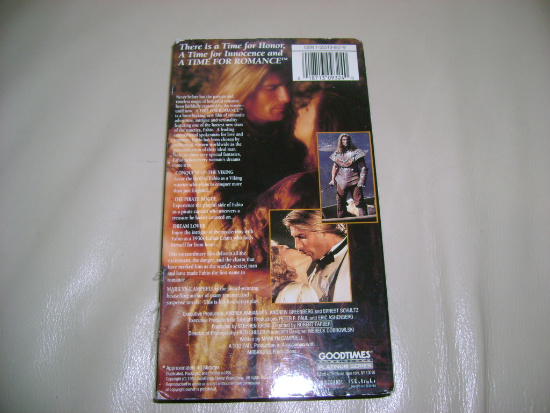 OK, I HAVE to include the liner notes on the back. Because you won't believe them:
"Never before has the passion and timeless magic of historical romance been faithfully captured by the screen until now. A TIME FOR ROMANCE ™ is a breathtaking new film of romantic adventure, intrigue, and sensuality featuring one of the hottest new stars of the nineties, Fabio. A leading international spokesman for love and romance, Fabio has been chosen by millions of women worldwide as the personification of their ideal man. (I can barely keep typing at this point, mind you!) Now, in three very special fantasies, Fabio makes every woman's dream come true.
CONQUEST OF THE VIKING: (I'm not freaking kidding!)Savor the thrill of Fabio as a viking warrior who plans to conquer more than just England…….
THE PIRATE ROGUE: Experience the playful side of Fabio as a pirate captain who uncovers a treasure he hasn't counted on…..
DREAM LOVER: Enjoy the intrigue of the mysterious with Fabio as a 1930s Italian Count who finds himself far from home……
This extraordinary film delivers all the excitement, the danger, and the charm that have marked him as the world's sexiest man and have made Fabio the first name in romance."
You bet.