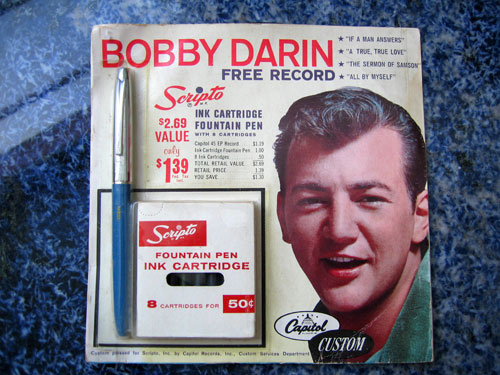 I loved Bobby Darin and I loved Scripto ink cartridge fountain pens, especially when those cartridges were Peacock Blue or Emerald Green. So when this promo came out in conjunction with If A Man Answers, Darin's 1962 film with then wife Sandra Dee, I was all over it. Four songs, 8 ink cartridges and 1 pen, all for $1.39
To me, Darin was one of the classiest singers of the late 50's and early 60's. One of the first to write his own songs, I thought "Splish Splash" and "Dream Lover" were good but I went officially nuts with "Mack The Knife" and "Beyond The Sea", neither of which he wrote but sang like a Smoooooth Master.
Songs on this Capitol 45 EP include "If A Man Answers", "True, True Love", The Sermon Of Samson" and "All By Myself". The cartridges were plain ol' Washable Blue.