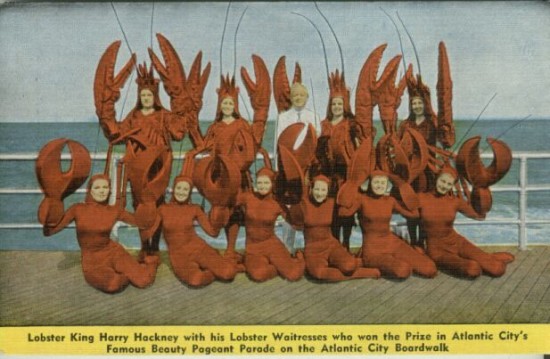 "Lobster King Harry Hackney with his Lobster Waitresses who won the Prize in Atlantic City's Famous Beauty Pageant Parade on the Atlantic City Boardwalk."
I am so curious about this postcard! What did they win? What was "the Prize"? How do they serve food or drinks with those claws? Do they have to wear these all the time? Whose idea was this? When did this happen? Did these girls enjoy this? The girl on the top left looks particularly surly.
Also, Is it really necessary to make your waitresses dress up as the food you're serving? I'm not sure I'd want someone dressed as a cow to bring me a burger. Though I guess someone dressed as an ice cream cone could bring me an ice cream.
I don't have the answer to any of these questions but this is one of my favorite things.