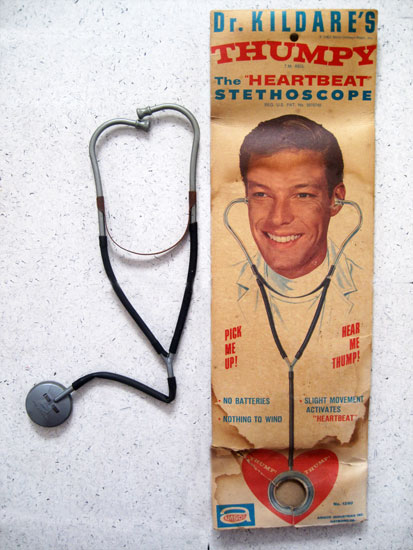 Thought I would give props to Dr. K. today seeing as I spent Friday night over at his place watching The Towering Inferno, which he, Richard Chamberlain, aka Dr. Kildare, costarred in as the guy who skimped on the wire and started the whole barbecue. It was unbelievable to sit next to him watching this movie, one of the two original disaster films along with The Poseidon Adventure, and hearing him yell No, Dick!", "Don't do it, Dick!" as he tried to steal a seat in the little swinging chair thing strung between the burning hi-rise and the building across the street before it crashed taking him and his beautiful '70s wide lapel velvet suit down.
I took my Thumpy stethoscope along with my Dr. Kildare and Nurse Nancy paper dolls book, greeting card with Dr. K.AND Ben Casey and my "Theme from Dr. Kildare (Three Stars Will Shine Tonight)" 45 over there for Richard/ Dr. Kildare to sign but promptly forgot to yank any of it out. And how I didn't snap a photo of us is crazy given my proclivity for storing every significant moment of my life digitally for the last 25 years… So I'll just have to listen to this thing beat until I see him again. Which will be very soon as he's coming over here for dinner in a few weeks. Which makes my heart go thumpy.
Made in 1963 by Metro Goldwyn Mayer, Inc. and Amsco Industries Inc, Thumpy's packaging boasts that there's no batteries and nothing to wind – "Pick me up!", "Hear Me Thump!"- and that "light movement activates "heartbeat"". They're not kidding. This thing, US patent no. 2570740, starts beating if you even tiptoe by.
The water stains weren't acquired until the late '80s when Thumpy and my Brigitte Bardot By Lovable bra were the victims of a tragic dishwasher leak on the floor above which they resided.