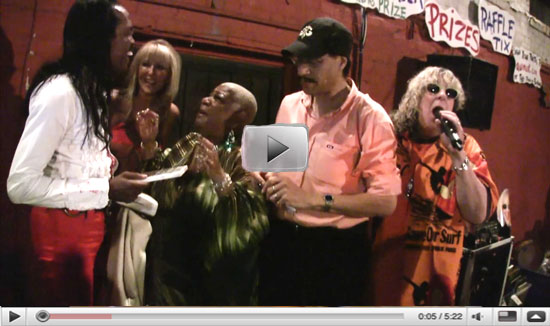 It was the 21st night of September, the opening line of my very first hit song as well as the date of the grand opening party at LA's Ghettogloss celebrating the launch of AWMoK.com, The Allee Willis Museum Of Kitsch, my mini social network and ongoing exhibit of all things Kitsch. I am SO NOT the type to get up at a party and perform my own songs but this was the night that tradition broke.
As it was a special night in my musical history being "the 21st night of September" as well as a night to celebrate Kitsch with a kapitol K, I decided to let anyone who wanted to sing do bad karaoke versions of "September". I also brought a bunch of rickety, thrift-shop-bought instruments with me – a knockoff Beatles Apollo bass with three strings, a 1981 Casio keyboard with 2 1/2 octaves and a missing middle C. key – just in case any of the famous musicians in attendance might want to play along, my style.
As any of you familiar with me know, I'm a massive fan of smooshing together very high and very low elements of art that most people would create, perform or perpetuate in very different spaces and times. But I live for those moments where the incredible thinking, technology and execution at the top collide with the passion, dedication and mixed results talent at the bottom.
Moments like these have allowed me to see some of my Greatest Hits performed by the best and the worst at once. Like when my discoveries, The Del Rubio Triplets, octogenarian identical triplets in miniskirts and go-go boots and of questionable musical prowess, performed "Neutron Dance" with The Pointer Sisters the very week the record entered the Top 10. I'm elated to report that the 21st night of September a couple of weeks ago was an opportunity for another such hi/lo performance.
In walks Larry Dunn, original Earth Wind & Fire keyboard player extraordinaire who played on every significant EWF hit, and Verdine White, cofounding member who's still in EWF, greatest bass player who ever lived and the man who discovered me and brought me to the group back in 1978. And there's Luenell, hysterical off-color comedienne who is literally the #1 Earth Wind & Fire fan in the world. She carries their Greatest Hits CD with her wherever she goes and watches the EWF Collection DVD every day, swear to God. She's been in love with Larry Dunn since she first caught sight of his perfectly carved Afro in the early 1970s.
Here are three 6 minute videos documenting one of the best times I've ever had in my life at a party. Part 1 is the set up, where Luenell meets her idols and I announced that anyone who has the balls to sing "September" with Earth Wind & Fire in the house is welcome to do so. Part 2 is us doing "September" and Part 3 is "Boogie Wonderland".
I have video cameras going almost every minute of the day. It's moments like these that would never translate unless you were there to see them that make me thankful I spend every dime I earn on tape, cameras and people to point them.
Last thing I'll say here is to make sure and go to AWMoK.com, the reason everyone came to celebrate and where so many people have gone to keep the party going ever since.
Part 1 – Getting ready to sing: