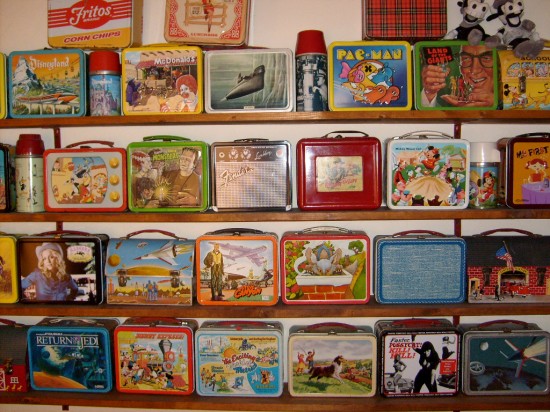 Collection of lunchboxes.
First, I'm so excited to come across this site! What fun it is!!!
I have double the amount of lunchboxes as seen in this photo. They cover two entire walls in my home, and most contain their original thermoses, but don't have enough room to display them all.
The denim-like box is called "Luggage Tweed" (from 1957, also came in tan and maroon). The Lassie-like box is called "Pets and Pals" (from 1961).
Yes, I have a handful of newer boxes, boxes that I think are fun or interesting. The cowgirl box is a rare Madonna box (from 2000, released in conjunction with the song Don't Tell Me).
Will post more vintage boxes when I get a chance, including my favorite cowboy boxes (Gene Autry, Roy Rogers, Wagon Train, etc.).