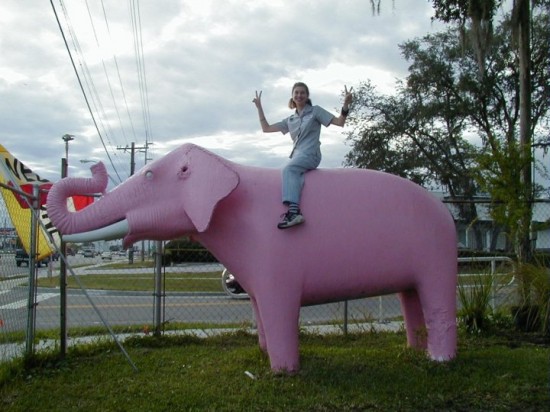 My first girlfriend in ye olde teen years was the unbelievably awesome Marjorie Yambor, whose pop owned Shelton's Nursery along State Road 60 in Brandon, Florida. While she herself was a work of art (memories abound of wild outfits, rubber bat necklaces, tri-colored eye shadow experiments and the most unique personal style of any of my pre-Allee acquaintances), it's this pink elephant that greeted visitors to Shelton's that we'll be submitting today. I mean, I wish I could submit a whole person to the AWMoK, but that must be against some kind of rule.
This pink pachyderm had a buddy, too… a similarly outsized and even more mindbending George Washington atop a purple camel that I can't locate any shots of, alas. These pics are reposted courtesy of Marjorie, seen here atop this pinkish tusk-adero on 12/31/04, the day Shelton's shuttered after thirty years of satisfying local seedling-seekers and shrub-scouts.
As no submission of real kitsch is complete without including a slightly confusing twist (as if an elephant sellin' flora ain't enough), here's a second snap that shows what else you could buy at Shelton's… presumably to soothe the muscles after a hard day of yard tending.