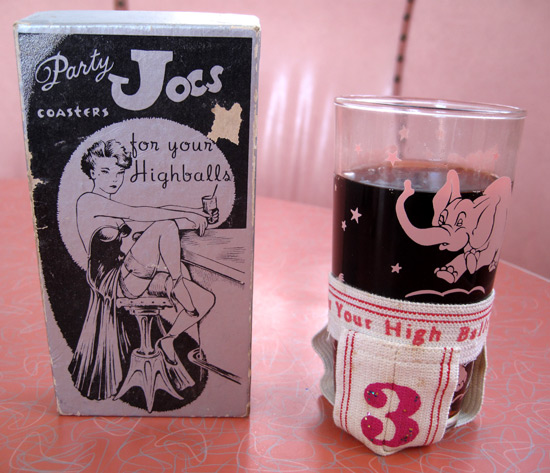 In anticipation of the Memorial Day holiday tomorrow and the many glasses that are about to be lifted these Party Jocs drink cozies make it easy to keep track of your drink and keep your hands moisture free as you chug it down.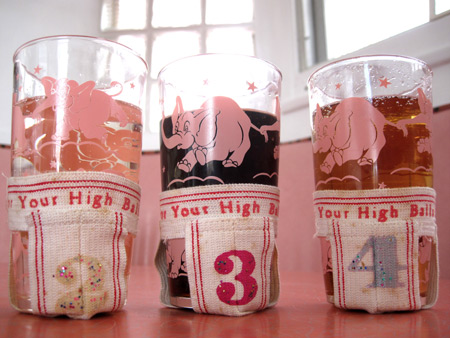 Wednesday night I went to my favorite restaurant, Street, in anticipation of lifting a glass in celebration as Chef Susan Feniger won another round of Top Chef Masters on TV. Not only was she one of the final four but she had won 75% of her battles so far.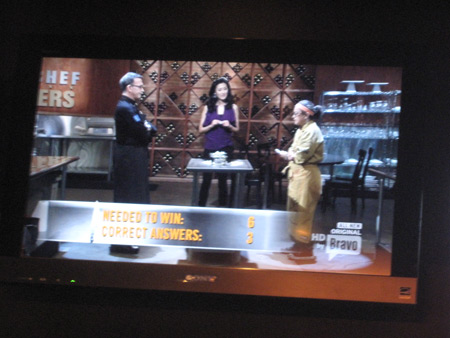 I went with my good friend, Stu James, who was also Harpo in my musical, The Color Purple. Although I didn't have the Party Jocs with me and no glasses are evident in this photo we took with Susan we were all in a glass-lifting celebratory mood as the show began.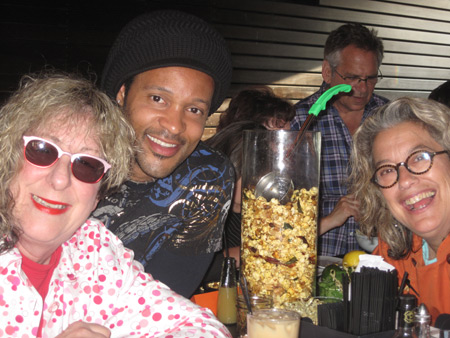 What's great about being at Street on the nights that Top Chef Masters airs is that not only can you order any of the completely and insanely inventive food on the menu but also little trays of whatever Susan cooks on the show that night are passed around. We started out with Lamb Kakta Meatballs drizzled with date and carob molasses…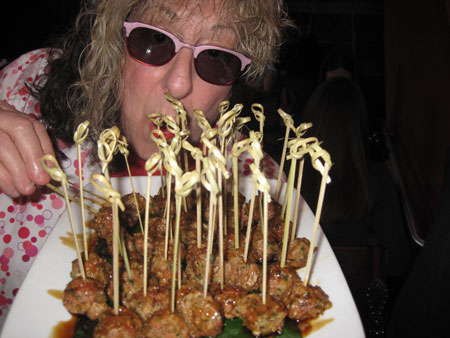 … followed by the Tatsutage Fried Chicken marinated with soy, mirin and sake and crispy fried in rice batter, topped with spicy kewpie mayonnaise sauce.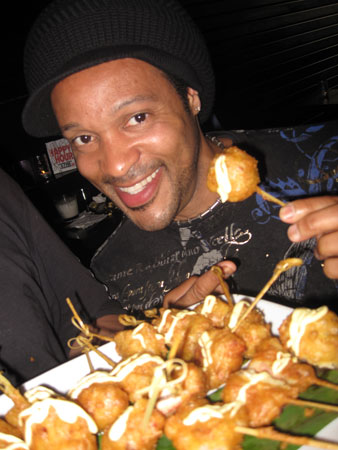 Then came the Burmese Lettuce Wraps with gin thoke style lentils, toasted coconut, peanuts, fried onions and sesame ginger dressing…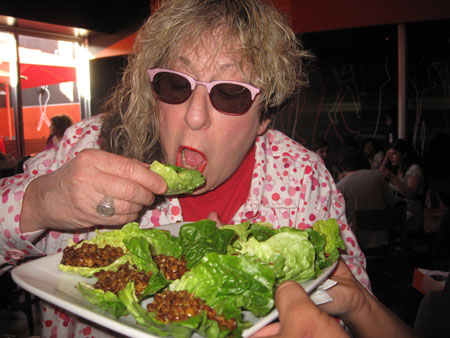 .. and the Paani Puri, spiced potato, chutneys and sprouted beans in crispy puffs of yogurt-cilantro water dipped dough…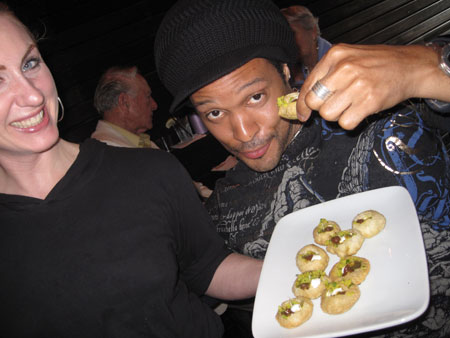 … with the Brazilian Acaraje not far behind – black-eyed pea fritters with palm oil, garlic and cilantro stuffed with citrus cabbage slaw and malagueta chile sauce.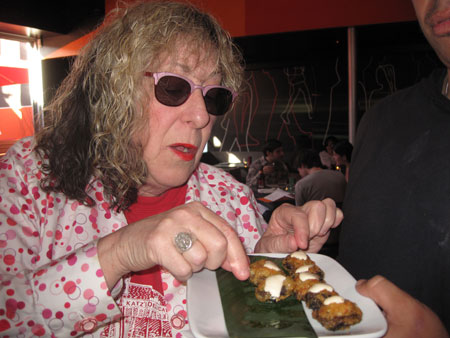 Then we topped it off with barbecued pork sliders: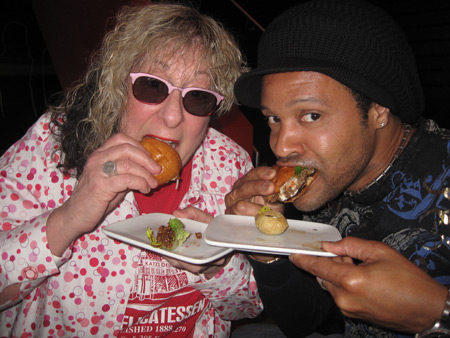 Obviously Stu and I spent as much time taking photos of each other eating as we did talking, all the while watching Susan toil away on TV. The chefs' challenge this week was to make food "fit for the gods of the heavens".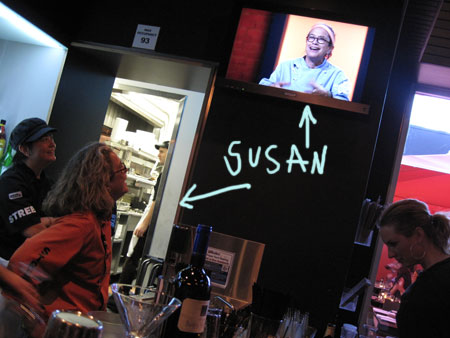 Susan was assigned Aphrodite, goddess of love. She went for it with one of the signature dishes at Street, Kaya Toast.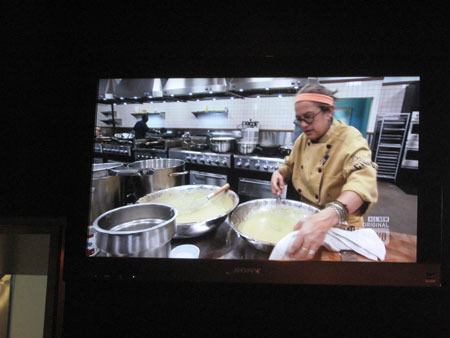 Kaya Toast is a Singapore street cart experience – toasted bread spread thick with coconut jam and sweet butter that you dip in a soft fried egg drizzled in dark soy and white pepper. When you bite into it it fills your mouth with such an unexpected burst and multi-textural slide down the throat that your whole body jolts with the sensation. I can always tell when someone orders Kaya for the first time because there's always a long drawn out 'oohHHhhhh' that accompanies it. That's love. And it's certainly fit for Aphrodite.
As individual servings of Kaya Toast were passed around to all of us in the restaurant Susan raced to finish the dish on the show.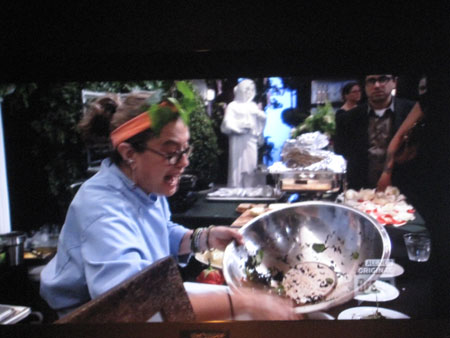 As the judging began, the whole restaurant got ready to lift their glasses to celebrate yet another triumph. At that moment I wished I had brought the Party Jocs with me so Stu and I could have toasted in style not to mention hand comfort.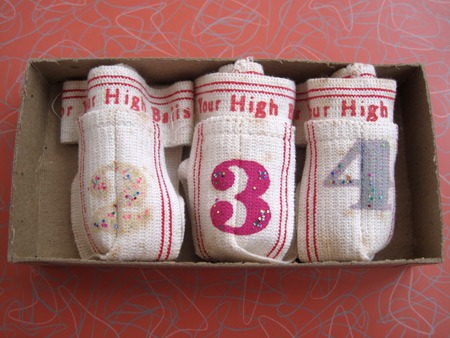 But the only thing about the Kaya Toast is that it looks like a very simple dish. Everyone always thinks it's going to taste like a grilled cheese sandwich.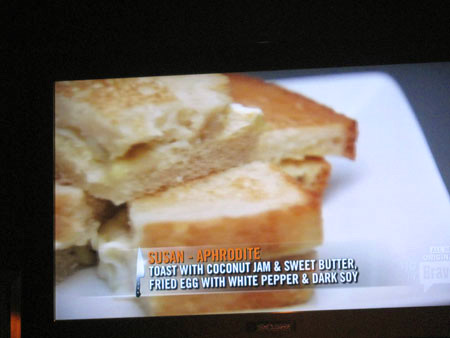 And that's what judge Jay Rayner couldn't get out of his head, that it looked like a PB&J and he didn't find that very sexy. So Susan went down in flames…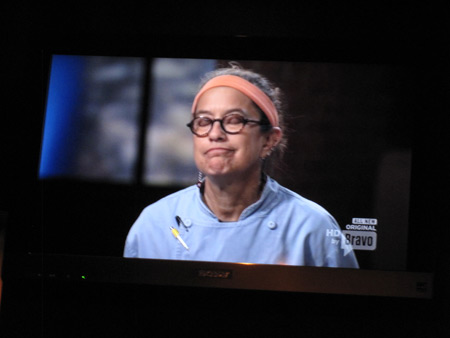 But I'm here to tell you that it took balls to make a dish like that, on first impression so plain and simple but upon tasting it a cornucopia of textures, tastes and sensations. So come to Street if you want to taste food fit for the gods. And to Jay Rayner and the remaining three male chefs I lift my glass, now adorned with its comely 1960's fashion statement, and wish them all very happy highballs as they cook to the finish.