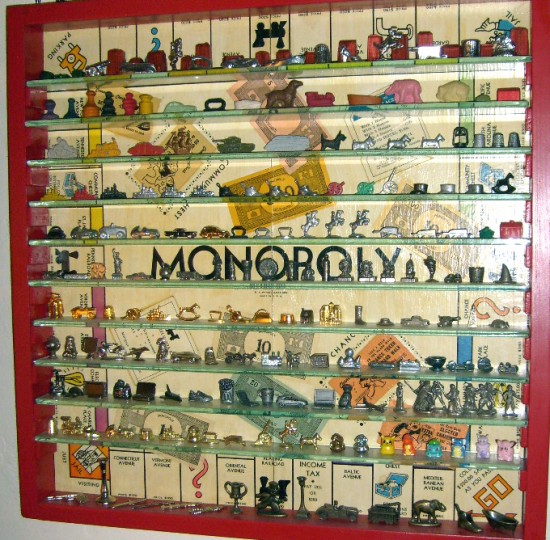 This is a collection of Monopoly tokens ranging from the 1930's to the near present. My partner and I built the display case out of a vintage Monopoly board framed in wood with glass for the shelves. On the second shelf down from the top, you will see composite tokens (pink elephant, yellow pig, red train, etc.) made during World War Two (as metal was scarce). The third shelf contains World War tokens from the United Kingdom (including an army tank).
The original game did not come with tokens. You were instructed to use coins or buttons. Then one day the inventor of the game saw his little daughter using Cracker Jack charms as tokens and the idea came to him. The original tokens were an iron, cannon, thimble, ship, shoe and top hat, and the deluxe version also had a car, lantern, rocking horse and a purse (the purse is my favorite token).
btw, I love collecting tokens, but I hate the game itself (too long and boring to play)!!!