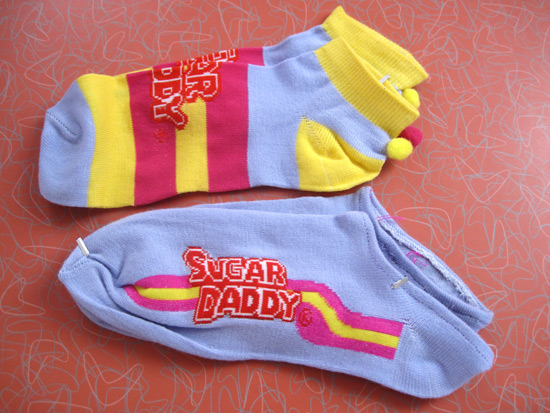 No one loves socks, the most over looked fashion item in the clothing arsenal, more than me. I have hundreds of pairs and they change with every outfit. Easily the cheapest but what should be the best smelling socks in the drawer are these two pairs that are supposed to wreak of Sugar Daddies. But short of stuffing these socks up my nostrils I haven't detected any such smell or I'd be running out to buy matching pairs of Tootsie Rolls, Blow Pops, Junior Mints, Charms and Dots foot coverings.
I can't imagine that it would take foot sweat to activate the olfactory function so I'm going to have to assume that these were ill-conceived from the jump as I plucked them straight outta the unopened packages where not a scintilla lot of candy smell remained either.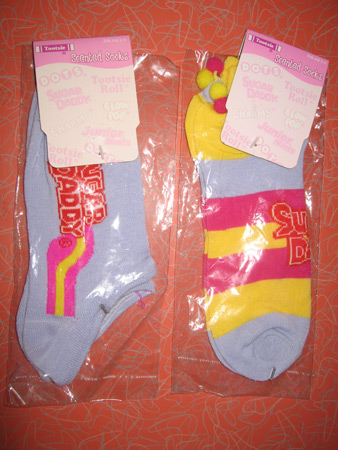 Made in 2004 for Designs by Skaffles, Inc. of New York, these 65% Acrylic, 30% Polyester, 4% Spandex, 1% rubber and 0% smelling socks are supposed to retain their scent for 4-5 washings.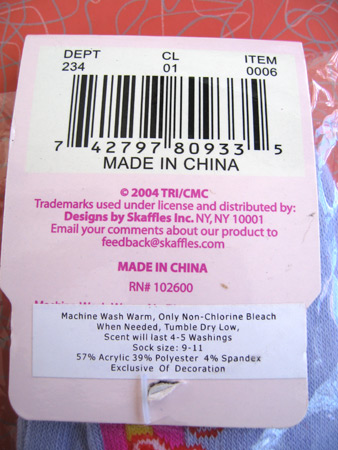 I swear I would love to walk around smelling like a Sugar Daddy but unless these were pre-washed 4-5 times before they were packaged in China the only hint of candy is on the way-too-light-to-read-without-squinting pink label.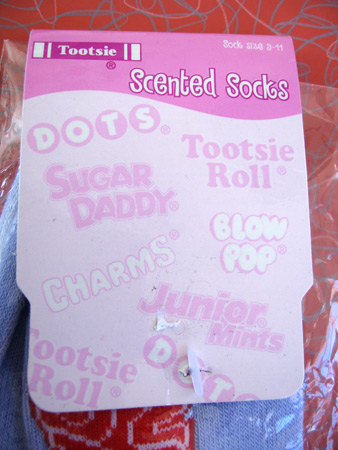 So the socks don't smell and the label is hard to read. All of which makes for excellence in Kitsch but, unfortunately, not in socks.