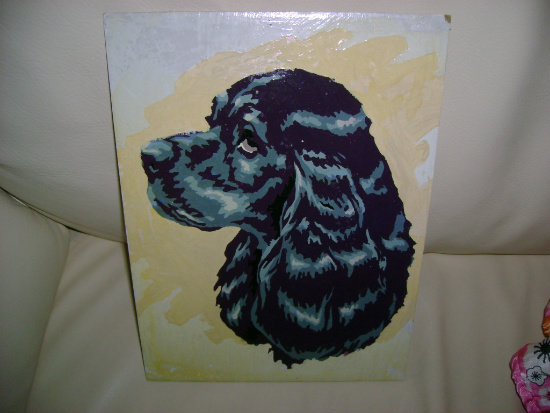 I found these on ebay a couple of years ago. I used to LOVE paint by numbers (painting them and collecting them), but it became a sort of popular thing to collect and prices hit the roof! These were an incredible find though, and when the seller of these paintings disclosed in his description that he was only trying to make enough money to buy his Mother a bottle of booze (can't remember what type) and that she was astonished that anyone would give him one penny for these paintings, I was completely enamored. I also really, really love these pictures.
When I won the auction, Mr Shetler sent me an email asking me why the in the Hell I wanted them. I, of course, explained that I truly loved them, that I loved his description, sense of humor, love of Scotch, and overall approach to life. I also wanted his Mom to have her booze (something which no mother should be deprived of!). These paintings have a lovely story and a life of their own, which means a lot to me. I love looking a them and I love knowing that I'll pass them on, story attached, because well, it's meaningful and let's face it, it's art. They should be protected and preserved.
I asked Mr Shetler if he would mind writing a little note telling his story so I could remember his story accurately and he politely indulged me. I've not travelled to his B&B yet, but hopefully, health allowing, I'll be able to someday. Being a devoted animal lover and rescuer, not to mention lover of Scotch, I can't imagine being happier anywhere else but in a place with llamas, dogs, cats, goats, places to hike and good booze. Sounds like heaven.
The photos are listed in the order in which they were painted. I hope you can read his letter, it's hilarious.