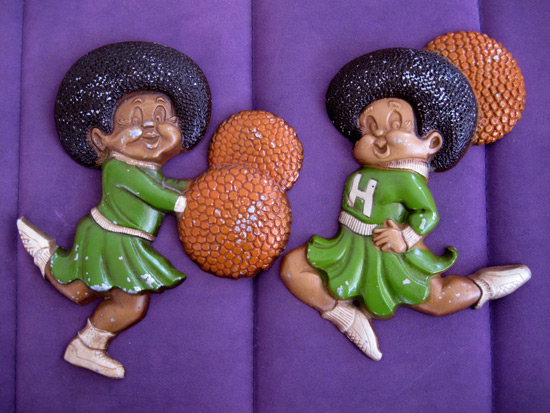 Whenever I look at these metal cheerleader wall plaques made by Sexton in the 1960's I think of Toni Basil because you can see how happy these girls are doing their cheers. In 1982, the year that "Oh Mickey you're so fine, you're so fine you blow my mind, hey Mickey" was all you could hear on the radio, Toni, singer, choreographer extraordinaire and the woman responsible for making cheerleading ultra cool, and I were best of friends. She was one of my first girlfriends when I moved to LA in 1976 and I've always loved my collaborations with her because she's fearless, decisive and eternally ahead of the curve.
Last night Toni and I got together for the first time in years at the restaurant I co-own, Street. Here we are with Prudence Fenton and Chef Susan Feniger.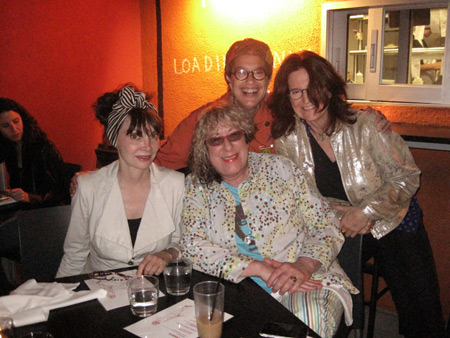 We covered a lot of territory, not to mention food. Though we wrote our first song together in 1976 most of what we wrote went on the gold album that included "Mickey" in '82. Here we are at a party I threw for Toni at my house to present her with a gold record when that song went number 1 in Japan.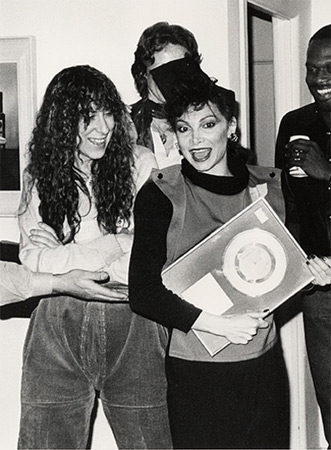 One of our songs, "Street Beat", written with Bruce Roberts, has run through my head at least once a week since we wrote it. This performance of it on The Smothers Brothers Comedy Hour is staggering.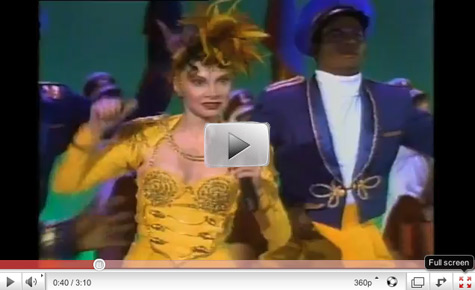 For any of you who may not know it, Toni formed the legendary dance group, The Lockers, street dance pioneers, in 1970. (She also wrote the legendary "Oh Mickey, you're so fine…" chant but never got credit). So when you see a performance as incredible as "Street Beat" bear in mind that Toni doesn't just sing it live but did absolutely everything else from choreography to wardrobe.
That same year another one of our collaborations, "Shoppin From A-Z", also with Bruce Roberts, came out. Just as I was, Toni was a multimedia artist at a time when that wasn't encouraged in the music industry unless you were a major star. So I always loved collaborating with Toni because she not only encouraged my multi-medianess but pushed me into places I had never been before. Like in the "Shoppin" video where she made me dance.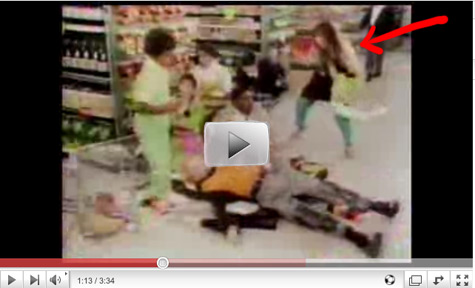 But now back to 2010 and our dinner at Street.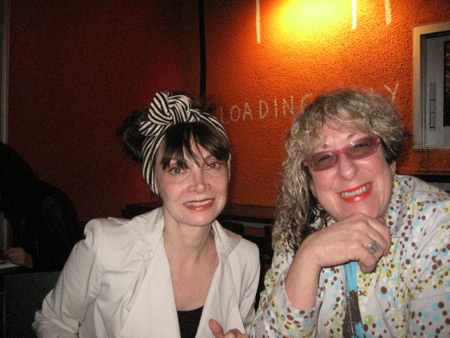 We started out with my favorite dish at the restaurant, Albacore Sashimi with spicy sesame mayonnaise yuzu ponzu sauce, smoked salt, pink peppercorns and micro wasabi.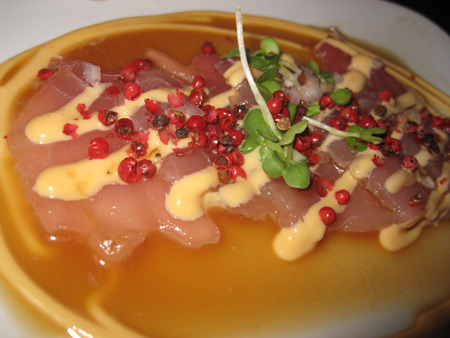 I don't even like pepper but always ask for extra pink peppercorns. This dish is so good it makes me feel like doing a cheer.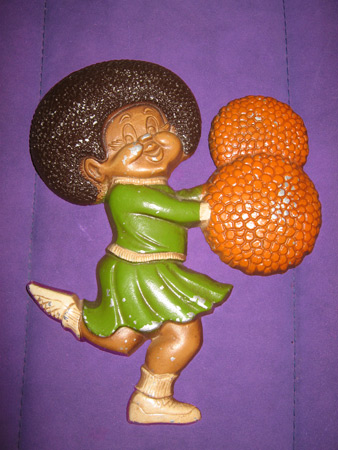 Next we had Graskaas Aged Gouda Salad with red endive and watercress, Asian pear, black currant and celery leaves in a juniper walnut vinaigrette,…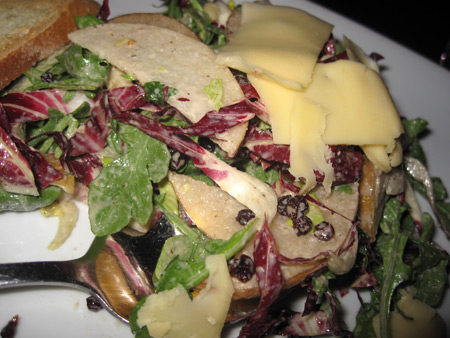 … followed by Lamb Kafta Meatballs over warm Syrian cheese wrapped in grape leaf with date and carob molasses on za'atar spicy flatbread,…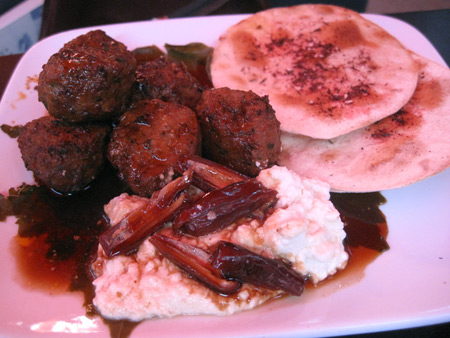 …and Tatsutage Fried Chicken marinated with soy, mirin and sake, crispy fried in rice batter and topped with spicy kewpie mayonnaise sauce.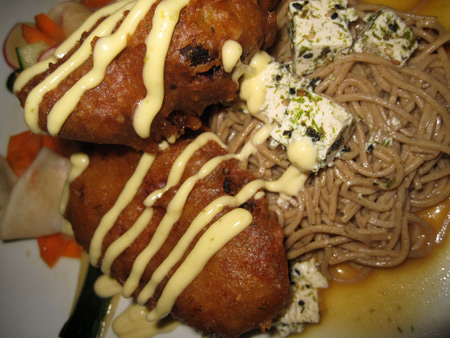 This dish also deserves a cheer.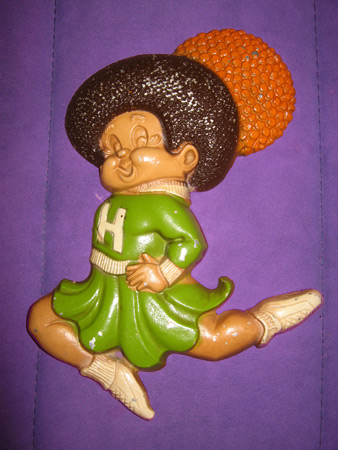 We also ordered Stir Fried Chinese Brocolli with fresh ginger, garlic and sesame…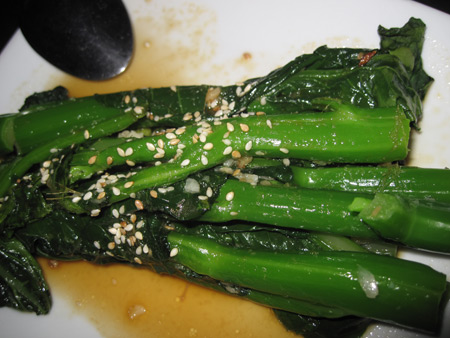 …and Thai Rice Noodles with Chinese broccoli, seasoned pork, tomato, mint, Thai basil and chiles.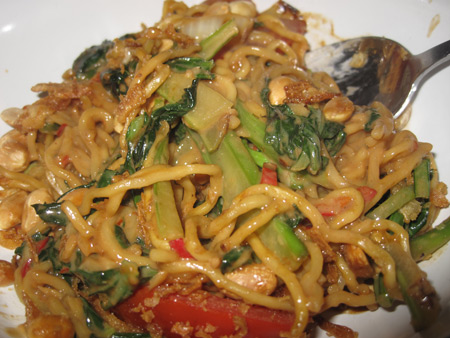 I forgot to photograph the Massamun Beef Curry because we were too busy talking.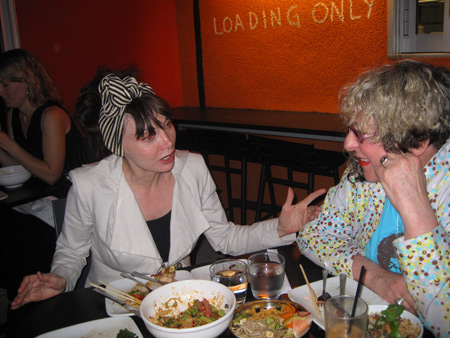 As sure as I love the food at Street not to mention the related-though-it-preceded-it-by-18-years "Street Beat" I'm not gonna let another few years pass before Toni and I get together again.