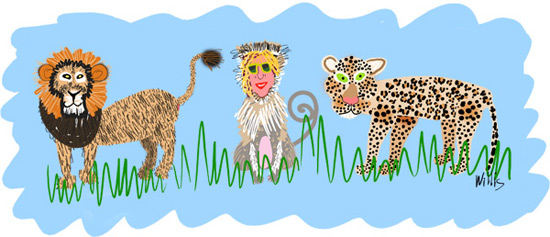 As some of you may know, I've been working with Pomplamoose, an ungodly popular and talented independent band with over 25,000,000 views on YouTube who I first saw when they did my song, September. The result is "Jungle Animal"', a music/ art/ video/ technology collaboration that we're working furiously to release in 3 to 4 weeks.
To tie into the "Jungle Animal" online music game and contest I'm designing as we speak, The Allee Willis Museum Of Kitsch is sending out a call to all aKitschionados to submit and be on the lookout for excellent jungle animal kitsch! Lions, tigers, monkeys, leopards, elephants, parrots, anything that lives or grows iin the jungle is being sought to be part of the AWMOK Jungle Animal Petting Zoo that will accompany the release.
CertifiKitsch winners for jungle kitsch will receive signed prints of original art created for "Jungle Animal". The video song release will include podcasts (I'm singing and dancing on this one!), a music contest, a bad dancing contest, prizes from Archie McPhee and inclusion in the AWMOK/ Pomplamoose Jungle Animal Petting Zoo which will accompany the song.
So please take a kitsch safari and bring all the jungle animal kitsch you can find to AWMOK ASAP as I need to fill the cages over the next couple of weeks. I don't care if you own it, just snap photos of it wherever you see it, submit a video of Raquel Welch dancing with a gorilla or a baby photo of you lying on a zebra skin rug, I'd love you and your kitsch to be part of the "Jungle Animal" release. I wouldn't do this if I didn't think that the song and collaboration weren't extraordinary.
Thank you in advance for your jungle excellence,
Allee