.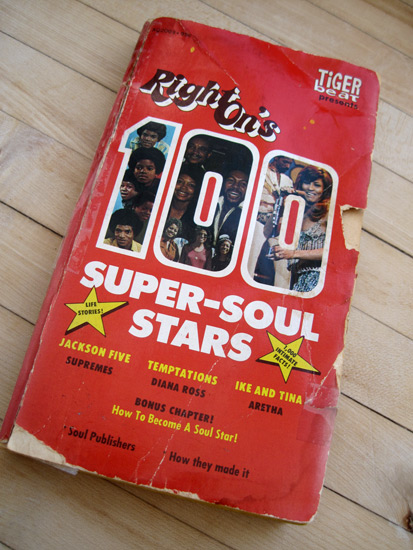 My life would have never been the same without Soul music. Growing up in Detroit, my teenage years were spent on the far right of the AM radio dial, down where the black stations were. I had no idea I would eventually become a hit songwriter especially because I never learned (to this day) how to play an instrument. Call it a limitation but I'm someone who believes in finding power in limitations. I learned everything I know from the Soul Stars in this book. Published in 1968 by Right On! magazine, a division of Tiger Beat, Right On! was THE commercial rag of blended Pop Soul, music that rippled with unbridled joy of freedom and self-expression, exuding confidence and spontaneity that sprung from a Black Is Beautiful social consciousness. Listening to THAT music was all music training I needed.
Here's Right On's 100 Super-Soul Stars as of 1968: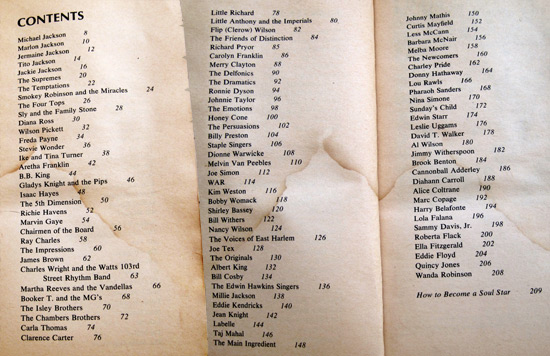 I know the names are small but squint to read them because they changed music forever and most of the records they made sound as contemporary today as the day they were mixed.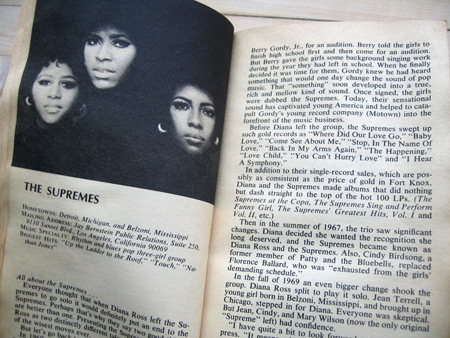 I loved every record the Supremes made though I loved the earliest ones the most.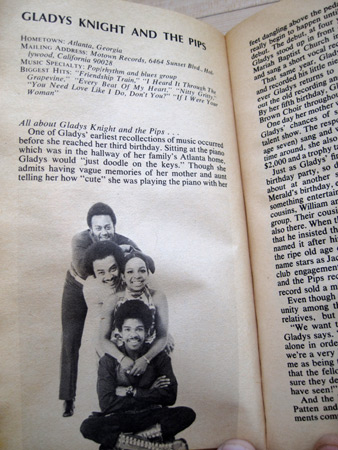 The original version of "I Heard It through the Grapevine" by Gladys Knight and the Pips slayed me. In 1973, "Midnight Train to Georgia" became and remains my single favorite background vocals record ever recorded.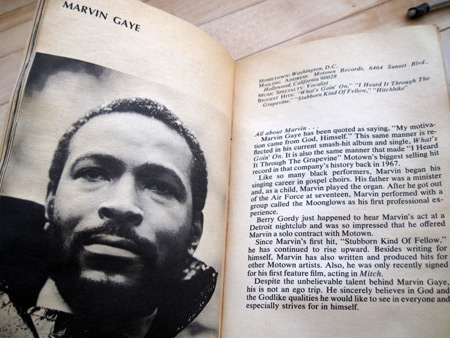 Marvin Gaye's songs recorded by the time Right On's 100 Super-Soul Stars came out, especially "Wonderful One", "Ain't That Peculiar" and "I'll be Doggone", were my favorites. When he released his version of "I Heard It through the Grapevine" I think it became one of the greatest records ever made.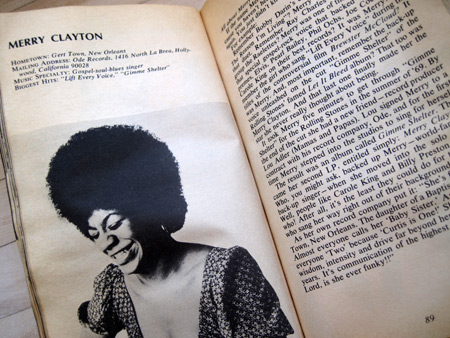 Merry Clayton was the believable female voice on The Rolling Stones 'Gimme Shelter'. I got a promo copy of her solo LP in the early 70s when I was working at Columbia Records and played it constantly until I used it as a hat brim for an outfit that really screamed for an albeit impromtu hat.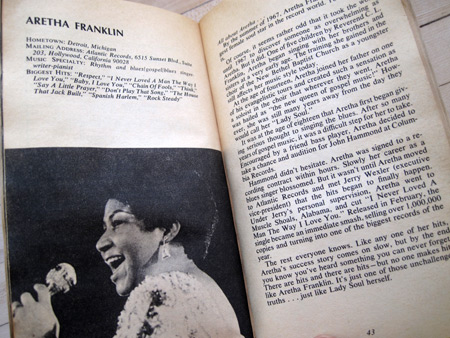 The highest form of Godliness in Soul, Aretha's 'Soul '69' is still one of my favorite LPs ever.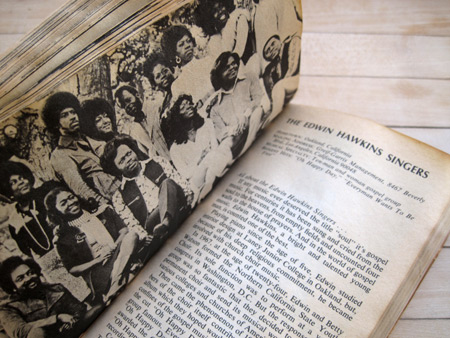 I was very depressed when I graduated college having to leave all my friends at the University of Wisconsin. The only thing that kept me somewhat calm and optimistic on the long drive back to Detroit was hearing "Oh Happy Day" over and over again on the radio.
For as great as 1968 was in producing Super-Soul Stars it was still too early to include the group that honestly and for real changed my life, Earth Wind & Fire. In 1978 they gave me my first hit single, "September", and in '79 my first hit album, "I Am", on which I co-wrote every song but two. Here's they are in 1975: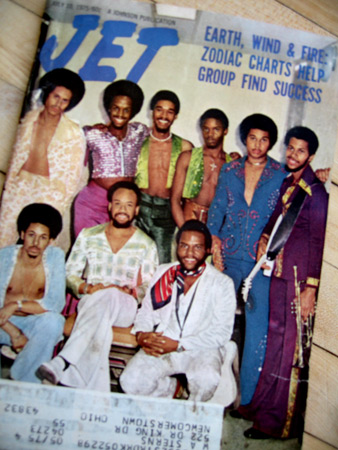 Larry Dunn, keyboardist extraordinare, had the most awesome Afro of anyone in the group.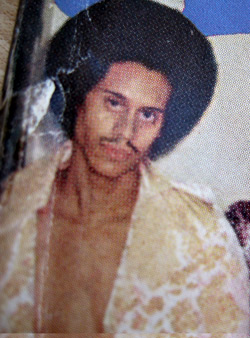 Though they too had spectacular Afros I hadn't even heard of The Emotions when Right On's 100 Super-Soul Stars came out in '68. But years later they joined Earth Wind & Fire to sing my second hit, "Boogie Wonderland".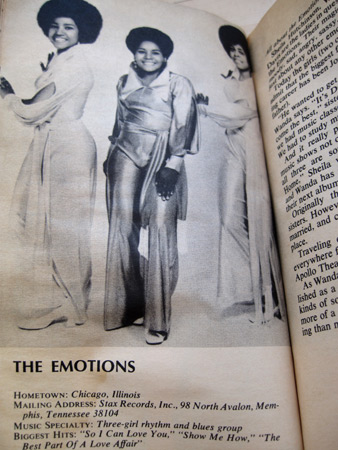 Last Saturday night I went to The Waterfront Concert Theater in Marina Del Rey to see Elements of Fire, an EWF tribute led by Larry and Sheldon Reynolds, who joined the group as guitarist in the late 80's and filled in for co-founder/lead singer and my favorite singer of all time, Maurice White, when he left the group. I bumped into Larry as I was walking in.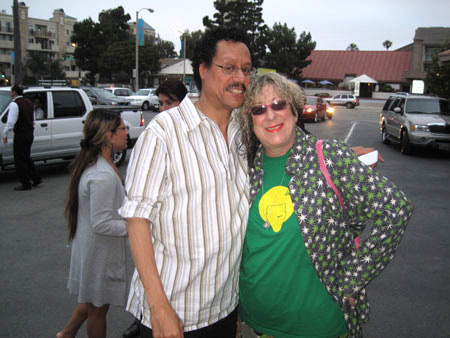 Once inside I met up with one of my favorite friends and funniest persons alive, Luenell, who was introducing the band.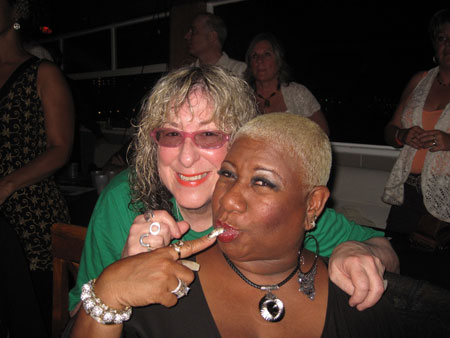 If one just judges the music and love affair between performers onstage and the audience, the evening was spectacular. I spent two exquisite hours enjoying some of my favorite music on earth, several songs of which were mine. I was surrounded by friends from back in the day. But that's where the party ended. Once the evening was in the hands of The Waterfront "Concert Theater" it was a 3, no, 23 ring, circus of errors.
As a purveyor of kitsch and aforesaid strong believer in rolling with limitations if you can't do anything to change them, these are the moments I must take a breath and remember I'm blessed. Rather than chasing down the manager to strangle him/her I just squint and look at the evening as a massive wheel of brie spilling off a way-too-small buffet table and know I will remember it as a stand out in the annals (or anals depending on how hard you're squinting) of Kitsch.
The screw-ups started a full week before I even got to The Waterfront "Concert Theater" when I tried to buy tickets over the phone and talked to a chain of robots, none of whom could help me other than tell me that dinner was served during the show. I would've bought tickets online but after five minutes of searching the site for a link to the box office there was no link to tickets for the band I wanted to see. I finally bypassed the club and got tickets through the tour manager. But even with them printed out in hand you still had to stand in line to pick up the real tickets which were the identical printed sheets of paper. Which would have been slightly more tolerable if the air conditioning had been working.
Soaked like a mop, I went to the bathroom to freshen up. I know this place is called The Waterfront because it sits on the harbor. I just wish they would've confined the standing bodies of water to outside. Nothing short of a few sticks of dynamite could've unplugged this: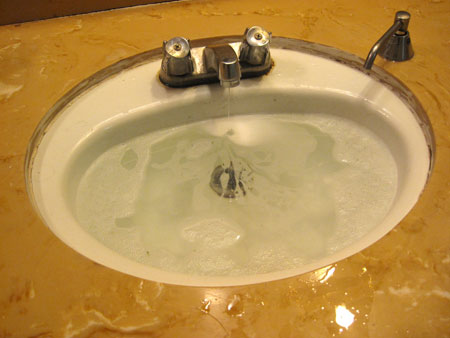 I moved on to sink number two but unless I had brought my bathing suit and spent the night sitting on the bathroom counter dipping my toes to try and cool down from the malfunctioning air conditioning I still was left with no place to wash my hands.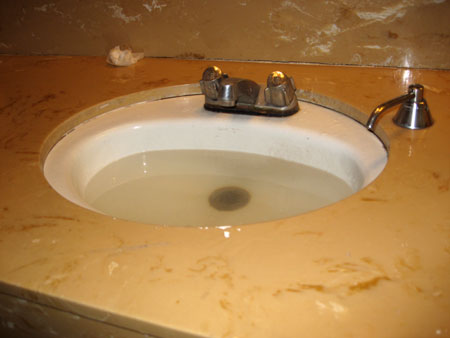 I included the following photo because it's important for you to see the primo condition vintage 1950's rayon shirt I have on. Covered with starbursts, it's one of the best Atomic Age shirts I own. I only wear it on special occasions when I know I want to feel good.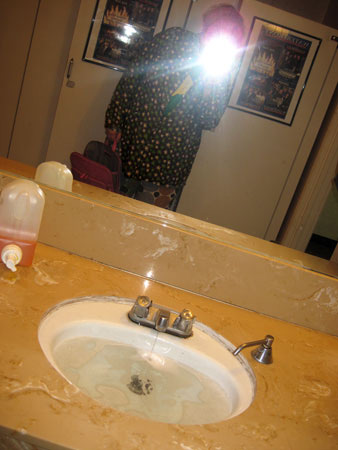 Little did I know as I swept past the Waterfront's beautifully finished bathroom walls…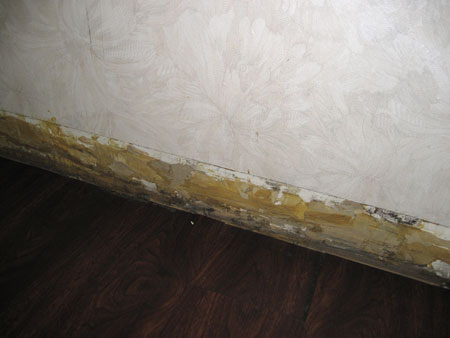 … and well-attended to wastebasket…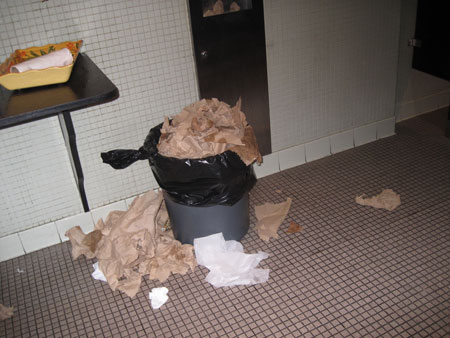 … what would happen the second I got to my seat in the "VIP" section, three bridge tables plopped in the middle of the one and only narrow aisle that led to the stage and at least 20 other people who would need a waitress or a bathroom throughout the night. Though we were in slightly better shape than hundreds of other sardines smashed together in a room with only one exit. I finnnnnaly stepped over enough bodies to crumble into my seat and a waitress dumps a bottle of beer and a full whiskey sour on my beautiful, special, rare and beloved Atomic shirt. Ice cubes dribbled down my back coating both sides of the garment with sticky goo and deposited yet another body of standing water in my chair, the kind that has ass indentations carved into the wood so any liquid just sits there. Despite not being enough to soak up the mess on me, my chair, the floor, the people next to me and my once beautiful but now permanently spotted leather bag the waitress returned with six towels, a blessing as she only brought one thin paper napkin when she finally delivered our meal, the one and ONLY item on the "full dinner" menu the robots had told me was available, a Styrofoam plate with a tiny pile of bagged salad, an unidentifiable mound of squishy stuff that was probably going for Jumbalaya and "Chicken Strips", 4 tiny frozen Costco chicken legs. As Luenell said when she got on stage, "Don't be tellin' a black woman you got chicken strips and then bring her no chicken legs dripping with sauce so now her lipstick's smeared all over her face and she got to get up on stage. That's dangerous."
After about a half an hour I adjusted to the fact that I was stuck in a beer and whiskey soaked outfit in a club with little to no air conditioning and no sink to clean any of it or me off. The music was SO good – "September", "Boogie Wonderland", "Reasons", "Serpentine Fire", "Can't Hide Love", "I Can't Let Go", "In The Stone", "Getaway" "Fantasy", "That's the Way of the World" and on and on. I even got used to having my chair shoved in my back every time anyone needed to get by. Of the hundreds of times it happened that night thankfully one time it was by this guy in the blue shirt: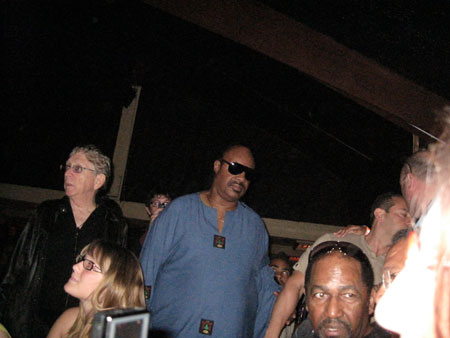 He had many hits by the time he made it into Right On's 100 Super-Soul Stars in 1968.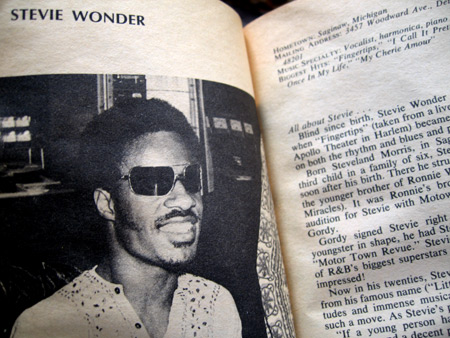 Ultimately, I think covering a sweat soaked body with an outfit made of beer and whiskey made Stevie's medley of "Shining Star" and "Superstition" even better for me. Despite the constant efforts of The Waterfront Concert Jail I Mean Theater to do otherwise, it was the kind of night where you couldn't help feeling like a Soul Star when you left.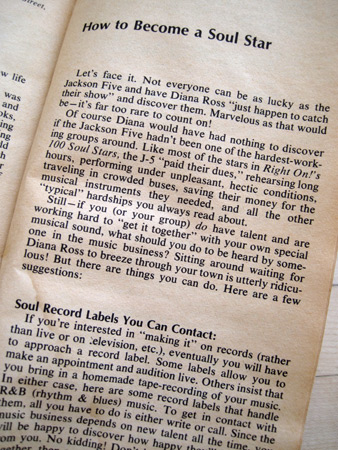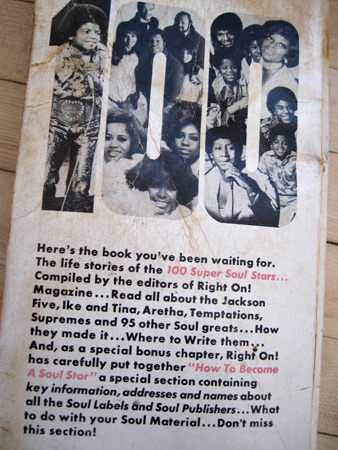 (For more of me, EWF & Luenell on an evening that was far better managed, see the opening party for my social network, The Allee Willis Museum of Kitsch at AWMOK.com, last September 21st, the date that's in the opening line of the song, "Do you remember the 21st night of September…". Larry Dunn and founding EWF member Verdine White, greatest bass player who ever lived, played for anyone who wanted to sing kariokee of "September". Though there are no drinks being spilled, no germ infested bathrooms, lots of food, air conditioning and folks who worked there who actually got past the first grade, it's still fantastic viewing material for anyone who likes me, Earth, Wind & Fire, Luenell or Super-Soul Stars in general.)
Intro: http://www.youtube.com/watch?v=B12TPKuVcSY
"September": http://www.youtube.com/watch?v=kKXU2o6NVT8
"Boogie Wonderland" http://www.youtube.com/watch?v=Nj1tzW4kyMg