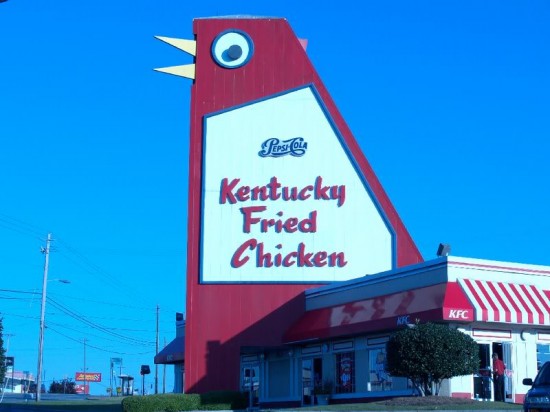 Q:
What's big and red with a clucking beak and a giant eyeball that spins?
A:
The Big Chicken, of course!
The big chicken has been a Marietta, Ga institution since it hatched on the scene in 1956. The chicken is 56 feet tall and is located in one of the biggest intersections so all directions revolve around, "take a left at the big chicken!," "hang a right after you see the big chicken," and so on. The renovated Big Chicken looks great- it doesn't seem to have the moving comb anymore but we can overlook this just as long as the bird is still the word in Marietta.
As a child in the early 70's there was nothing more exciting than looking out the backseat window of the car (carseats? carseats? we didn't need no stinkin' carseats?….well, we did but we just didn't know it. I still have nightmares of Momma throwing her right arm as she was breaking the car to keep me from flying off the front bench seat next to her.) to determine if the beak , comb AND eye would be moving.
So, the next time you're "cruising down the Atlanta Highway" keep your eyes open to be the first to spy the big chicken!
This lovely picture is from http://travel.webshots.com/photo/2357071700082280652jnaWxv