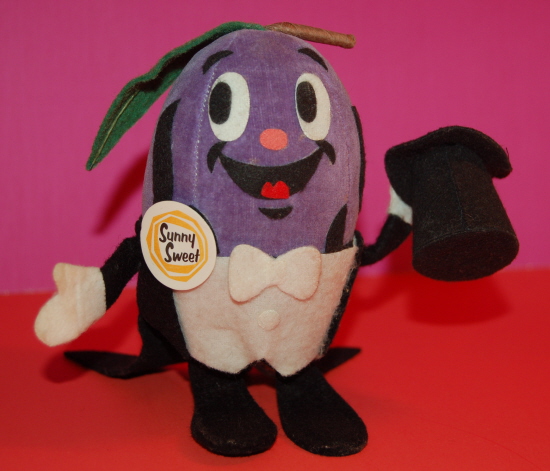 This smiling fellow is Sunny Sweet. He was the spokesprune for Sunsweet Prunes, and star of the 1951 animated film "Good Wrinkles". (Technically, a prune is simply a plum with a sugar content high enough to dry the fruit in the sun and it won't ferment at the pit. That's one of the things I learned after spending almost twenty years writing a dictionary about the Rose Family of plants, just for the heck of it). Botanically, a plant is classified into its respective family based on the structure of its flowers. Since the flowers of a Wild Rose, for example, are like Apple blossoms, which are like Strawberry blossoms, which are like the blossoms of Cherries, Plums and Prunes, etc., all of these plants and more are included in the Rose Family. I'll bet you didn't expect to get a botany lesson here. I digress…
Anyway, "Good Wrinkles" was produced by All-Scope Pictures, Inc., and sponsored by the California Prune and Apricot Growers Association. It's a total prune promotion from beginning to end. (Perhaps I should use another word here besides "end". Or perhaps not. Most everybody knows that prune juice is a legendary remedy for, well, you know, "digestive" problems. Okay, constipation. There, I said it).
There is a website where you can download the movie for free, as part of the collection of the Prelinger Archives. I tried for two hours to figure out how to add it here, but gave up. Instead I'm providing the link:
http://www.archive.org/details/GoodWrin1951
Our Sunny Sweet was manufactured sometime around the mid-1950's by the plush toy maker R. Dakin & Company, of San Francisco. The company went out of business in 1995. Sunny is approximately 5″ tall, and looks very classy in his formal wear including top hat.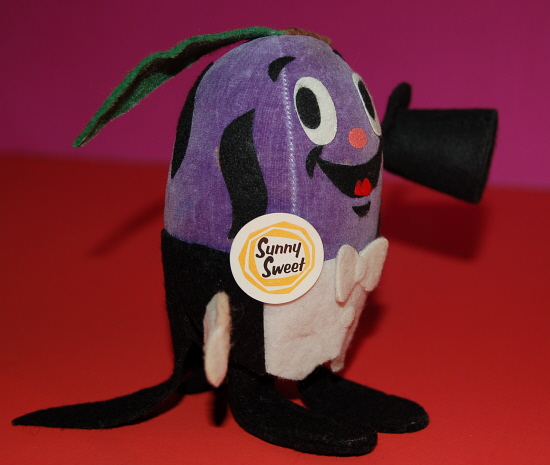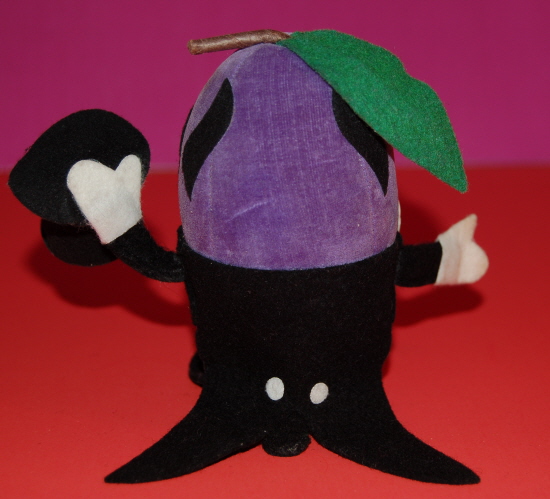 And here's Sunny's paper hang tag with some truly vintage recipes: