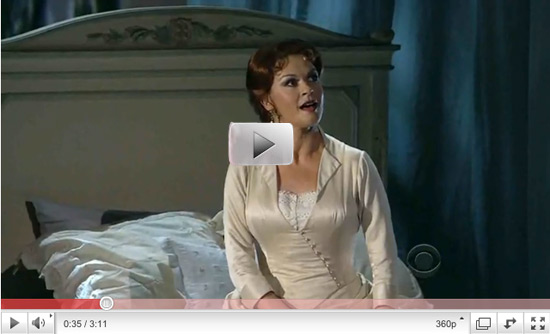 I knew when I saw Catherine Zeta-Jones' rendition of "Send in the Clowns" at this year's Tony Awards it would become an instant camp classic. Now, weeks later I still can't get it out of my mind and have to wonder WTF?! Where the hell was her director? Why didn't Michael Douglas pull her aside and advise her? Or are the two having some sort of bizarre competition to see who can chew the most scenery?
The constant head-turning is just baffling– who knew she had Tourettes? And I love how she milks the hell out of the mono-syllabic words, "rich," and "queer," bashing us over the head with the sheer weight of all that subtext. But not as much subtext as there is in "career," which, I would assume after this performance will be a very grave concern of CZ-J's. Stay with this to the very end, as you won't want to miss the final, almost acrobatic head twist on "year."
P.S. She WON the Tony for this!