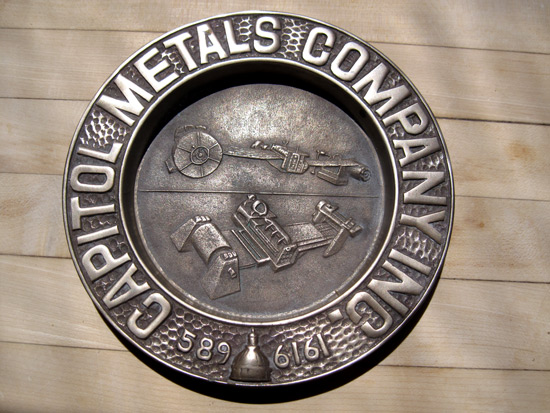 As we in the states scrape down the barbecues and pack the picnic baskets getting ready for big Labor Day feasts tomorrow, it's only fitting that I drag out my Capital Metals Company Inc. ashtray and shine it up as best as one can shine a piece of 60-year-old textured metal, so those who still smoke have something labor-themed to squash the labor of their puffing out in. As we stuff hot dogs and hamburgers and baked beans and potato chips and potato salad and coleslaw and, if we're lucky, barbecued chicken down our gullets this Labor Day, I hope we all remember what we're celebrating. Especially this year when less and less people can even say they're a part of the labor force. Some people fly a flag. I just rummage through my drawer of over 200 vintage ashtrays and pull this one out for the weekend.
Although I spent almost every Saturday of my childhood poking through piles of metal in my father's scrapyard in Detroit and thus have a much healthier knowledge of metals than the average gal, I don't really know what the two mechanical wonders in the tray of the ashtray are.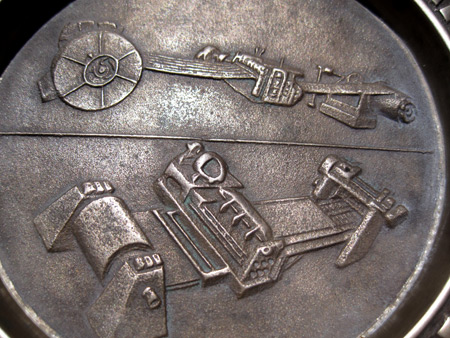 I'm assuming they're both some kind of metal stamping or forming apparatuses and weigh several tons. I'm also assuming that they make a spectacular sound as they do whatever they do to the metal or whatever it is that passes through their jaws and conveyor belts. These are the kind of machines to this day that I'm obsessed with making recordings of and using as percussion loops under my songs.
Who knows if these babies are still around…? They probably met the same fate the Capital Metals Company Inc. that doesn't show up in a Google search did. Depending on what these machines popped out and how they triumphed in the 1940's, 50's and 60's, they may have taken a tumble in the 70's when the transition from labor driven factories really started to kick in.
There's no address or area code with the phone number on the ashtray so I have no idea where the Capital Metals Company was/is. One might think Washington DC from the little Capital dome at the bottom but being such a ubiquitous icon it still could be from anywhere.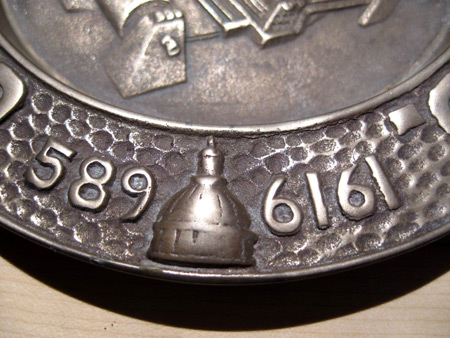 As we celebrate the once great tradition of the American workforce, I personally celebrate the fact that I had the good sense to snap up this ashtray for the 10 cents the labor force at Salvage Masters, "The Champagne Operators Of The Salvage Industry", in Long Beach, CA asked for it.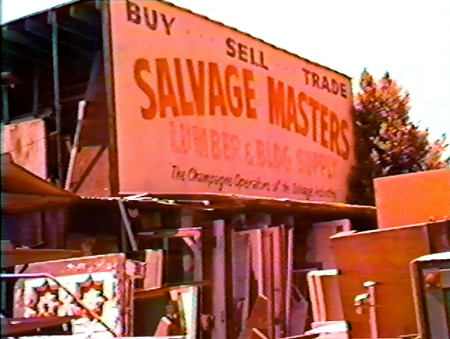 Here I am there moments before I stumbled on the Capital Metals Company metal ashtray in 1984: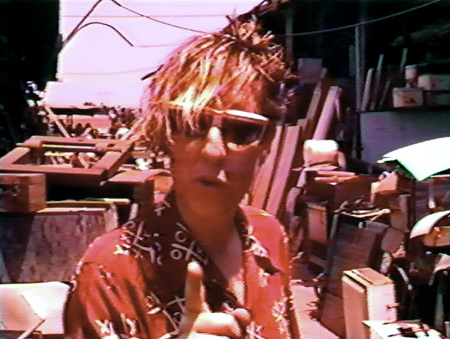 On this one-day-before Labor Day, all hail labor and, of course, gorgeous metal ashtrays!