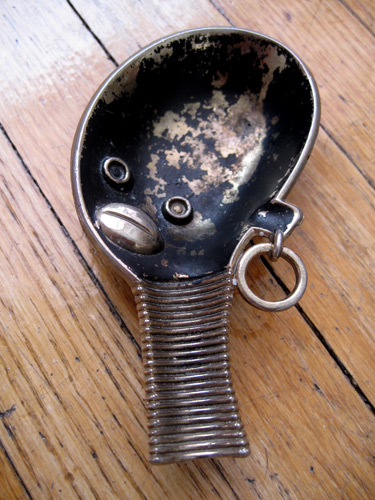 Made of heavy metal and showing signs of many smokables ground out on her head, this petite 3″ long ashtray is one of my favorite pieces of Africana. I bought her in 1979 for 25 cents during my first run of the Earth. Wind & Fire hits, when my Soul memorabilia collection really kicked into high gear. On the African tip, I snatched up every wooden, ceramic or chalkware bust I could find, all excessively cheap because this was way before the frenzy to collect them set in. Since then my collection has tipped way more toward the pop culture soul side, primarily late 60s/early 70s massive Afro laden stuff, but my little expressive African lady is never far away from the pop action.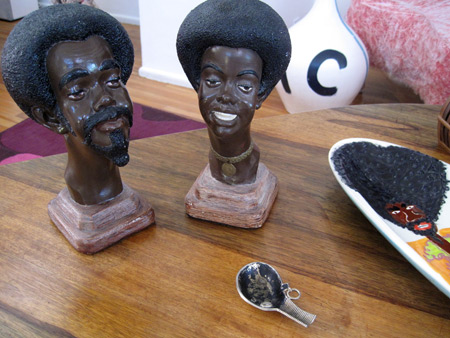 She has two convenient places to store smokable rolled substances: one, the concave series of necklaces that cover her neck for things already lit and two, her earring, into which a brand-new log can be inserted to stand up vertically until it's ignited.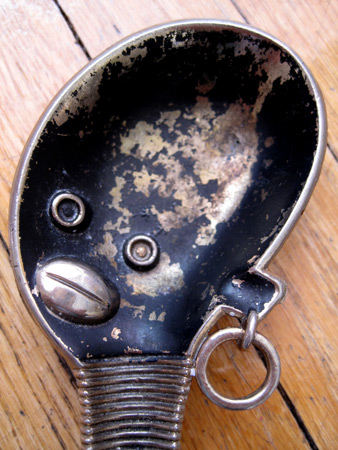 I shall never turn my back on this little lady becasue I love her so much.