In the background of this picture you can see that Pete's Kitchen is just a few blocks outside of downtown Denver. Behind those skyscrapers (the tall one is the Republic Plaza, also known as the "Cash Register Building" because of it's shape) are the Rocky Mountains. About a 45-minute drive in that direction marks the continental divide, where the melting snows decide if they're going to run into the Gulf of Mexico to the south and east, or the Pacific to the west.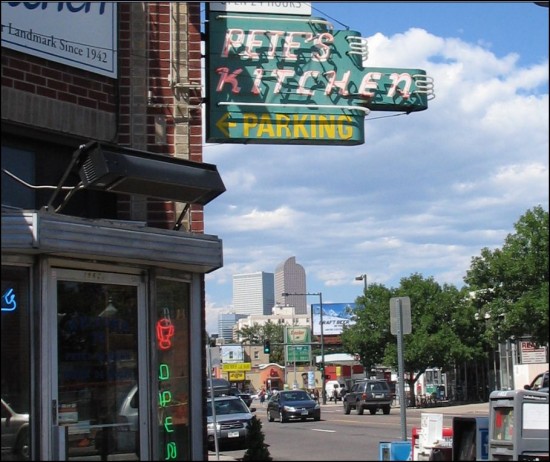 But Pete's isn't in a Coors commercial mountain scene, where they used to espouse the fantastic beer brewed from Rocky Mountain Spring Water. It's in Denver, and there's not really that much "John Denver" about the real city itself.
Here's Pete's "Satire Lounge" next door. Pete Contos, the owner of both, did very well for himself. He immigrated to Denver in 1955 from Greece, and started out washing dishes. I think it's a great: a big tower above to hold it in place, lots of lights on an arrow that point to the door, and of course, the perfunctory martini glass with bubble lights, an olive, and a swizzle stick. Oh, and another sign under that sign, right over the door, proclaiming "Pete's Lounge."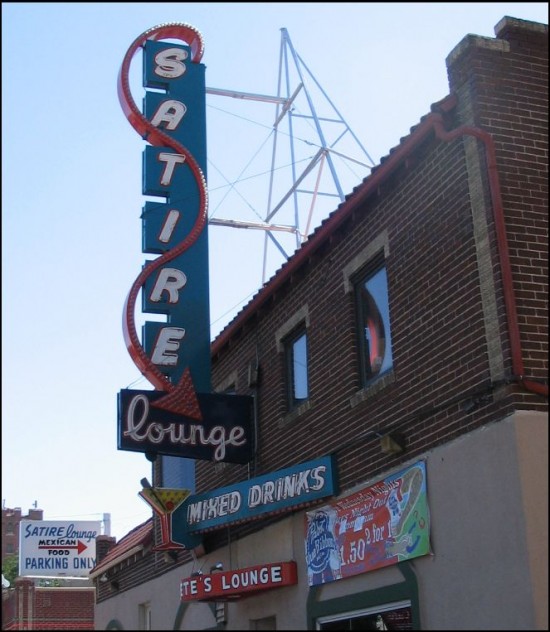 But as neon signs go, this one's got it all. The font, the colors, the funky chef, and, last, but not at all least, the pancakes that light in sequence so it looks like Pete is flipping them.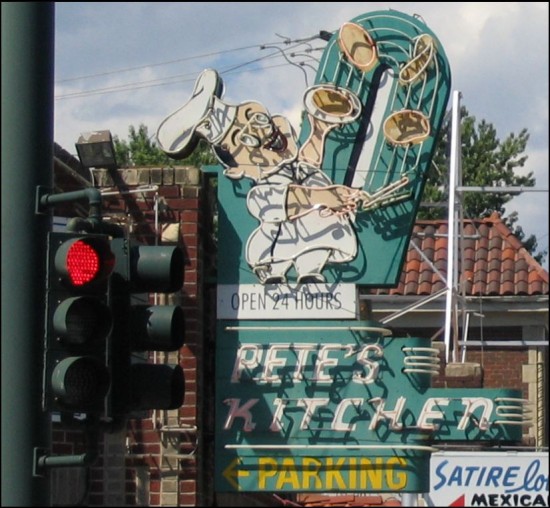 Pete's Kitchen and Satire Lounge. East Colfax Avenue, Denver.