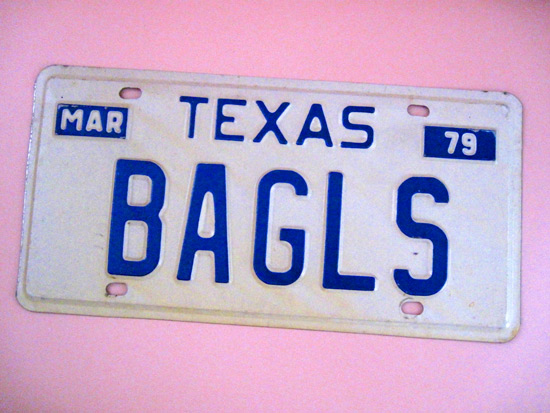 Every Sunday morning growing up the ritual was to go with my dad to the deli and buy bagels, lox, cream cheese, tomatoes, onions and white fish, the latter of which I never liked but all the foodstuffs named prior to it remain my favorite meal in life. The smell of bagels toasting in the kitchen, especially on Sunday, has remained intoxicating to me ever since. Had I lived in Texas in 1979 I would only hope that this would've been the license plate slapped on the front of my '55 DeSoto. Seeing as it belonged to someone else I can only assume they had similar such love for the Jewish baked good by giving it such props as to adorn their car with it.
These days their license plate, acquired on Ebay, hangs in my kitchen over the toaster and has lots bagel friendly kitchen utensils to bond with, like this bagel knife and cream cheese spreader.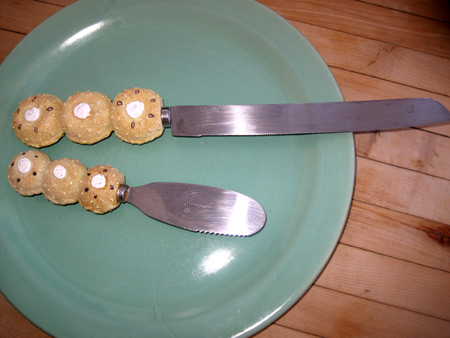 I don't know why bagels always look so fake on bagel themed items. Like what's the yellow ooze melting out around the cream cheese?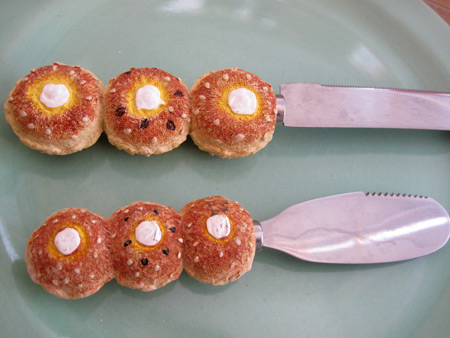 I've always thought that the bagels on this oven mitt look burnt, more like bagel chips than their legitimate older brother bagel self.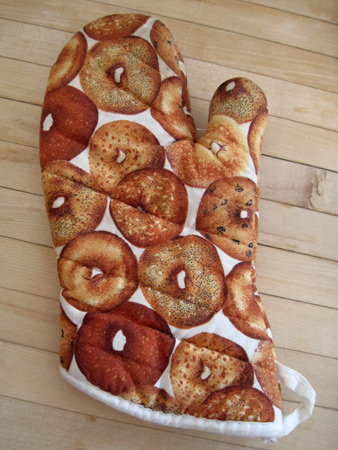 I think my matzoh oven mitt looks much more realistic.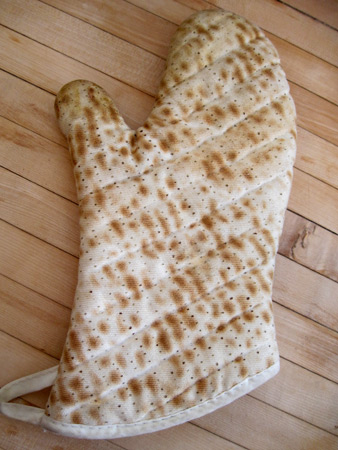 I'm so completely exhausted by the activities of the last week, which included not only the release of my thankfully amazingly viral video, "Jungle Animal" by Pomplamoose and Allee Willis, but rehearsing conducting an imaginary 300 piece marching band in front of 82,000 imaginary people to get ready for my trip in a week and a half to my alma mater, the University of Wisconsin, where the real 300 strong marching band is going to play three of my songs, "September", "Boogie Wonderland" – both hits in 1979 when this BAGLS license plate hung on a car from which these songs were most likely pouring out of the radio – and "I'll Be There for You (the theme from Friends)", as I conduct them in front of 82,000 real people at the Homecoming football game. You would think that this would come natural to the writer of the songs, and bouncing around to them certainly does, but I don't read a stitch of music, and marching band versions differ from the records, and I'm going to conduct them two separate times, first at the tailgate party and then inside the stadium to kick off the show. So I intend to spend a large chunk of the day today making sure I have all the accents down cold.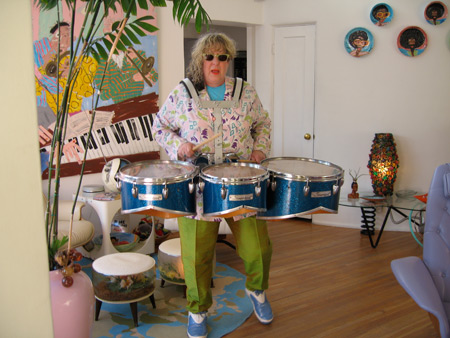 As my normal Sunday stay-at-home routine is either to hunch over my computer barely moving as I catch up on work, or to lie in bed watching TV, even thinking about the amount of exercise I'm going to get from conducting makes me hungry. So I'm going to do warm up exercises – I'm going to stand up, stretch, walk into the kitchen and work my upper arm muscles by sawing through some bagels, stretch my arms by reaching for the toaster and give my lats a workout by using the fake bagel looking cream cheese spreader to smooth a layer of the white stuff across insides of the bagels once they're toasted, and then repeat the entire exercise again. Then I'm going to take what will probably be a long hike around my house to find the two missing bagel salt shakers that go with these two loyal bagel pepper shakers.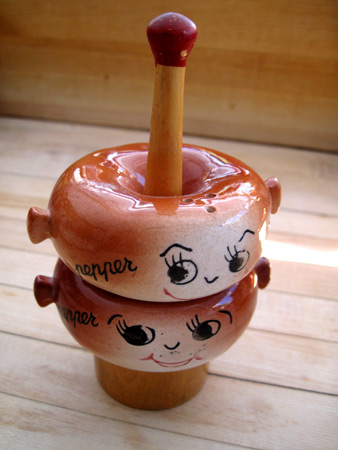 It's going to be a bagel kind of day.