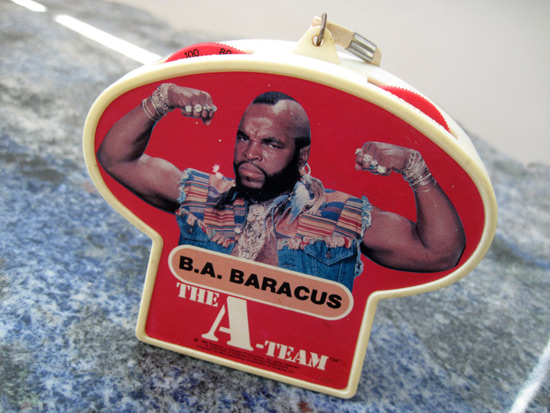 I was never into The A-Team when it came out in the 1980's. But lately, as I flip through channels in the wee hours of the morning trying to find something to fall asleep to, I've gotten completely obsessed with the reruns on Centric. I love all the low camera angles as truck tires screech by and slam dirt into the camera and explosions blow up right in your face. The direction has a clear POV and things that hover near the ground get as many close-ups as the actors do. And, of course, there's always Mr. T, whose memorabilia I've slowly but surely collected over the years – banks, gold chain bubblegum, coloring books, puffy stickers, lunchboxes, air fresheners, and this Mr. T radio I recently received as a gift.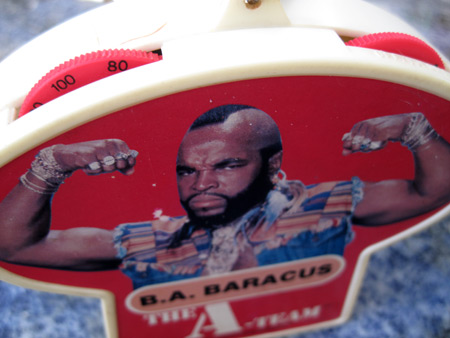 I have no idea what the significance of the shape is but I love that there's a wrist strap so Mr. T can always swing by my side.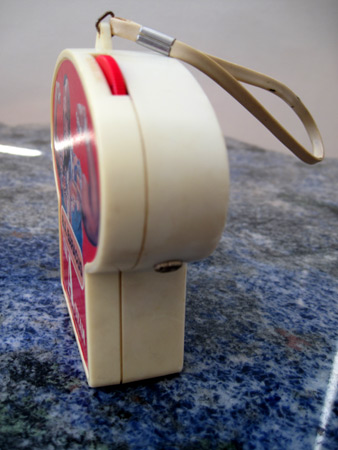 I'm one of the few songwriter/musician types who actually loves to hear their own music coming out of something as lo fi as this. In the old days, before the mid '90s, it was imperative to listen to mixes of your songs over really crappy speakers so you could hear them as the average person was going to hear them. Most people, including myself, had little Auratone speakers in their recording studios, all in an effort to hear which instruments and vocals were audible and which weren't in case someone was still pumping the sound out of one of these little Mr. T-like pocket jobs. Here I am in my studio in 1981 with one of my Auratones.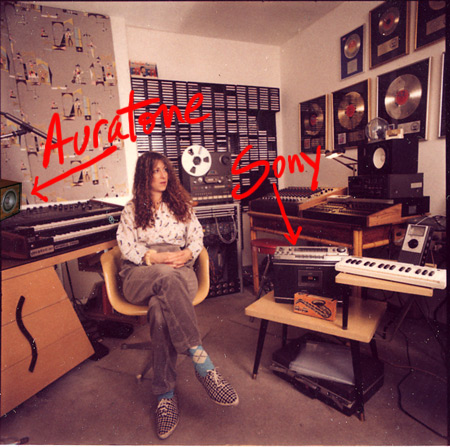 To test how a record would sound out of a more expensive radio, I had my first boombox, the heavier-than-a-bowling-ball/ first-of-its-kind stereo Sony cassette player that all the guys in Earth, Wind & Fire had the day I met them and started "September". I bought myself one the next day, a huge extravaganza as I was broke, but it felt like the musical waters were shifting and I was on the brink of my first hit so the purchase felt justified. So as soon as I'd finish a mix I'd listen to it coming out of the Aurotones, then I'd pop a cassette of it into the fancy Sony and, last but not least, if I had any way of rigging an input into one of my transistor radios, I'd listen on that. Just to the other side of the Auratone in the photo was my collection of vintage transistor radios. It's not a tragedy that they're out of camera range as Mr. T was not yet among them. These, however, were: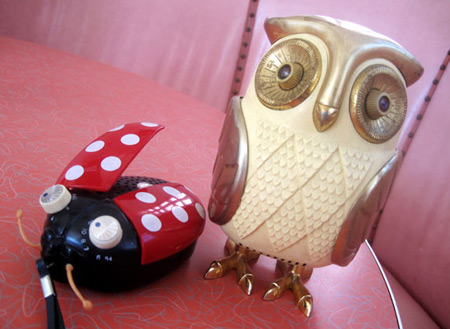 By comparison, my Mr. T radio is pretty down and dirty basic. It doesn't have fancy rhinestone eye dials like the owl or a wing that lifts to reveal the speaker like the ladybug. But it does come with a belt clip, which would be an excellent feature were it not for the fact that by using it the speaker holes would be jammed up against your body muffling what little sound this thing puts out in the first place.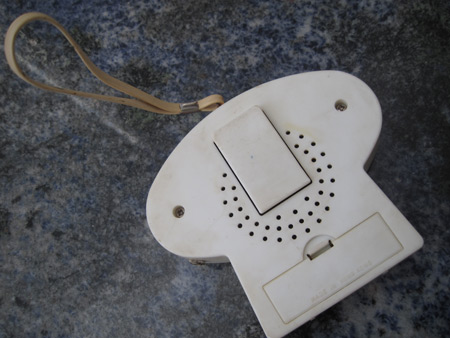 These days people own Mr. T Flavorwave Turbo Ovens. I'm content with my 1983 A-Team radio and reruns.