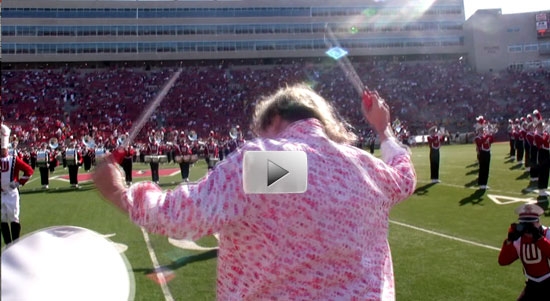 I LOVVVVED conducting! I hope that's evident in this clip. I'm grateful I got the footage I did though I'd planned to have at least five times as much of it to edit from. But as the journey below illustrates, the path was a little more crooked than I'd anticipated though well worth every swing of the drumstick!
I'm a fanatic archivist. I've been a walking reality show since I got my first video camera in 1978, racking up over 40,000 terabytes on my server, most of which is video. At any given point I have at least three fairly recent models of whatever's at the high end of the consumer line as well as a bunch of other cheaper backups. I also have three Flip cams and all of my digital still ones take video. So when I was going to conduct the marching band at my alma mater, the University of Wisconsin, this past Homecoming weekend, an incredible honor especially for someone who has no idea what all those dots on the musical staff mean, I took all my artillery with me. God only knows how much I paid for overweight luggage but I had at least nine cameras capable of taking video as well as three tripods, two extendable poles so the cameras could be elevated, 15 batteries, three lights and three mics. I prepared for every conceivable eventuality as there was no way I wasn't going to fully capture what I knew was going to be one of the greatest experiences of my life.
I wanted to preserve a birds eye view of what I was seeing up on the platform as I conducted so I constructed a rig to hold one of my flip cameras around my neck so it could capture most of my arm movements as well as whatever musicians were in my line of sight.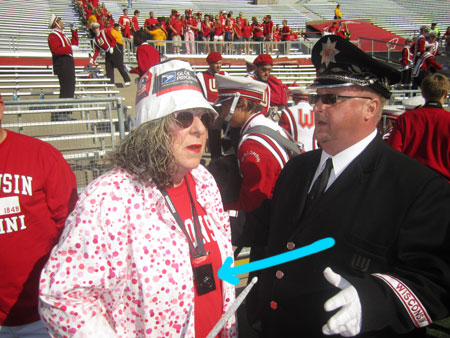 But as soon as I finished conducting I realized that although I had turned the camera on I forgot to hit 'record'. I stayed cool knowing all was not lost because I had four backups – 1) Mark Blackwell, who came with me from LA and was was never more than 20 feet away capturing all the sweaty details and whom I was directing throughout the performance.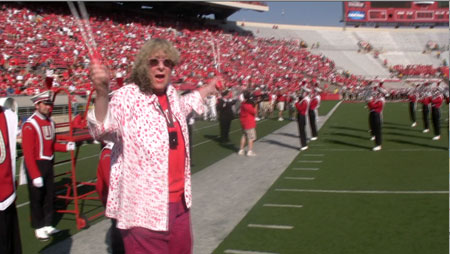 2) Eddie Alshuler, who Mark and I were staying with and who was sitting directly across the field from where I was conducting on the 50 yard line, who could capture a front view of me and an excellent overview of the 300+ piece band. But as I blogged about yesterday, Mark's footage snagged at a crucial point in the first song, "In The Stone", where arm movements I'd practiced for two weeks to make the slowed down section at the entrance of the fade-I have no idea what that's called in musical terms-ultra dramatic. And Eddie's footage consisted solely of his wife and my sorority sister, Muffin's, crotch as the camera lay in her lap waiting to be turned on when, in fact, it was actually already in 'record', only to be snapped off the second I mounted the platform. Here's me conducting from Eddie's camera's POV: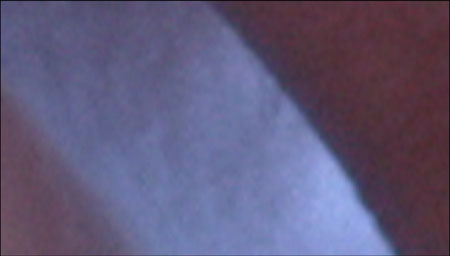 Once I left the conducting platform Eddie turned the camera off, which was actually on, so we got an excellent few bonus minutes of Muffin's butt.
Alternative #3 was another one of my sorority sisters who shot the pregame tailgate performance where I also conducted. But she's incredibly short so all of her footage featured a booming bass drum with me like a little ant flailing their arms above it.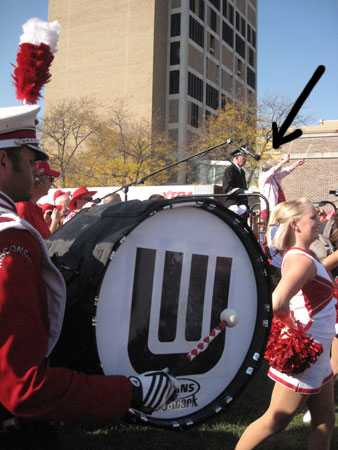 Number 4 was the husband of another one of my sorority sisters who got some great shots of me but you only see the tops of the heads of a small portion of the band.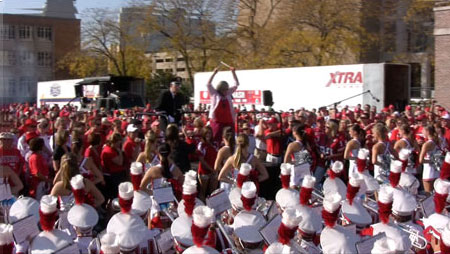 So as grateful as I am for all these people manning my cameras, I didn't end up with enough footage I could edit together so you'd feel the impact or scope of what was going on. In previous days, the fact that both primary and backup systems failed would have killed me, but with age I've learned to roll with the punches. I really think that's how my sense of kitsch became so well honed, appreciating when things went awry and figuring out a way to deal with them. How else would I ever be talking about Muffin's body parts in a post that's about my debut as a conductor? If all I wrote about was the wonderfulness of conducting this would probably be a very boring read to anyone other than a marching band freak.
As one final backup, I decided to go through footage from my rehearsal with the band the day before on the practice field. But the bulk of that was either shot from the back of my head as I tried to concentrate on memorizing the arrangement…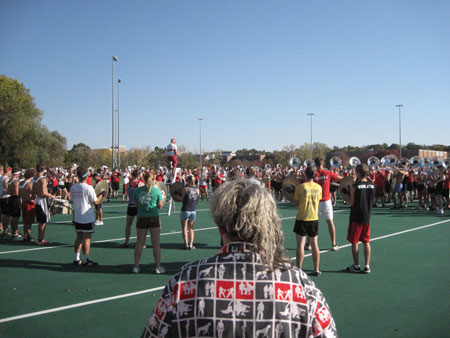 … or on documenting me as I tried to figure out what I was going to stand on to conduct. I'm not one to stand still so the thought of having to keep my feet in cement on a tiny platform ten feet in the air while I'm enduring several other distracting conditions was of major concern to me. 1) I don't read music and don't have particularly great memorization skills so the chances of looking like I am leading the band are questionable to begin with. 2) I'm performing in front of 82,000 people when the bulk of my stage experience has been as a little fur tree in my second grade play. 3) I'm sweating to death in the unexpected 84¬∞ weather and don't really have the right clothes despite bringing everything I had with the school color, red, in it. 4) I will be bouncing around on a knee with a ripped meniscus that I've put off having an operation on and, 5) I'm waving around sticks with two bum wrists from decades of pounding on keyboards. So the issue of safety while conducting is real.
First I tried a smaller version of the ladder Mike Leckrone, the incredible bandleader/arranger who's been at Wisconsin since I was there in the 60's, usually stands on.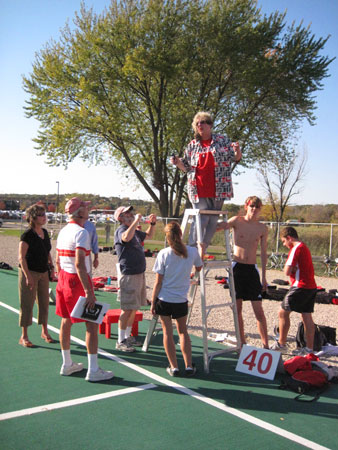 But the little platform you stand on was only a couple inches deeper than my big feet and I wasn't eager to meet my death or crush one of the kids guarding me. So I passed on that and finally settled on something that would only involve a broken ankle or two if I fell.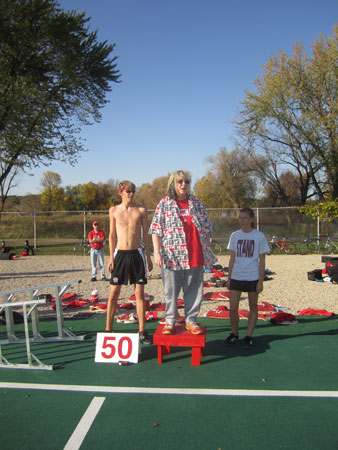 In fact, I almost tipped over three times during the real deal in the stadium. You can see the first time at 1:02 in the video…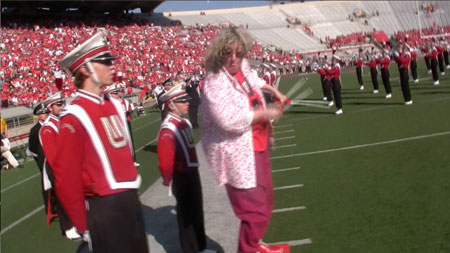 … and again at 1:29…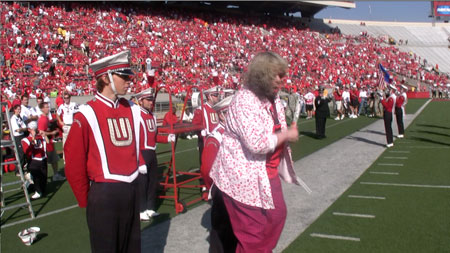 … and finally at 3:00 where I really thought I was going to kiss the dirt.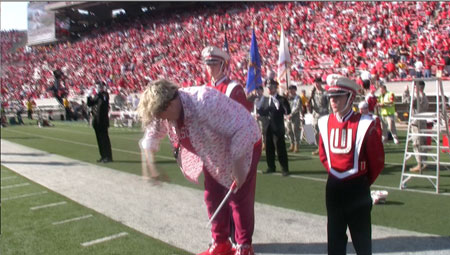 Thankfully I made it off alive, ankles, wrists and knee intact, and stayed in rhythm 98.3% of the time. I've been obsessed about being a conductor ever since.
Once I got back to LA and transferred the footage I realized my only option was to stick with what Mark shot on the field with me and abandon the idea of putting in different angles to make it more compelling or cover every time it got to an angle on my face or body that made me grimace.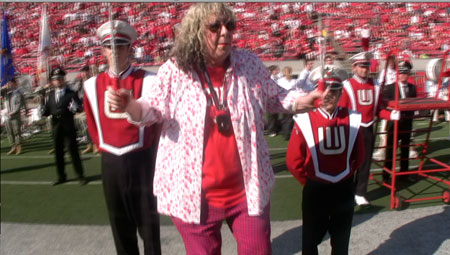 I'm the one who always carries on about loving yourself just as you are so I've mentally committed to not spotting the flaws but, rather, to just seeing the spirit that gripped me at the moment. But then I see the video once it's been uploaded to YouTube and the sync is unbearably off. Now this really drives me nuts because I know the sound and picture as the clip sits on my computer is completely in sync but now, because of YouTube's ever-changing compression schemes, I'm going to look like an idiot. This then brings up all my issues about designing a social network in 1992 based on things like people's home movies and becoming friends and collaborators with people all over the world but never getting it off the ground because I was too concerned about screwing copyright owners when someone used something they created without paying for it. I can't even believe that this is coming up for me now! YouTube thrives because it doesn't pay people like me royalties and now they're messing with my conducting debut! I digress, but it ate up most of yesterday to finally get something uploaded that didn't make it look like I was conducting a band in the next state.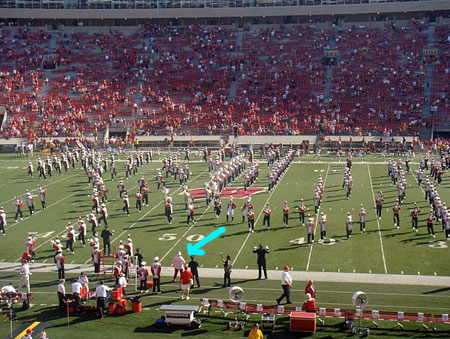 So here's what I'm left with: footage from one camera that has a blip in it right at the exact second of my one big rehearsed move that's shot too close when I can't move my feet, forcing the lower half of my body to function differently than it should when the top half is moving as it was, wishing I had starched my pants so they didn't look like I had just pulled them out of a suitcase overstuffed with camera equipment, none of which functioned properly anyway. And the camera's close enough that I can see a flinch of sadness when we hit the final bars of the final song, the theme from Friends.
When I was first told what songs of mine I'd be conducting I didn't understand how the Friend's theme made it there, especially over marching band favorites like "Boogie Wonderland" or "Neutron Dance". But another blessing of this trip was the opportunity to conduct Mike Leckrone's seriously incredible arrangement of it.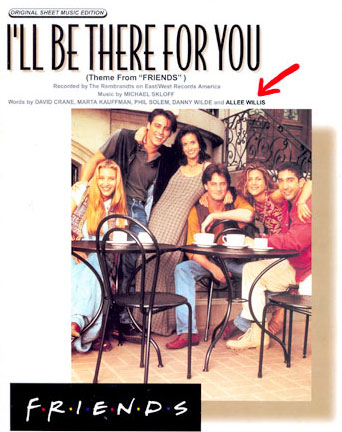 I'm standing up there on the podium thinking that in the context of everything that was happening, "I'll Be there for You"was the grandest sounding song of all. So in addition to everything else I'm thankful for that occurred last weekend, a serious supreme joy was letting me appreciate my song in a way that so many people have told me through the years that they do. Sometimes it takes massive distance from something you do to appreciate why you did it in the first place.
Such is the life of an artist. Such is the joy of conducting a marching band playing your songs. Such is life.