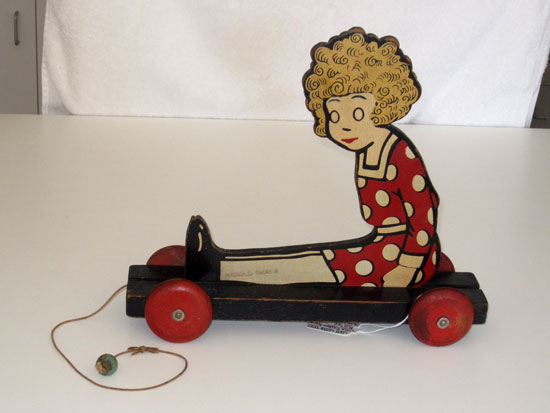 One of our vintage toy specialties is character toys dating from 1920s-1950s. most of the characters are the popular ones such as; popeye, charlie mccarthy, mickey mouse, pluto, felix the cat, buck rogers and we just sold a rube goldberg "boob mcnutt" wind up. the toys are nicely displayed at the toy shows and elicit a lot of interest and compliments even from other toy dealers. This rare and attractive little orphan annie pull toy does not attract a lot of attention though. it must be the character.
the toy is wood, about 14″ long. the creator's name, Harold Gray, appears on the toy's leg and it's all original including the pull string. no-one seems to know anything about it and it's not mentioned in any toy catalogue. the only reference to this toy i could find was a 1925 trade ad (see attachment) by "Live Long Toys", 845 So. Wabash Avenue, Chicago, Illinois (predates zip codes). the ad pictures a Little Orphan Annie doll, the character is the same design as ours, and shows a "Skeezix" pull toy on the same base as ours. our Little Orphan Annie pull toy was undoubtedly made by Live Long Toys. our toy may have been a prototype, but in any event it appears to be the only one known.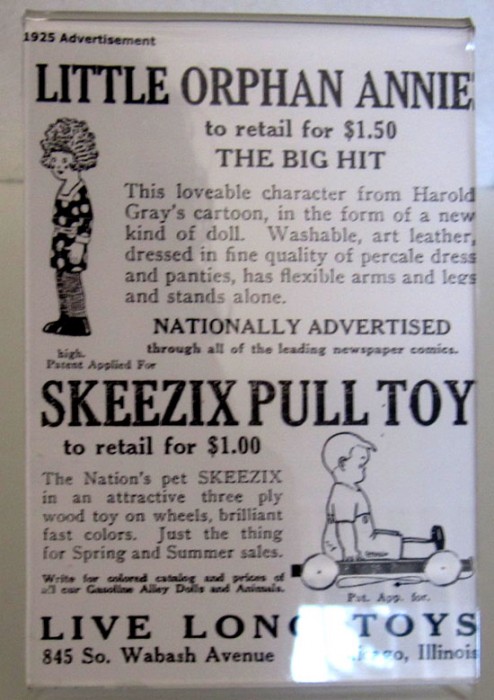 this convoluted comment was intended to simply wonder why the Little Orphan Annie character wasn't more popular compared to other characters.