.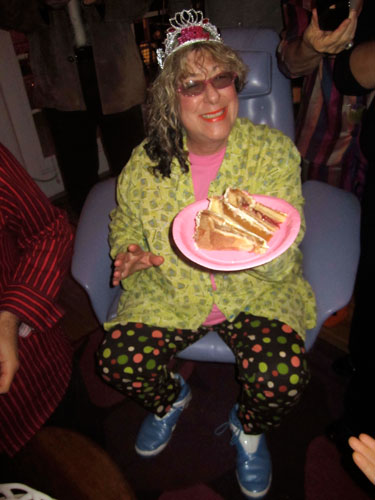 I wasn't going to do anything for my birthday this year. Too overworked and no extra coinage to throw around. But word leaked out and spread and all of a sudden these people, most of whom I've spent every birthday and momentous occasion with for umpteen years, showed up at my house: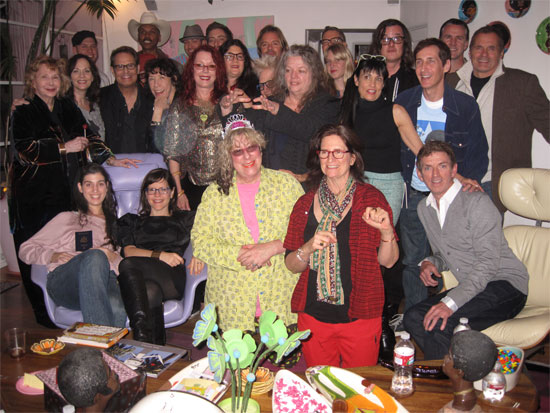 Bottom row (L-R): Diva Zappa, Lisa Loeb, me, Prudence Fenton and Michael Patrick King.
Middle row (L-R): Jane Wagner, Lesley Ann Warren, Bob Garrett, Lily Tomlin, Pamela Des Barres, Karen Levitas, Gai Gherardi, Gail Zappa, Nancye Ferguson, Stan Zimmerman and Jim Burns. Top row (L-R): Ben Bove, RuPaul, Tom Trujillo, Roey Herschovitz, Jimmy Quill, Charles Phoenix, Sonny Ruscha Bjornson, Mark Blackwell and Jack Nesbit.
Though all of my friends may not practice kitsch like the religion I do, their lives and occupations are consumed with pop culture and they all bring unique individual style and vision to everything they do. None of us are color-in-the-lines people. Which means that when it comes to birthday presents, it's fantasyland overload as their sensibilities collide with mine in harmonious gift wrapped chaos! For example, here I am with perennially great gift givers Nancye Ferguson and Jim Burns: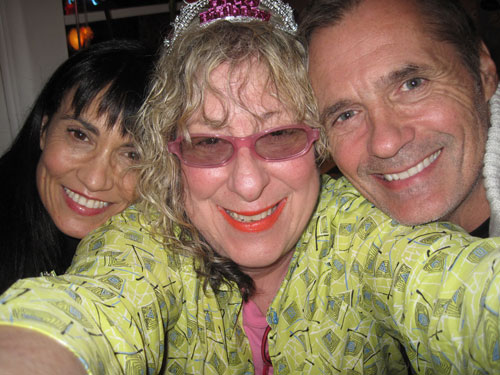 Jim is looking very happy because the video game he stars in, Call Of Duty Black Ops, was released the day before and set the opening day record for ANY type of entertainment, grossing $320,000,000 by the time he reached my house. Maybe that's why they got me 14 gifts. Though Nancye and Jim are always reliable for a smorgasbord of age-inappropriate-unless-you-happen-to-be-me offerings like this magnificent 1950's mother of pearl poodle pocket mirror/pill box: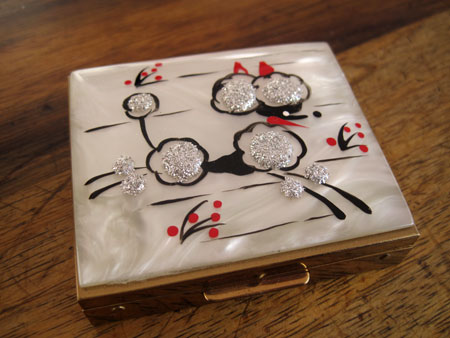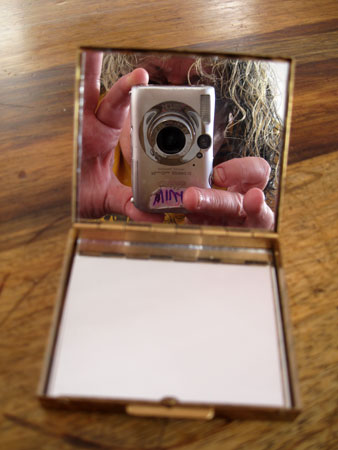 … and this convenient land line phone ear piece for my iPhone: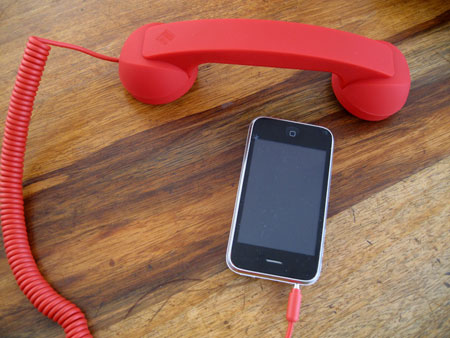 They also gave me this wonderfully famous Enid Collins owl box purse…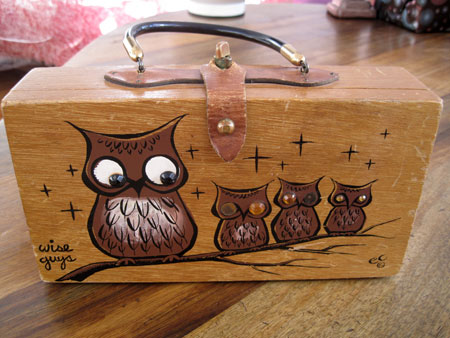 …and this fantastic 50's fold up wallet with plastic coin holder inside like the Good Humor ice cream man used to wear on his belt to give people change: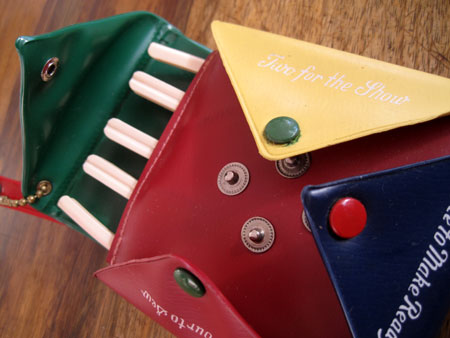 They also threw in this 1960's Wilma Flintstone bathing cap.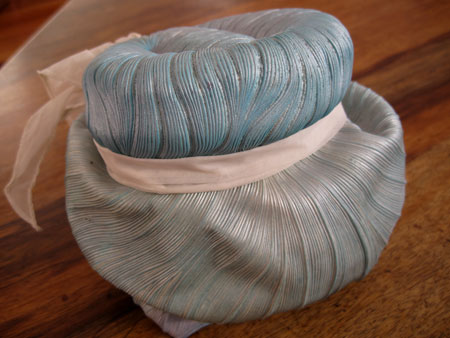 Here I am with Pamela Des Barres, the world's most famous groupie, and Diva and Gail Zappa, who came straight to my place from the airport after being honored at a Frank Zappa festival in London.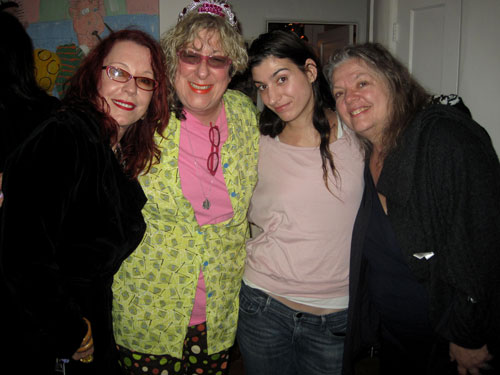 Pamela is a fabulous writer and also travels a lot for her work. Which is lucky for me and the rest of her friends as she hits thrift shops wherever she goes and picks up stuff for us all year round. She makes these finds for pennies and stacks them up so she can arrive like Santa Claus on any given occasion. These "On The Wagon' coaster and snack trays she gave me are just about my favorite bar accessory ever!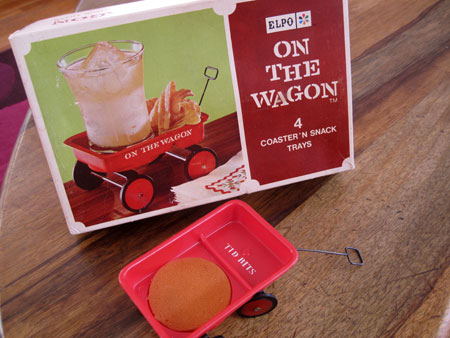 I love when snacks are referred to as 'Tid Bits', especially when what is normally a single word is broken up into two separate words as stamped into the belly of the wagon.
This nightshirt could be the heaviest gift of the evening. It's hard to see all the 1960's pop culture graphics and slogans in this photo and I'm not sure who the characters on it are but there were more than a few vintage clotheshorses at the party, certainly including myself, and we all agree that Pamela's $2 purchase would easily go for $500 in the right store.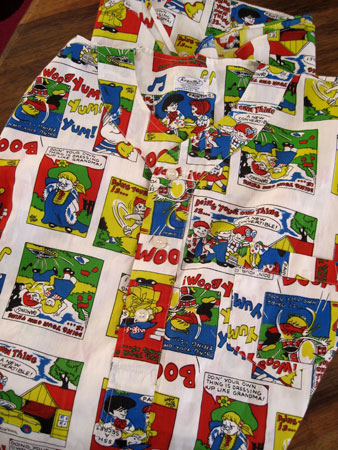 Then there's this early 60's Make-Up Mask that you pull over your bouffant to protect the Max Factor from rubbing off your face when you pull your angora sweater over it: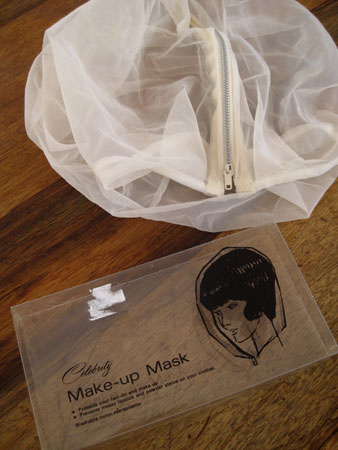 Pamela graciously modeled it for us throughout the evening.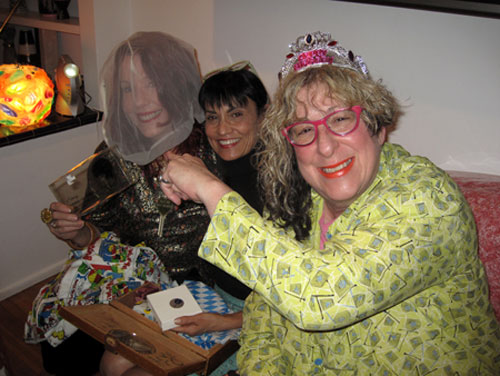 Her excellent gift giving instincts have definitely rubbed off on the other Des Barres in attendance, Michael, who reliably gives me fantastic African swag.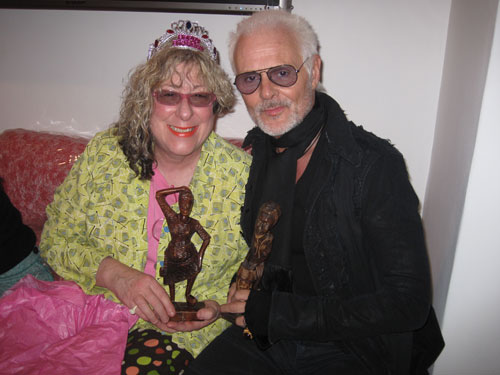 At one point there was a girl's conference in the bedroom. Here I am with (L-R) Lily Tomlin,Prudence Fenton, and Jane Wagner:
Prudence not only cooked an incredible dinner for everyone but made the excellent "Crackerature" portrait of me that's between our heads in the photo above.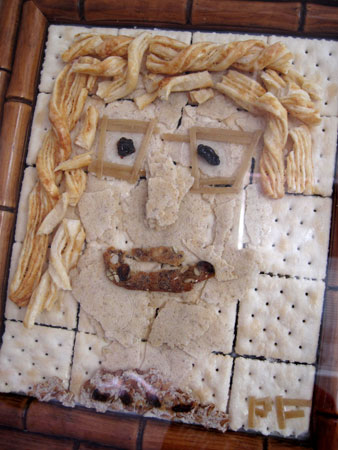 Lily and Jane gave me the most ridiculous-in-the-best-kitsch-sense-of-the-word-ridiculous gift of the night: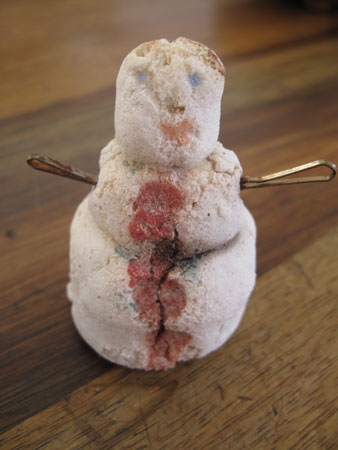 He's only about 3″ high, his little arms are made out of bobby pins and his body is some kind of overcooked Sculpy or baking soda concoction. The card that accompanied him was just as kitschy.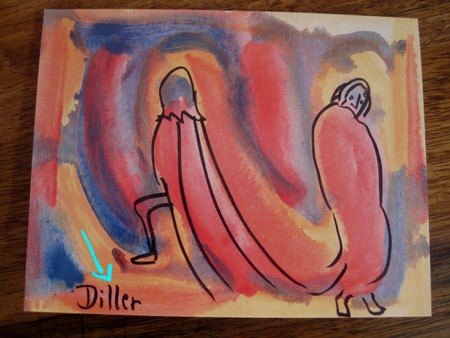 The Diller is Phyllis Diller, which adds a few pounds on the kitsch scale for this gift. The note Jane and Lily wrote me make the cheese wheel even weightier: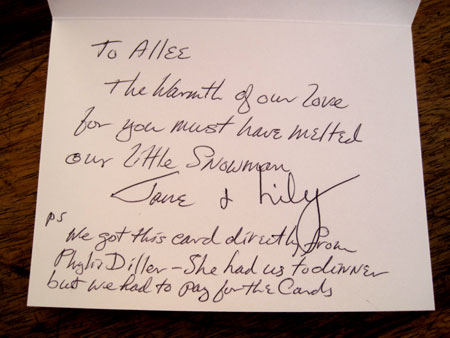 Joining Lily and I here is Stan Zimmerman. We all grew up in Detroit.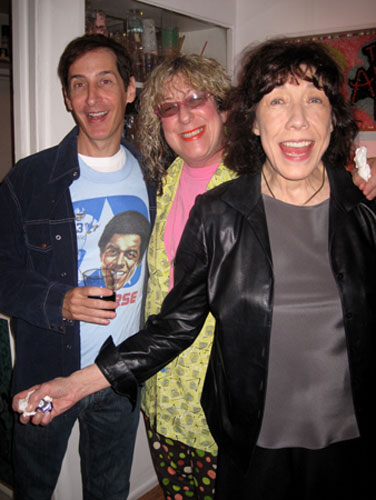 Stan added a little class to my gifts with this 1950's signed Sasha Brastoff ashtray.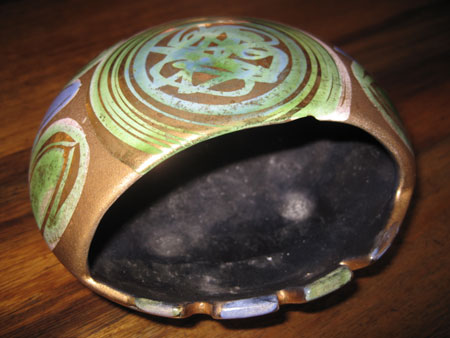 Here's Lily and I with RuPaul. Both of them have added greatly to the kitsch cache of my alter-ego, Bubbles the artist, as they are the #1 and #2 collectors of her art, each owning over 20 pieces.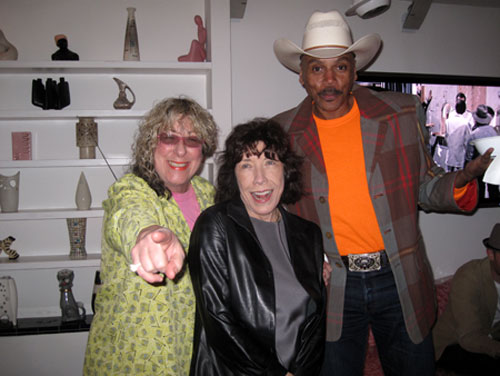 Michael Patrick King, seen here with Pamela Des Barres' lovely feet, brought me some of my most Americanized presents.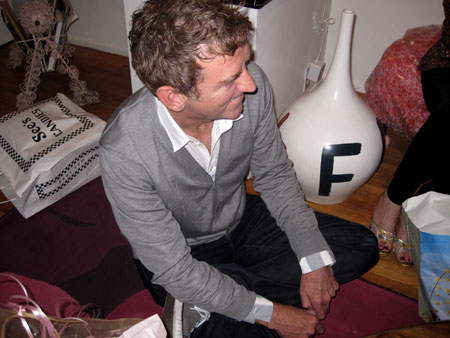 He brought my gifts back from Dubai when he was there filming Sex and the City II. First, this green shopping bag featuring a carefree Michelle Obama: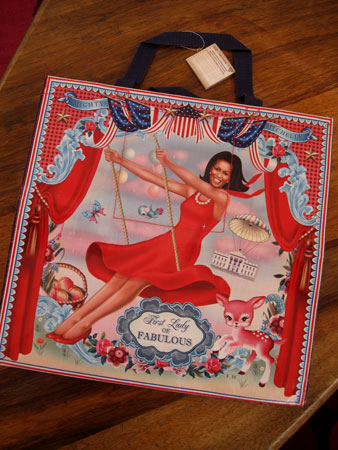 And then this brain-numbing Muslim Barbie shoulder bag: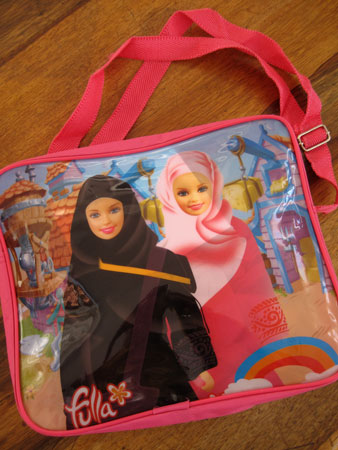 I got one more bag, actually a Kitsch Emergency Kit, from Karen Levitas.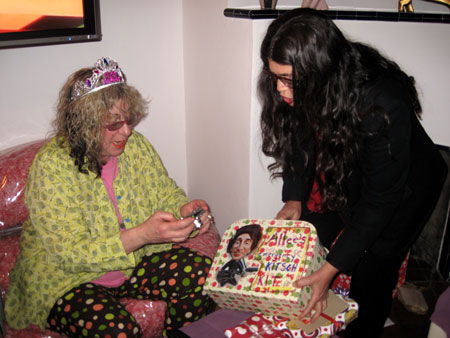 It's nice when your friends give you a healthy snack of sardines to enjoy while you read cheesy poetry from the 70's: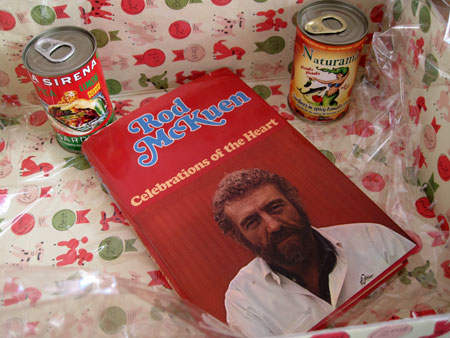 Here I am with Mark Blackwell, who's also a November 10th birthday baby, and Sonny Ruscha Bjornson, Lisa Loeb and Roey Hershkovitz: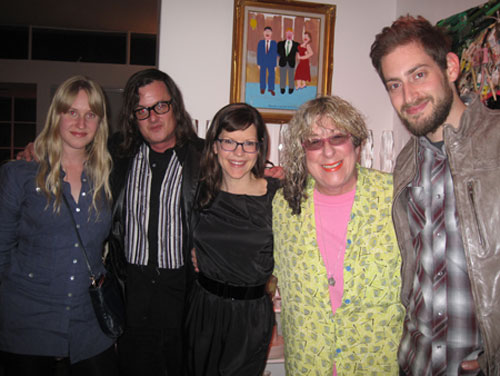 Lisa and Roey gave me some quality reading material: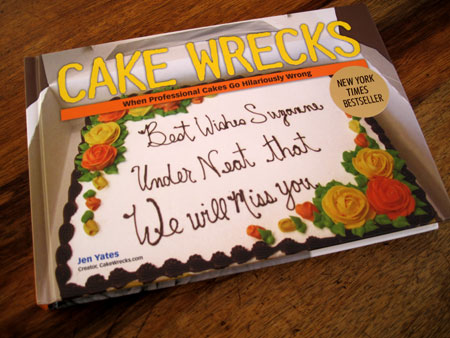 Maybe I will learn to make beautiful cakes like this one on page 110: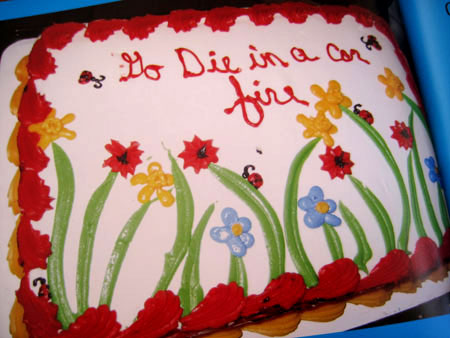 But when it comes to baking, there's only one Supreme Master and I'm pictured with him here: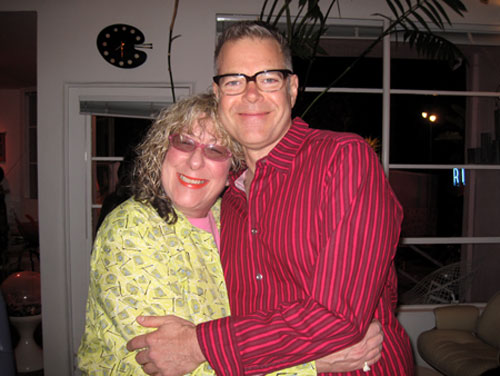 Just a few days before my party Charles Phoenix was featured on the front page of the Wall Street Journal with his signature "Cherpumple" cake, one of which he baked for me.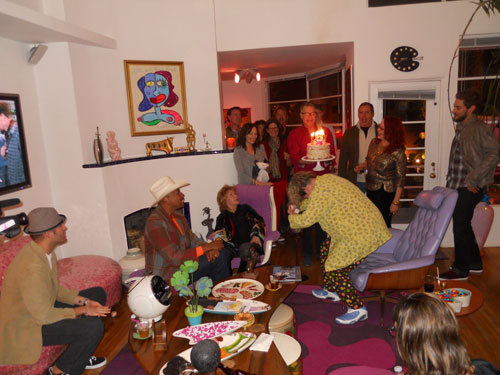 A Cherpumple is three Sara Lee cherry, pumpkin and apple pies stuffed inside three Betty Crocker cakes and frosted as one happy stack of sugary ecstasy: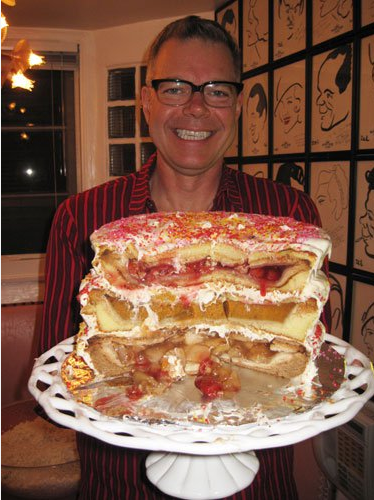 Here's my friend, Lesley Ann Warren, indulging in some. Perennially skinny and always eating healthy, she hit the Cherpumple as an extreme gesture of kitsch on my birthday.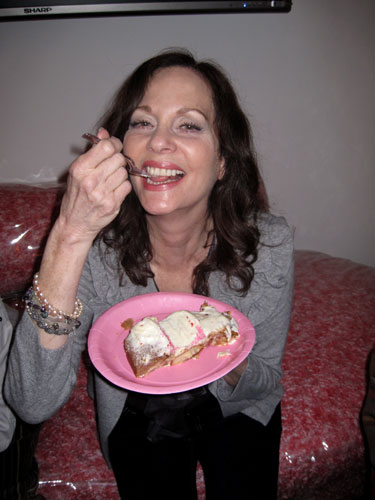 Lesley was my first friend when I moved to Hollywood in 1976. She was also the first person ever to sing one of my songs on TV when she did the third song I ever wrote, "Childstar", on Johnny Carson.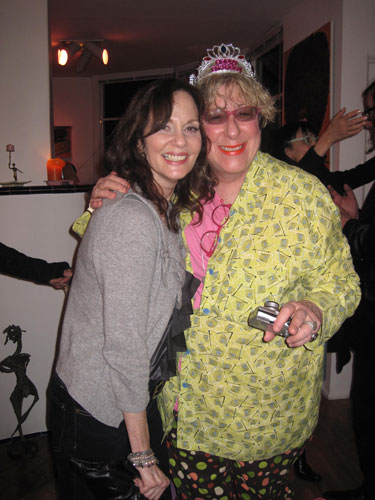 Some people went back for seconds of Cherpumple. Each plate weighs 2 lbs.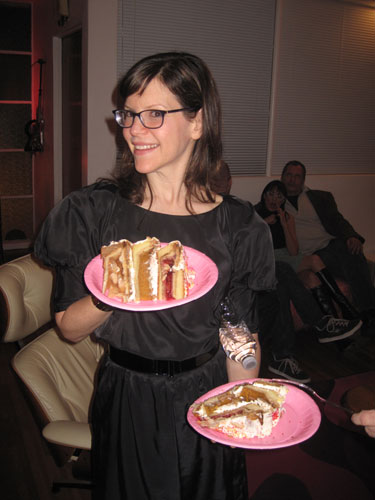 Gai Gherardi and Rhonda Saboff shared their Cherpumple: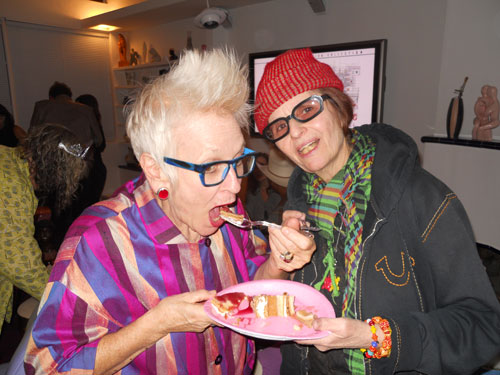 They gave me an excellent pair of glasses from LA Eyeworks, which Gai co-owns and where I've bought all of my eye coverings for the last three decades.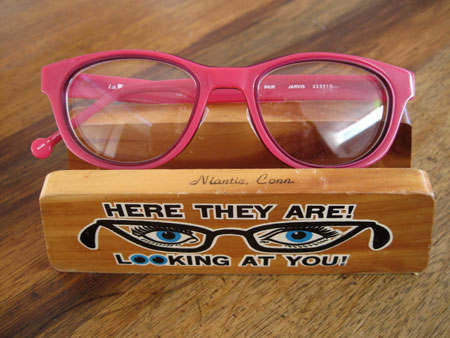 When RuPaul arrived he brought me another birthday cake.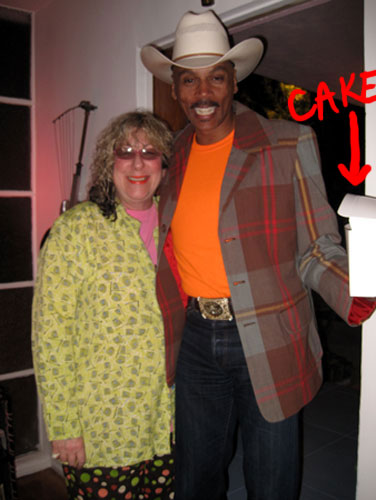 It was delicious but everyone had already gorged on too much Cherpumple.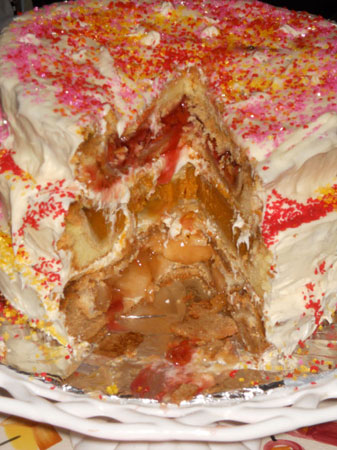 Which means that everyone went home in sugar shock, the condition they've had much practice existing in as they've all been over to my house a trillion times before.
I didn't have far to go as my bed was only feet away from the remains of the Cherpumple. I went to sleep with my crown on and had sugar sweet dreams anticipating a very good year to come indeed!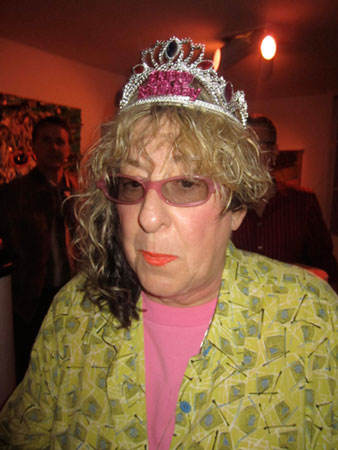 More party photos can be seen here.