Not long ago, I submitted a snap of a vintage remote that happened to appear alongside a small autographed picture of Alan King… this little silver-framed beaut: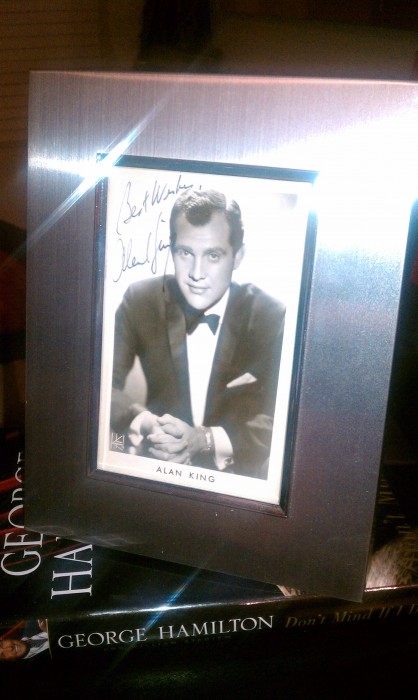 When Allee suggested I submit it here at AWMoK, I was kind of surprised. I can understand the kitsch factor of funky spoon rests, glass grapes, Diahann Carroll dolls and George Hamilton himself. But what allure could Alan King, the cigar chomping classic comedian, possibly have to anyone in the Kitschenette?
Perhaps the fact that Alan King was a major gateway to collecting some of the kitschiest kitsch I ever owned.
I was always a fan of comedy, especially the comics and gag writers of the 1920's-1960's (by third grade I had the full CLEANS AND DIRTYS routine from Shelley Berman's SEX LIFE OF THE PRIMATE album down cold — I didn't know what Spanish Fly was at that age, but I couldn't argue with laughs). I'd beg to stay up and watch the old guys talk with Carson, and as a result of my endless admiration for the tuxedo-funny set got into collecting Friars Club memorabilia even before hitting my teen years. Decks of playing cards with the Friars logo. Old roast programmes (the souvenir ones, not the shows themselves). A satin Prae Omnia Fraternitas jacket that I sometimes wore to school (yes, Allee, the same school I so often wore my ties and jackets to in an effort to exude the cool charm of George Hamilton).
But then, years later and as an adult, it happened. Alan King, the Abbott of the New York Friars, personally ruined my life.
Well, he didn't ruin it exactly, but for dramatic purposes, we'll amp it up a little.
The Friars hosted an online joke competition where Alan King himself would select a submitted joke every month to feature on the web page. I went at it like the young Larry Gelbart banging out material for Bob Hope. Joke after joke, always written in a style that I thought King would go for… but he never did. Not even the one about the owner of the Jewish Marine Zoo who divorced his WASPy wife and lost nearly everything, prompting the headline "Shiksa Won Half a Dozen of the Otters" worked — even though it was so drenched in borscht it would stain your shirt if you dropped it (those kind of "1950's Joke Book" entries always did well, but not mine).
Strapped for cash in 2002, I sold all the Friars stuff I had online. It was quite a collection, maybe 60 pieces in all, sold as a lot. Talk about regrets… how I wish I hadn't done that.
I told the story to a coworker about a year later who, as a gag, bought me the King photo you see pictured. Something about him being so young and charming in it really got me, and that gag gift turned into a favorite piece of clutter on my writing desk… gaze fixed, daring me to write something funny.
—
Just for grins, another shot of me with some comedy heroes that hangs next to the same desk at home: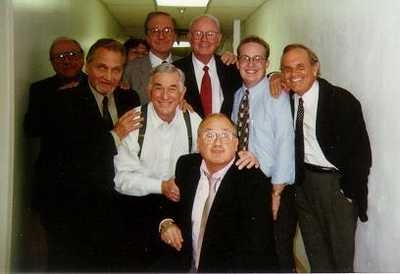 Clockwise from Front: Ron Carey, Shelley Berman, Chris Weeks, Bill "Jose Jimenez" Dana, hidden piano player who would have made it into the shot if he was six inches taller, Chuck McCann, Harvey Korman, me with hair, Ronnie Schell. 1998 or 9. Korman suggested I caption the image "One Good Prostate."
It should be noted that Chuck McCann and Ron Carey (who, thank G-d, found me funnier than King did) had the talk with me THAT NIGHT that convinced me to move to LA and try my hand at writing in the first place. I also had the unforgettable pleasure of watching Shelley Berman perform from the wings while Harvey Korman stood behind me, hand on my shoulder, convulsing with laughter. Pure magic.