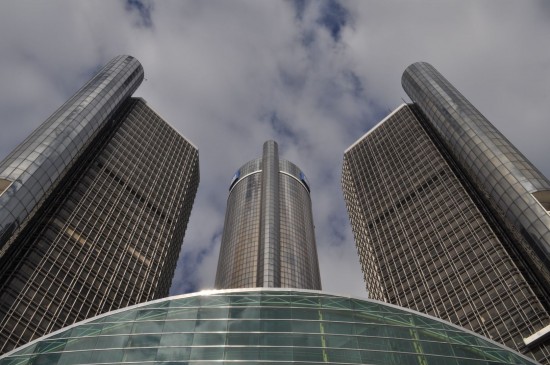 I don't know if it's exactly Kitschy, Allee, but I thought you might be interested and enjoy seeing these photos from Youmacon, Michigan's largest Anime/Japanese Animation Convention. If not, I completely understand, and I won't be offended if you don't think this post goes in with the theme. This year, the con was held at the Ren Cen in Detroit, making it the TALLEST Con in the United States. I had a great room on the 31st Floor.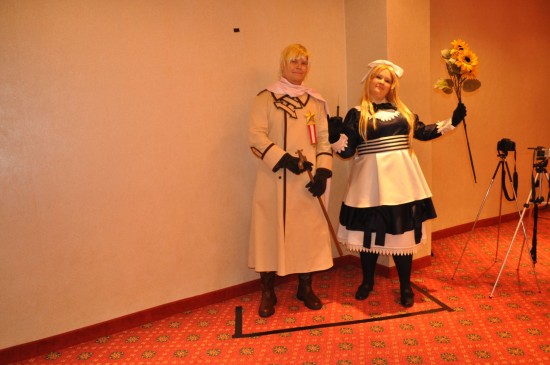 I am part of the costume department so I get first dibs on taking some photos of people's great costumes! These two are dressed up from a show called Hetalia.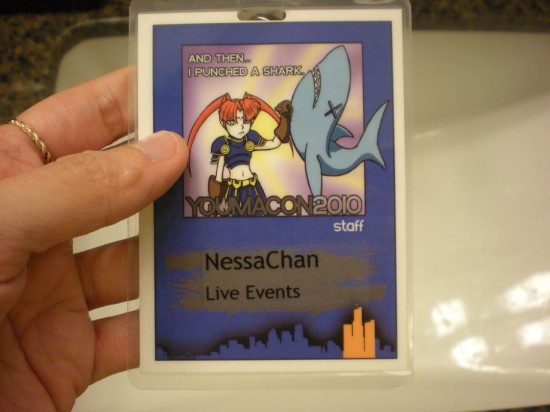 This is my badge. =)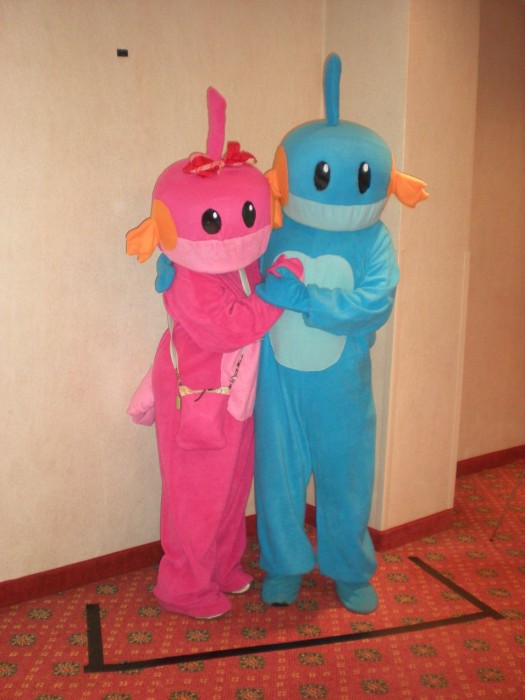 Some Mudkips from Pokemon. Totally cute, eh?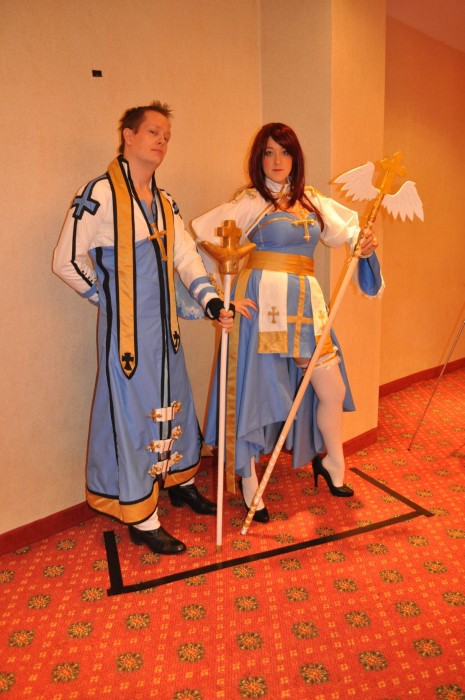 These folks won a prize for their outstanding work… very well sewn, to win a contest.. neatness and accuracy is key.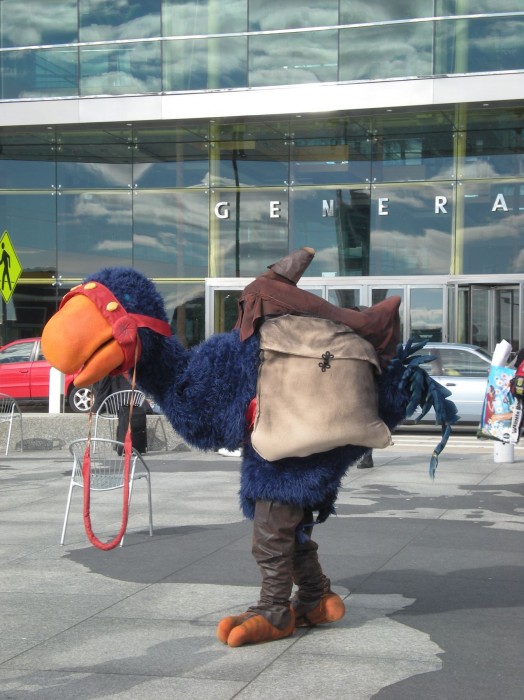 The bigger a convention becomes, the more people pull out all the stops for their costumes. Youmacon took place on Halloween this year and last year, making it twice as full of costumes. This photo was taken Sunday morning outside the Ren Cen.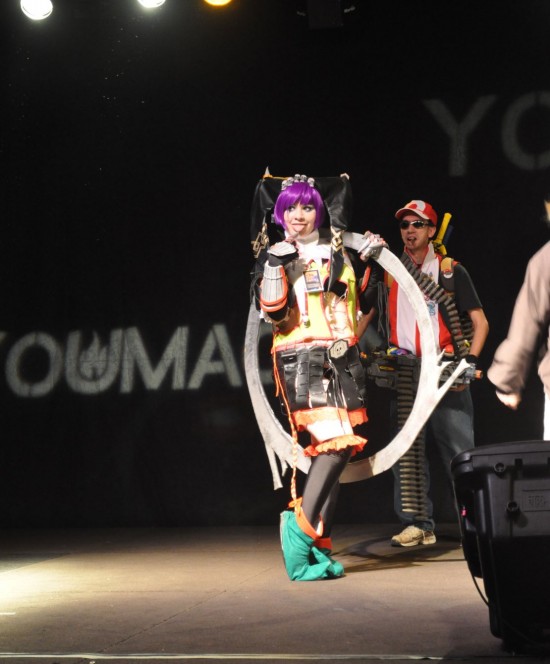 On Saturday nights at most conventions, there is a masquerade, where people exhibit their costumes and put on skits. These skits run the gamut from serious to hilarious, and the costumes range from hot-glued together to intricately sewn. The grand prize is a huge trophy! The audience always loves it.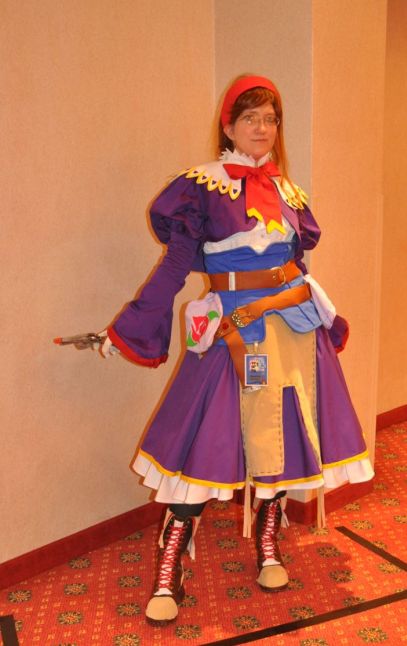 Here's one of my costumes, do you like it? =P It's a little embarrassing to admit I do this regularly. Yes, I made it, sewing is fun, boys & girls. It took along time @[email protected]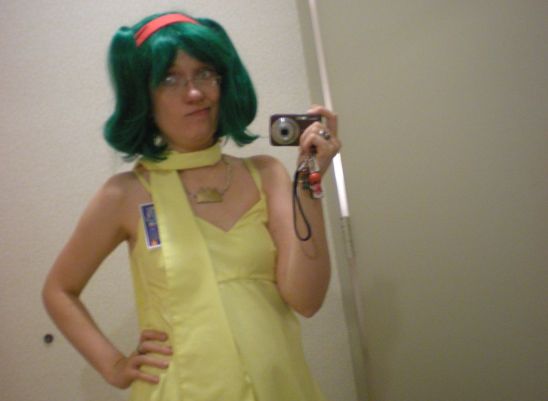 Maybe you've guessed I'm a bit of a weirdo…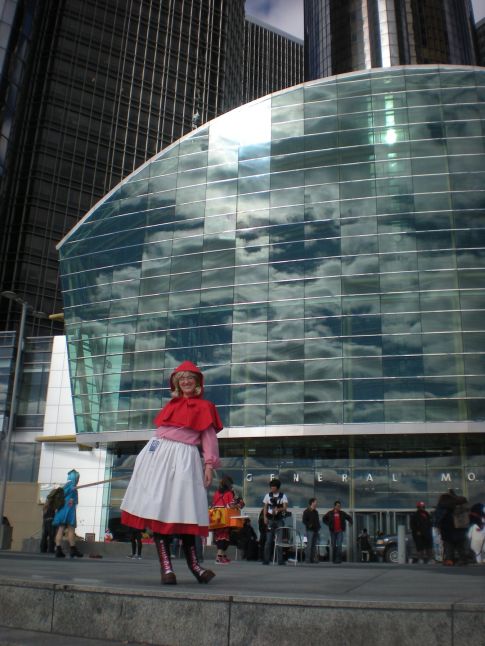 But it's a lot of fun!
For the uninitiated, Conventions also include viewings of anime, workshops on everything from sewing to learning Japanese to everything in-between, and forums on things like Japanese dolls or drawing your own comics. Also there are usually video game rooms, video game contests, and various other contests for things like making your own music videos or whatever.
Of course, there is always a Vendor's Room to buy merchandise, and an Artist's Alley where people can sell art, jewelry, crafts, or even music that they have made. There is also usually a dance/rave and maybe a concert or musical act. The most popular thing to do at a con is hang out with people and meet new friends.
They usually last from Friday to Sunday, though some, including Youmacon, start on Thursday afternoon. The majority of the attendees these days are teenagers, though when I started going to cons it was mostly 20 and 30 something men. That changed rapidly. Cosplay (wearing a costume) was not as popular back then as it is now. Nowadays, a huge flow of costumes from China has almost everyone dressed up. Also, a lot of kids are really excited to attempt their own costumes… it always makes me a little warm and fuzzy to see someone pumped up about a costume they worked hard on. I've been making costumes for cons since 2001, and sewing such costumes since 1998. I've worked a number of conventions in a lot of cities, and I really enjoy it. It's fun to travel and meet people. I don't make any money off of this, I just go for the fun and adventure.
There are always such bizarre sights… random people dancing in a hallway, people asking you randomly for a hug, wonderful costumes, someone walking around playing an instrument or singing a song that gets hundreds of other random people singing along with them, and usually everyone is nice. Though there are always meanies everywhere you go, it's really kind of an Utopian environment for a few days, especially for a lot of these kids who don't feel accepted when they are at home in their small town or with their close-minded school or family. I've met people of every race, religion, and whatever other sort of group you want to group people into. People are generally very accepting of any kind of person. The one thing in common everyone shares is a love of all things geeky. For a few days, everyone gets to feel like part of something special.
If you would like to see the rest of my photos from Youmacon, please visit: http://www.flickr.com/photos/nessachan/sets/72157625284031842/