ON my very first trip to Dollar Deal, I found a whole stack of cards; there are 6 themes total. Any part that has glitter is actually a cut-out of the picture already printed on the card and then glued on top of the card itself (there must have been some sort of assembly line). When you open it up, you get a special light show and soundtrack surprise! The inside bears the same picture as the cover: I guess you have to write your greeting wherever you can find space.
I'll start with this card, as clearly the baby Jesus is saying "Listen up, my brothers, I HAVE arrived! Let's get this party started!" Clearly it's a wallpaper and decoupage party…..The " Merry Christmas " is glued on…..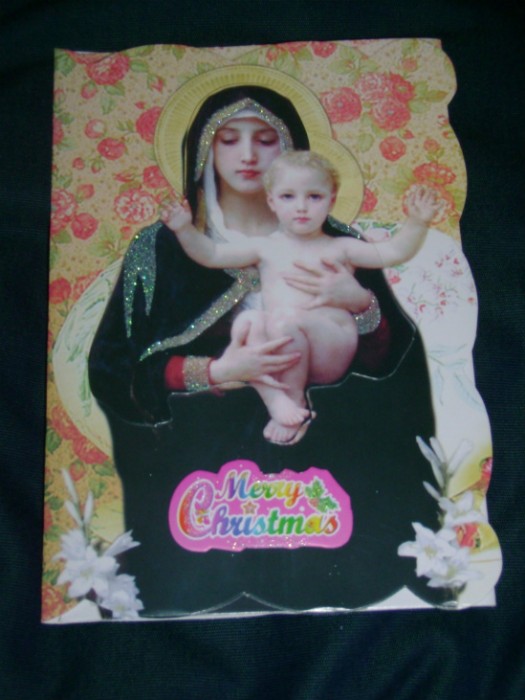 Next, we have an adult Jesus offering up a selection of angels to a guy in a fly wizard's cape. I wonder how many angels you get for a blue medicine ball? Again, the "Merry Christmas" is glued on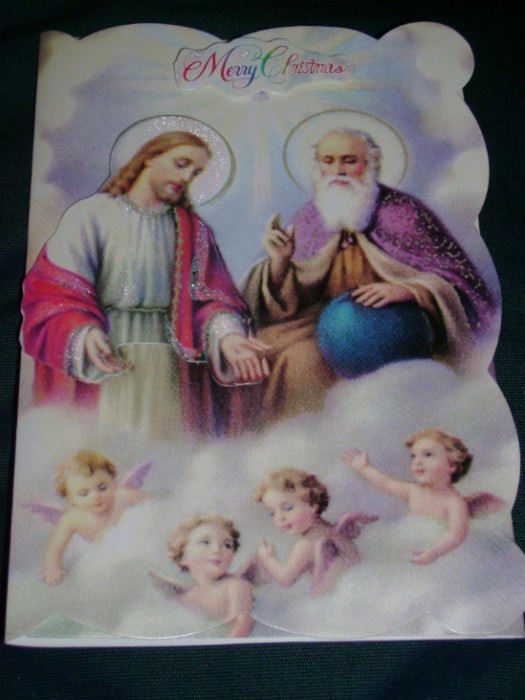 Here's what the inside looks like…….Yes, it lights up and plays a special song…..Don't worry, you'll hear it….There will be plenty of time to worry after that….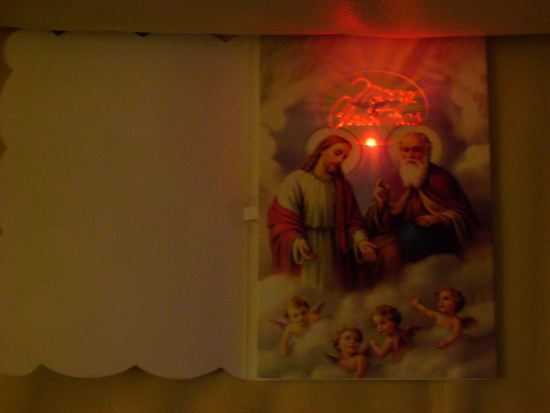 Card #3…Lots of glitter and glue going on here. Somehow, neither Mary nor Joseph appear to actually be looking at their kid…Raising a kid isn't easy…they look pretty beat…..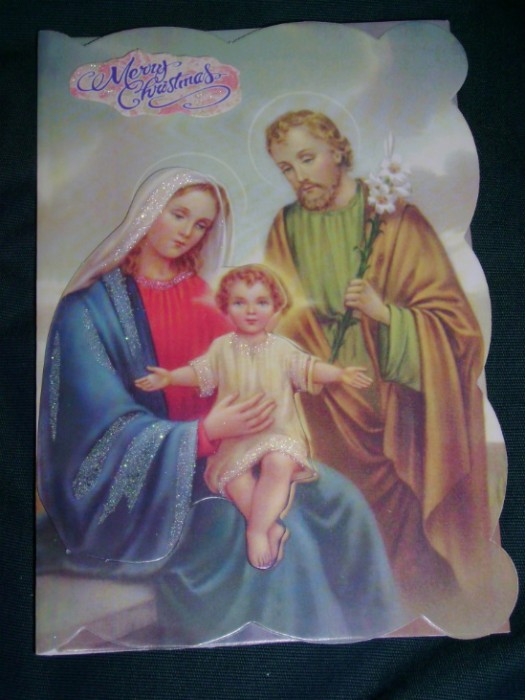 My favorite part about this one is the floating heads at the top…I think they are supposed to be angels, but I don't have proof…It IS pretty cool that the little girl in the purple dress is offering up a downy baby chicken…..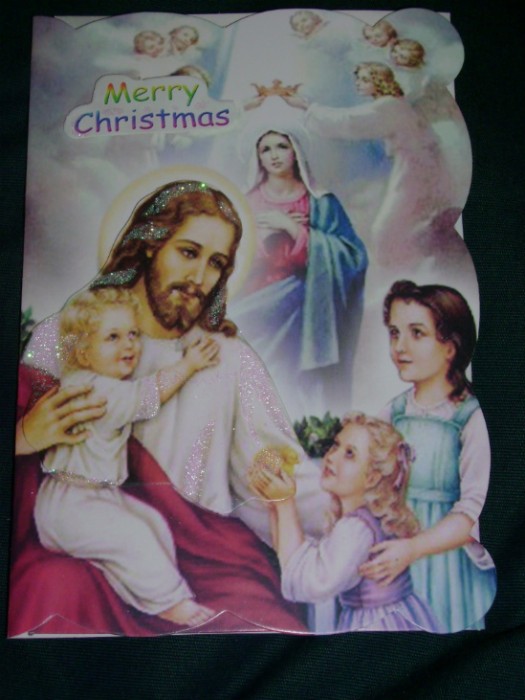 Everyone looks peaceful enough here, if not a bit maudlin. If ya ask me, Jesus looks a bit like he misses Elvis…."Sigh..That GUY, heh, heh, sheesh, those were good times.."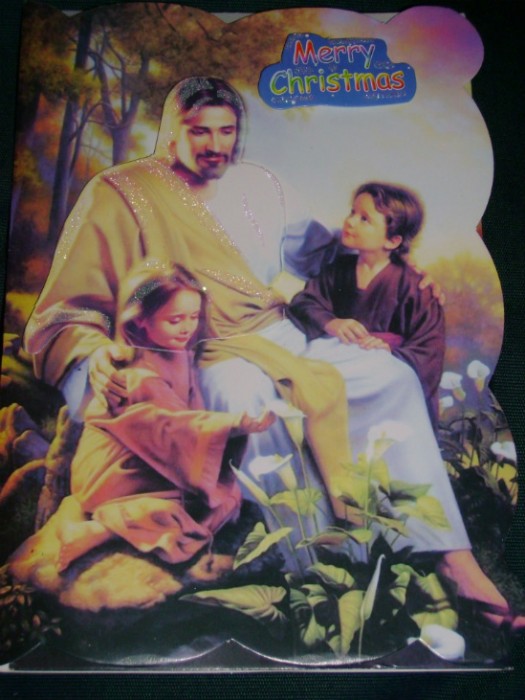 This one's my favorite. Apparently there were cartoons in the manger…..I KNEW it!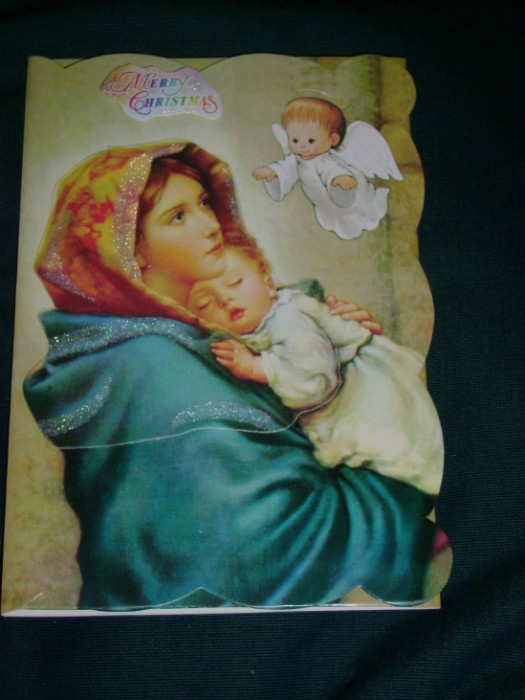 The best thing about these though, is the way the light and sound system is rigged….There's nothing like getting a Christmas card that has to be deactivated by a robot be fore you can read it……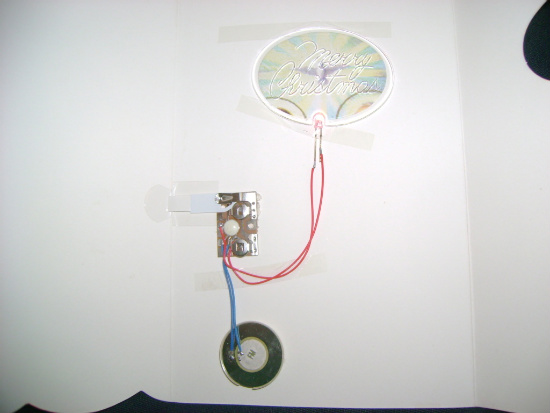 Here's the sound. Get ready to have your mind blown…..ALL the cards play this special tune, though they each have their own interpretation….