Like so many oddball ideas, this one hatched at Forbidden Island, our local Tiki Bar. I needed a cover for a local magazine's December issue, and how does one capture the spirit of the holidays – all the holidays? Something for everyone? Melding traditions took me to melding families, which took me, inevitably, to the Brady Bunch. Maybe a Brady Bunch of holidays? But, who could model all of these themes equally well? Only one name came to mind. Fezzilla.
Who is Fezzilla you ask? He's the Atomic Tiki Monster. Far more socially adept than his more famous cousin Godzilla (talk about anger issues…), he's even got his own Facebook page: http://www.facebook.com/#!/profile.php?id=100000157756330 This is one serious lounge lizard.
So, I talked to my friend Chad Martens, who happens to be the best 'Zilla Tamer around. We discussed this needs of the project, and he offered to wrangle some 'zillas in to studio, each celebrating some facet of the holiday season. Here are the results. First up, Fezzilla himself. Fezzie wields the Festivus pole, and sports his tiki necklace, ever-present Mai Tai, and, of course, his fez.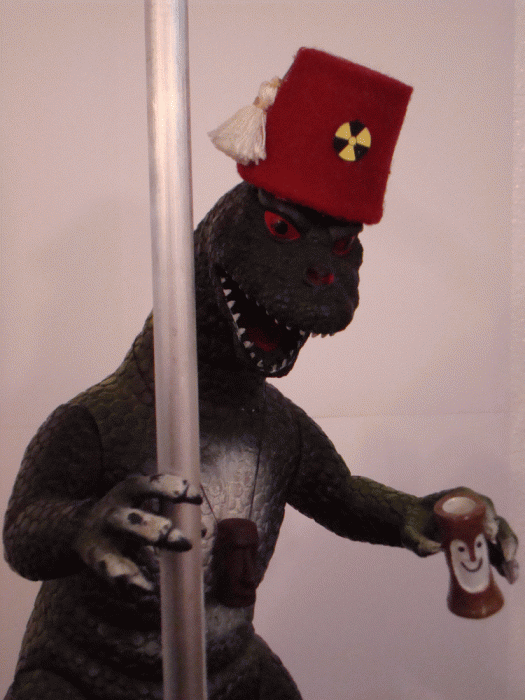 Next, a mensch if their ever was one, Herschel Zillawitz, aka Jew-zilla. Jewie is a member of the management team for Meshugga Beach Party, the world's premier Jewish Surf Music Band. He helps keep an eye on the merchandise table at gigs.
Next up, one serious swinging super soul salamander, Kwanzilla. He sports a cool kufi hat, because this is one lizard who knows where it's at.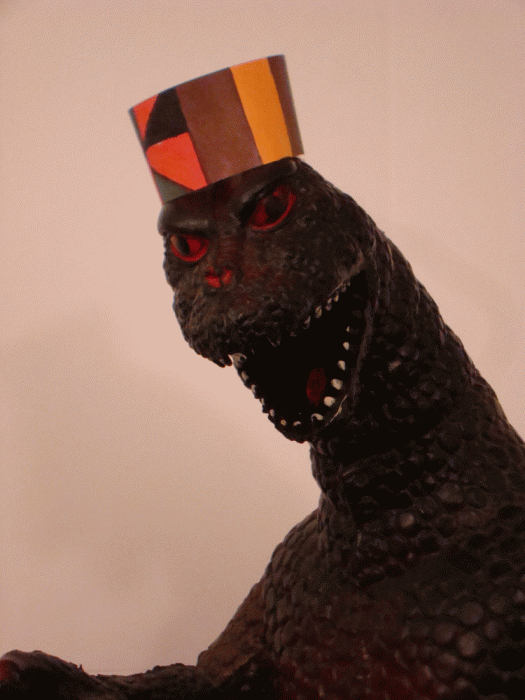 Next down the pike is Randolf the Red-Nosed Zilla. Generally the quiet, reserved type, he's got a great sense of direction, so long as your destination is demolishing Tokyo.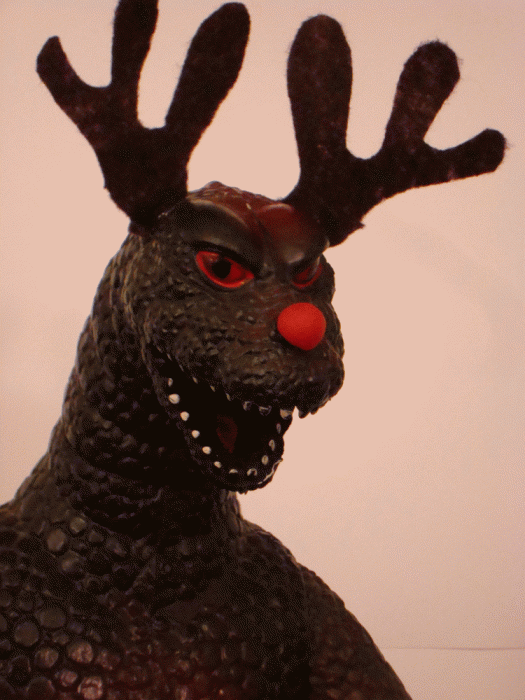 Here's Elfzilla, hard working crafts-lizard. It's amazing the fine detail work he produces with three claws – thank goodness the atomic transformations provided him with an opposable thumb.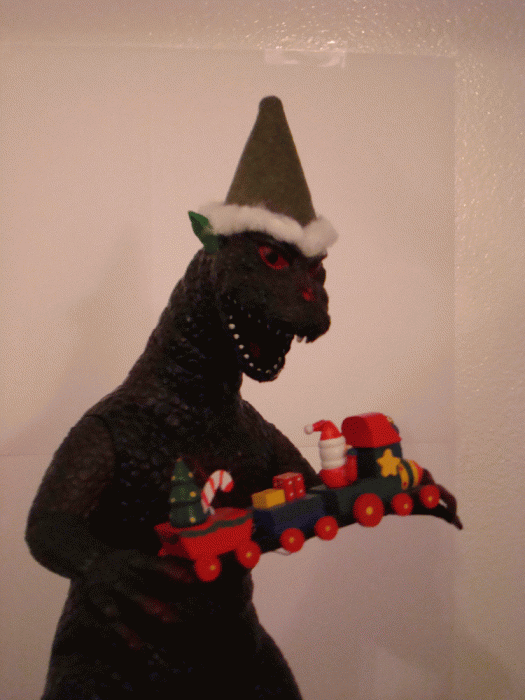 Last but not least, the BMOC, the jolly giant himself, Zilla Claus. Being a cold-blooded kat, his workshop is in the glowing depths of Bikini Atoll.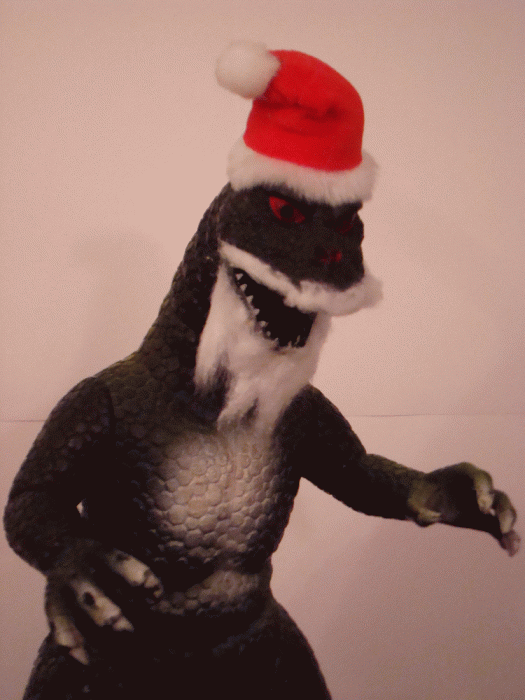 A candid from Zilla Claus' workshop, when Elfie and the gang surprised the big guy with a gift of his very own.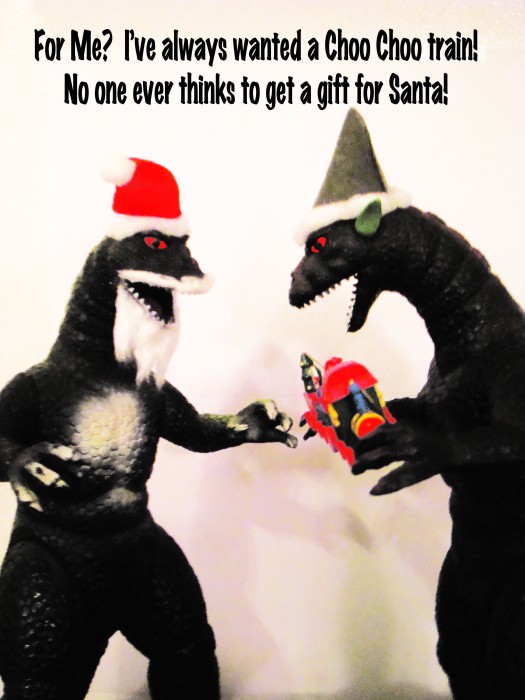 Here's the final result of the photo shoot. You'll notice that in addition to the characters you've already met, two of the PAs on the project were caught on camera getting amorous under the mistletoe.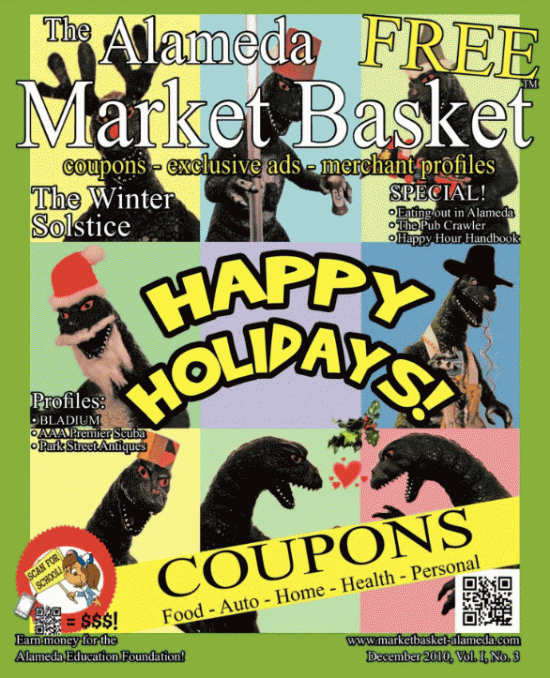 Of course, none of this would have been possible without the hard work and expertise of Chad Martens, 'Zilla Tamer extraordinaire. Ever a man of action, here he is keeping the gang in line.