I collect Vintage Barbie dolls, and I have since I was about 11 years old and bought my first one at an antique fair at the local mall.  I love Barbies, but I also love the crazy, knock-off, cheap-o dolls of mostly unknown origin that try to make a buck off of Barbie's popularity.  I've amassed quite a collection of these "clones" over the years, and I thought you might enjoy seeing them.  They vary vastly in quality and style, but are almost as CHEAP as possible.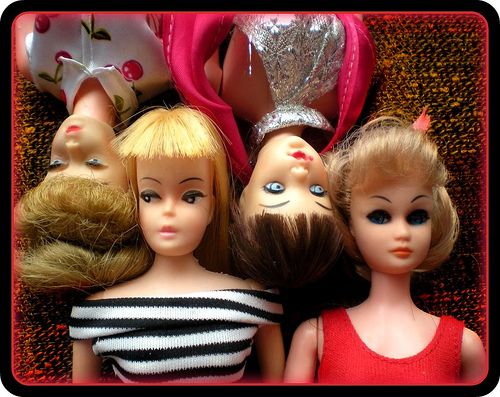 Four little clones… all with cheap0 plastic bodies that are very cheap plastic and with bits inside that rattle around from when their limbs were forced into their torsos.  They are all by different makers.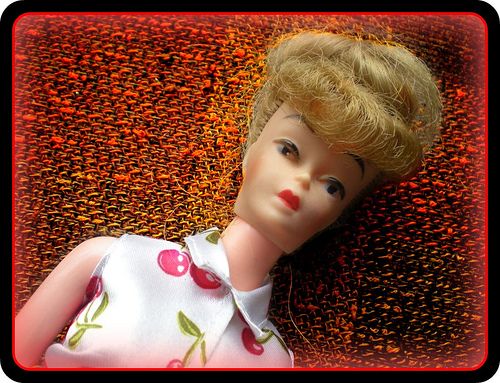 This one.. I THINK is "Mitzi" by Reliable Toys.  I could be wrong though, so don't quote me on that.  I call her Joan.  She looks like Barbie's mother who smokes and drinks too much while listening to soaps on the radio and halfheartedly doing housework.  Despite her cheap, CHEAP construction, she has a pretty complicated hairdo that is like a donut of hair wrapped around something hard sticking out of the middle of her dolly skull.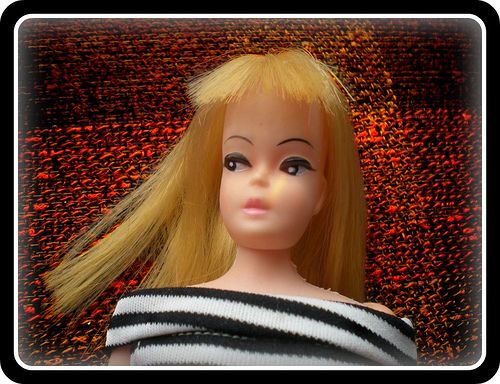 I call this one Vanessa.  When Barbie got her "MOD" makeover, they gave her a new, younger-looking face.  This doll kept a face that looks like old Barbie, but as you can see, she has MOD Barbie's hairstyle.  I really like this one and she's one of the ones I bought when I was running around flea markets in High School when I probably should have been in class.  (Don't tell anyone about that.)  Technically, this doll is called "Peggy Ann," or "Princess Grace."  She is made by Princess Grace Dolls, Inc.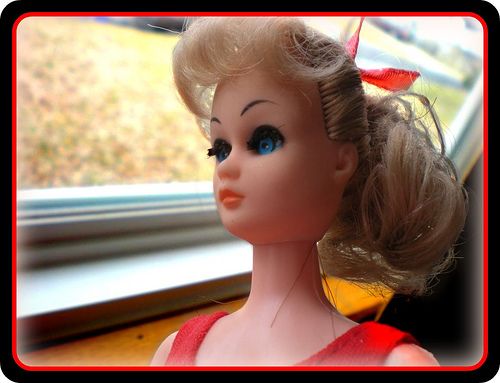 This one.. I tried to photograph a little differently because she is really hilarious.  Her eyelashes are rooted so long that they hang out the back of her neck!   You can see them there in the picture.  Also, additional eyelash hairs come out of the back of her head and are gathered up into her ponytail!  Despite that, she is probably the best quality doll of the bunch… with high-quality thick hair and a nice grosgrain ribbon in her ponytail.  And rooted eyelashes, of course.  Also, her legs are really weird, so if you try to sit her down, she sits totally spread-eagle.  I believe this is her original swimsuit.  She is "Maxi-Mod" by Shillman Toys.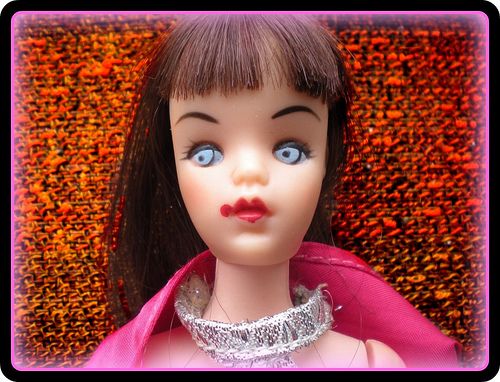 This is definitely the craziest of all my clones.  I call her Carrie, because she looks like a psycho beauty queen.  I believe this gown might be her original dress.  I LOVE her sloppy lipstick and vacant expression.  She is mega-cheap and another find from long ago when there was such an awesome flea market near my school!  Gosh I miss that place. : P   I believe this doll was made either by Reliable Toys or Valentine Toys, it's hard to say and I haven't found a definite lead on this one.
More to come!