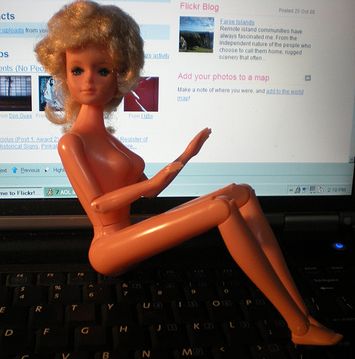 This is a clone doll I got when I was a kid.  Apparently she was sold in the UK, so I have no idea how I ended up with one.  I think her name is Betty and she was made by a company called TONG.  She is actually pretty good quality with joints and rooted eyelashes.  Her hair is kind of 1970s-Dolly Parton style and I think she should be a country singer.  Excuse her nudity, I took this picture for a doll identification group, because I didn't know who she was.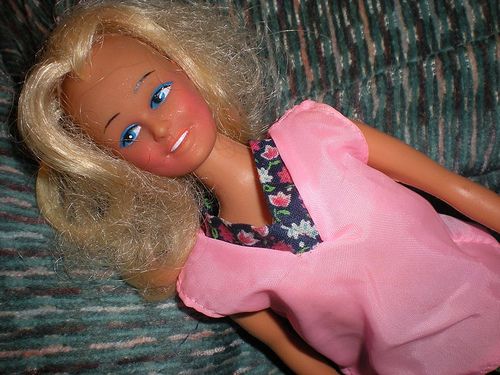 This is a clone doll from when I was a kid.  Her weird face always kind of bothered me.  I put blush on her, that's why her face is so pink.   She was a VERY popular clone throughout the 80s, being made in dozens of variations and sold at every store that sold Barbie, as well as drug stores and dime stores, etc.  Her name is Sandi and she was made by Totsy Toys.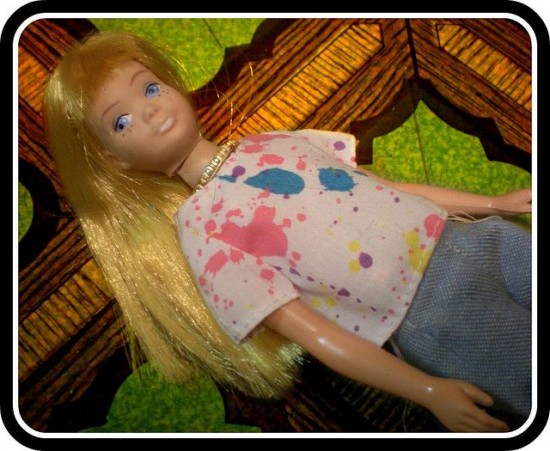 Barbie was not the only doll ruthlessly copied by unsavory companies.  This doll, Miss Kitty, is a blatant rip-off of Barbie's sister, Skipper, made by the unscrupulous company, Cragstan.  They even somehow used the exact same head and body molds, probably totally illegally.  The Miss Kitty line also copied some of Skipper's clothes exactly.  You can tell her from a Skipper because of her freckles, and also because she is super-cheap and missing the Mattel markings.  I really love Miss Kitty dolls, she is as popular as real Skipper with collectors!  (I should also note that there are Barbie clones that used stolen molds as well, I just don't have any of them.)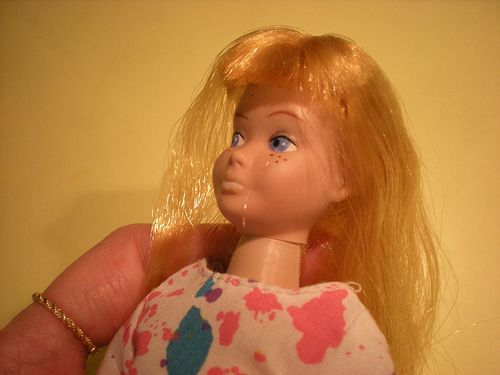 A close up of her face for you guys… she really looks like a real Skipper doll.  My mom brought me this one home from the fleas one day when I was sick.  The doll was filthy and her hair was BLACK.  But she cleaned up really well, as you can see.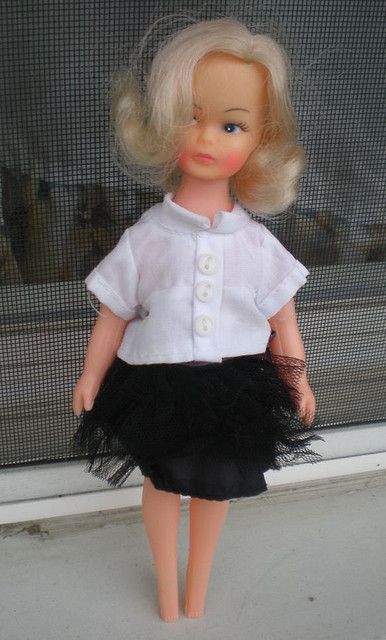 This Skipper clone was sold widely in dime-stores and craft stores from the 1960s until probably the 1980s with no noticeable change.  I don't know anything about her maker, but I have about a half dozen of them.  They were generally sold with cheap clothes or nude so that you could knit them an outfit or something.  They came in a lot of hair colors.  They are really annoying to dress because they are so cheap that their legs don't even move.  And, despite looking like a little girl in all respects, they have high-heel feet which are nearly impossible to shoe.
That's all for now, I hope you enjoyed my clone collection. =)  I'm always on the lookout for more, be they clones of Barbie or any of her friends.  No doll is safe from the hands of the clone-making toy companies.