Well, it's turban time. I can not tell a lie. I've always loved turbans. They come in many forms and they always look so fabulous. While I may not have quite the dramatic and lovely bone structure required to pull off such hats, I have not let it stop me from wearing them…Sure, they might look better on Chandu and Jambi, but I've never shied away from getting laughs in any way I can…Yes, these are some of  my favorites and yes, I used to wear them. Hopefully I will again soon!
This is beautiful and in fabulous condition! I love that it mimics a fez just a bit, but maintains a chic and swinging sixties vibe…It's all velvet and on the smaller side so it sits high on my large head. It did fit better when I was bald and I have to say it looked twice as cool (or ok, funny) then too….No hair to distract the eye! :D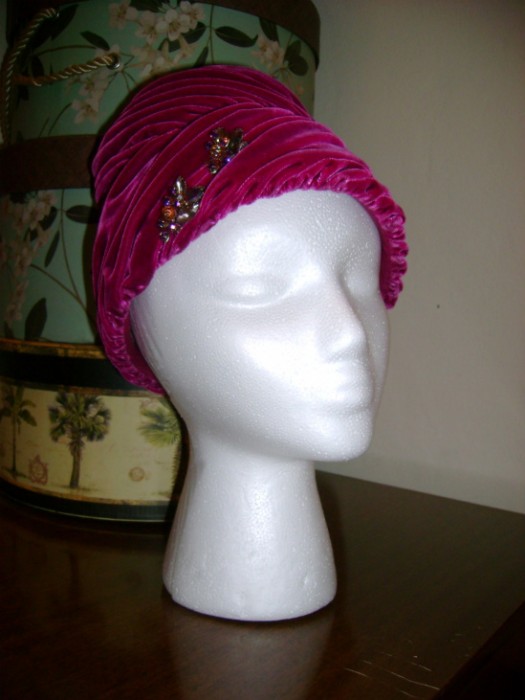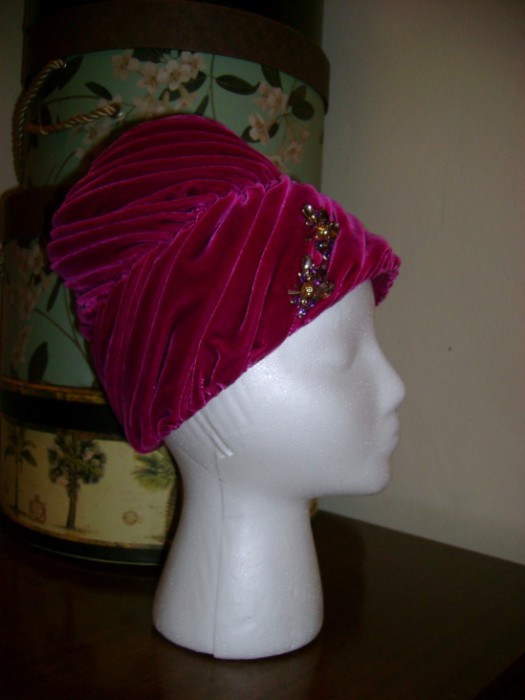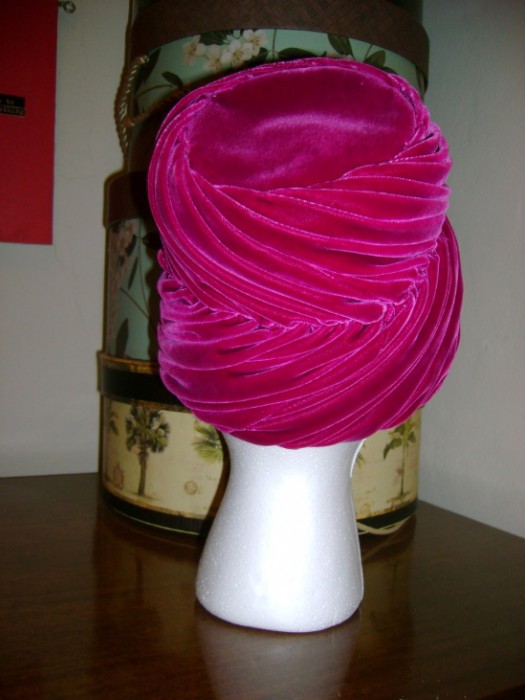 This is an all time favorite. The color is so amazing and the style is just gorgeous. It's an electric orange color and I just love it so,so much! I have worn this rarely as I'm hell bent on keeping it perfect and velvet is so sensitive. OK, and the truth is, the outfit I like to wear with it doesn't fit anymore :) Maybe someday…sigh…..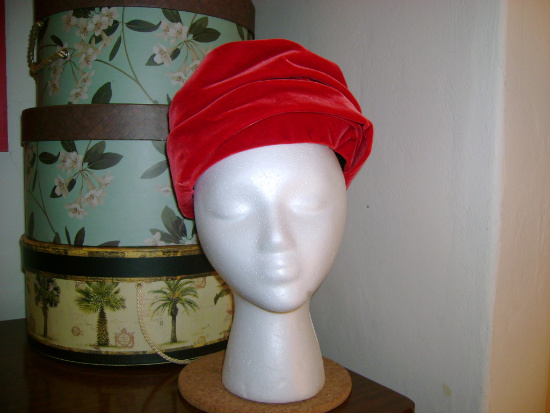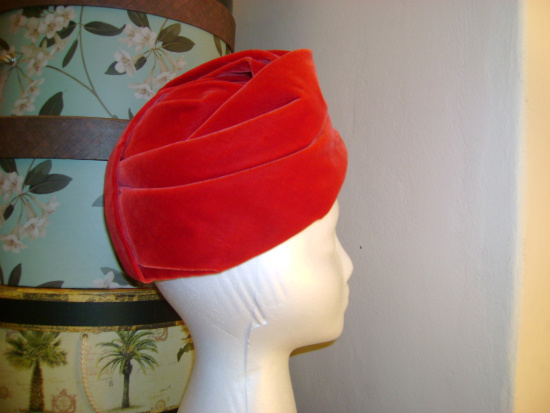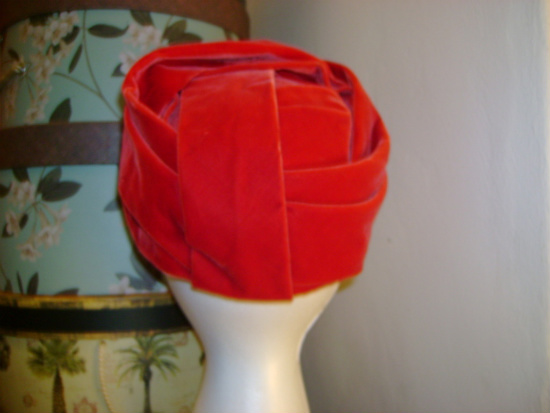 Johnny Carson has nothing on this last hat. This also looks great on a bald head and it's HUGE! I truly love this hat and yeah, it's pretty hard to be sad while wearing it! It's two colors of raspberry velvet and it's very structured. The thing in the front is actually an enormous brooch, so it can be removed, but would you!?!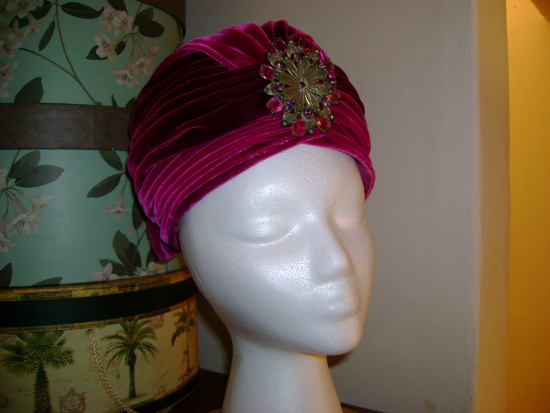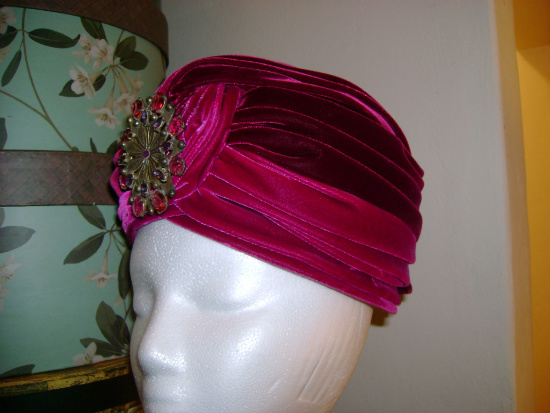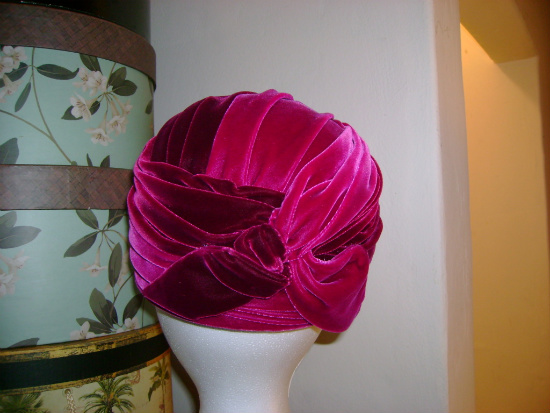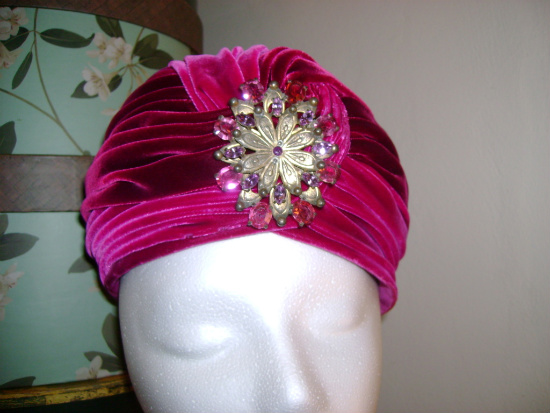 Ah yes, an honorable mention:
This hat is from the 90s, but it has a nice story so it belongs here. It fell off the back of a truck in Harlem and a friend of mine happened to see it happen…The hat was snatched up and waved in the air wildly during a half-a-block foot pursuit that ended with the truck speeding away…It was subsequently given to me as I'm the hat hoarder and it needed a bit of love…Poor old abandoned hat! You're home now…..:)