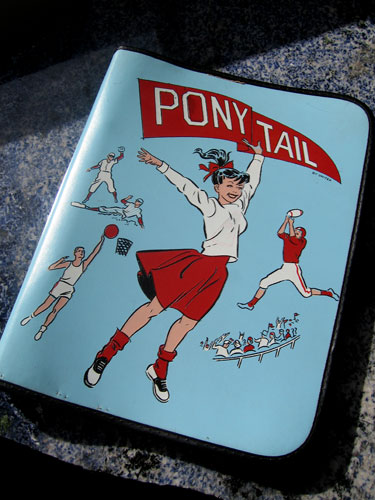 In the lexicon of kitsch, 'cheese' and 'cheesy' are words often used to describe objects that grace the highest echelon of kitsch itself. As if there wasn't enough cheese to go around on Super Bowl Sunday between the dedicated–to–the-point–of-Camembert headgear and face paint that loyal fans wear to the game, the obscene price of tickets, the even more obscene money dumped into commercials, the melted cheese on the pizza and hot dogs… it's a veritable wheel of Brie when throngs gather around the TV screen or freeze in the stadium to watch people ram into each other insuring that life after 50 will be spent in the maximum amount of pain possible.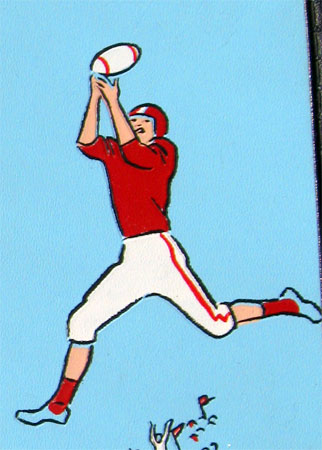 Although I happen to own the pert little 1950's looseleaf pictured above, that purchase had much more to do with celebrating teenage years in an innocent age than celebrating February's favorite sport. So I thought I'd take a tour of eBay today and see what football kitsch was available to anyone in a shopping mood who might want to sprinkle a little more cheese on their Super Bowl Sundae. Here are my Top 20 Cheddar picks:
Without question, this simple, homemade and very brown tribute to football lamp ranks high: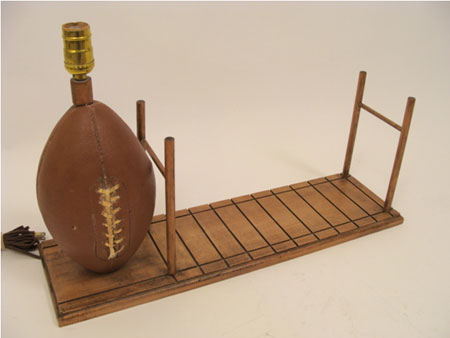 Although if I had my choice of only one thing it might be this stuffed Houston Oilers cheerleader: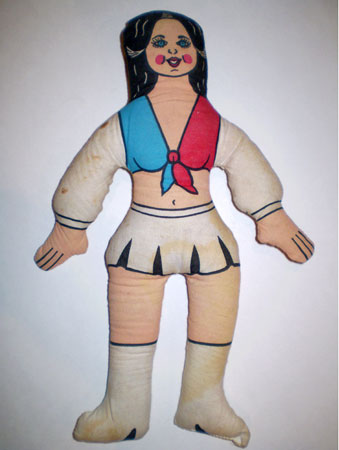 I wonder if her sport skills include this?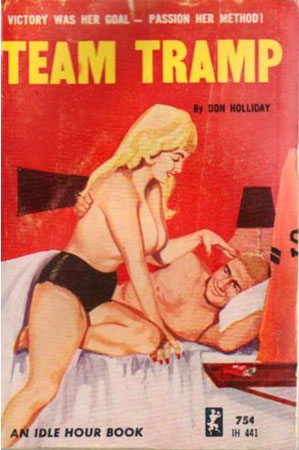 I think the designer of this tee-shirt, listed on Ebay as "vtg-80s-RaBBiT-FooTBALL-BoW-BuNNY-CuTE-SWEATSHIRT-S_M" might definitely have such a skill:
I doubt that's what  Mickey had in mind though…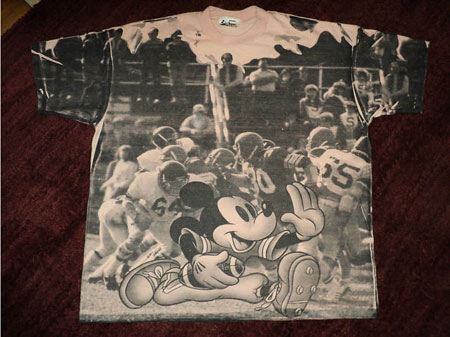 …or this dork who I never want to see in a football jersey or anything else again: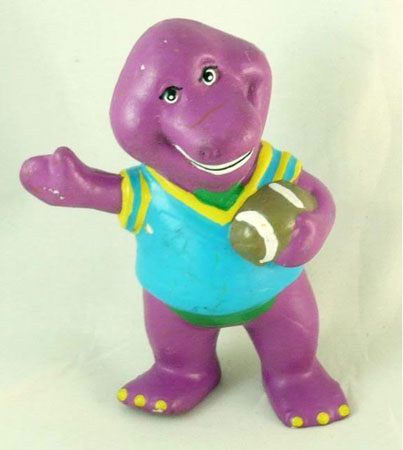 Same with this guy: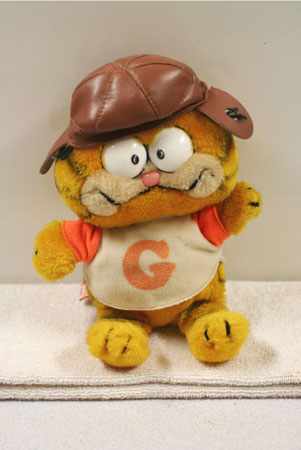 When it comes to plush, I'll stick to balls.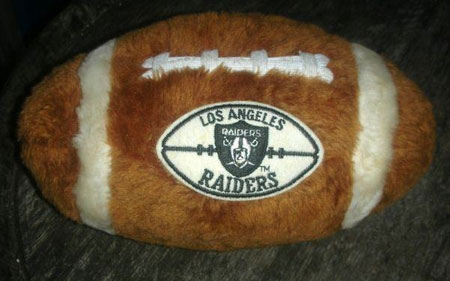 The one on top of this 1970's Avon bottle isn't bad: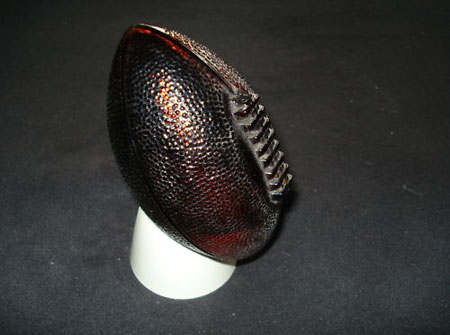 I never thought of a football as ergonomically shaped, so this phone can't be too comfortable to hold in your hand: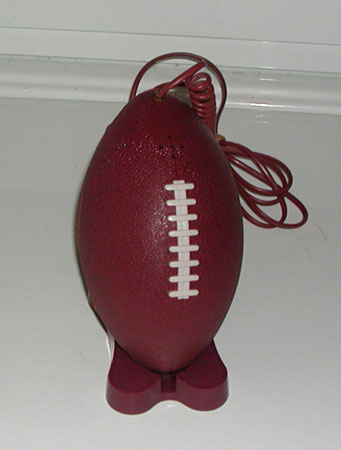 Whoever hand-beaded this tiny little football charm was very comfortable with a glue gun in their hand: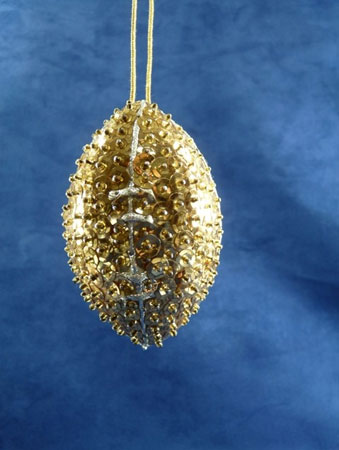 I wish it had been a football phone or glue gun that were in this juiced up football player's hand instead of what we all know was in it in 1994: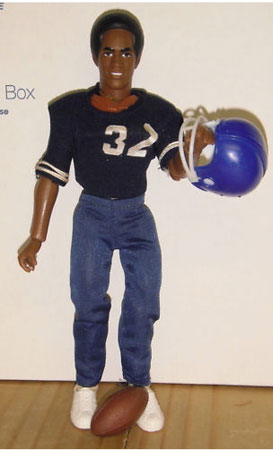 How completely ugly is this Treasured Times football frame?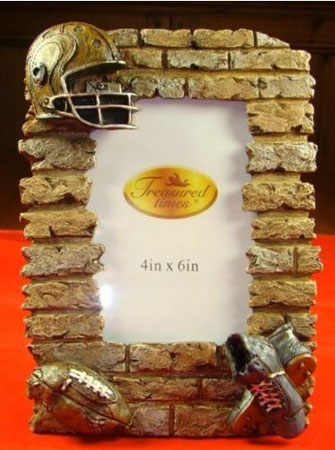 And how completely inappropriate is a football in the hands of this little 1961 porcelain Christmas angel?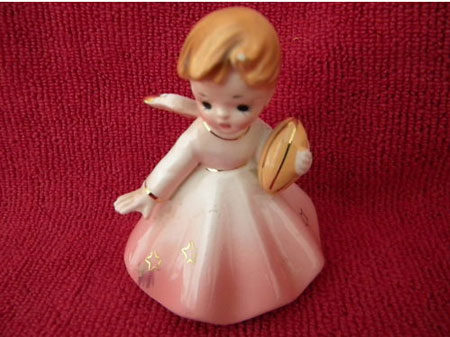 And how completely dumb is it to permanently mount a glass on top of a football helmet, albeit a miniature one?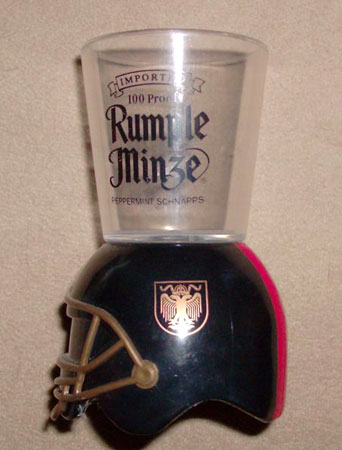 How completely ugly, inappropriate and dumb are fanny packs under any circumstance, any time and any place?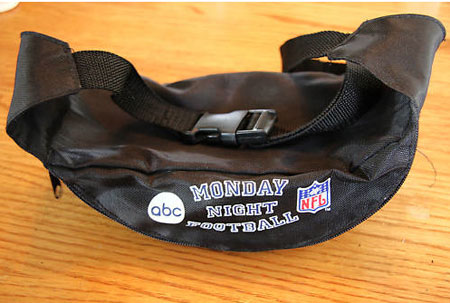 But how completely perfect is this football positioned as a towering head in order to sell this vintage protective device?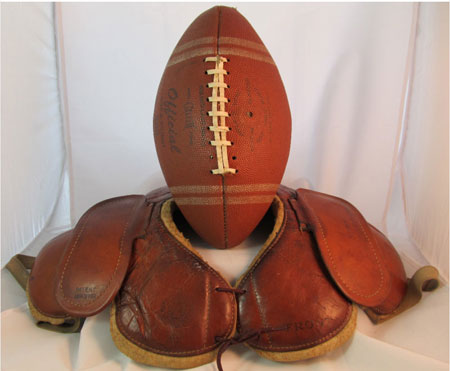 Also at the head is the football on this 1950s Dazey  butter churner: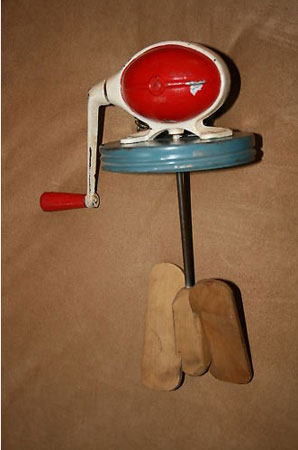 While you're churning your butter perhaps you'd like some beer.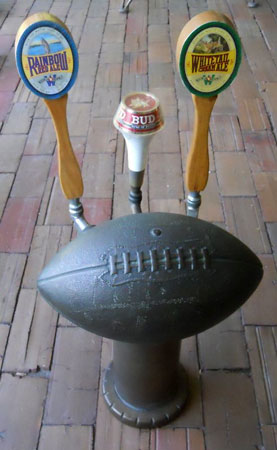 But don't drink too much or you may end up with hips like this player: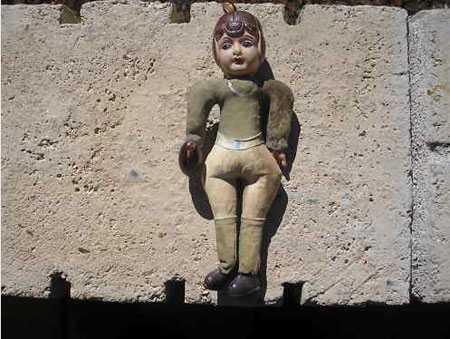 Throw a little whiskey into the brew and  it could be an early Valentine's Day: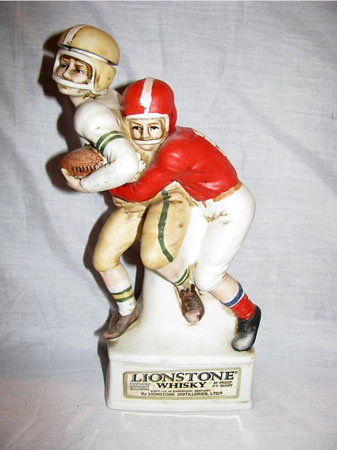 May you be enjoying all the cheese possible this Superbowl Sunday!