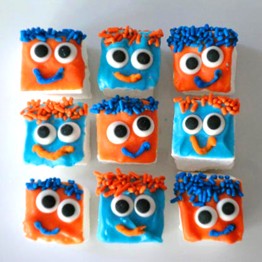 For me, there's always been something inherently kitschy about marshmallows. Whether  I'm around a campfire and toasting them, enjoying notes held by plastic s'mores refrigerator magnets or the mighty awesomeness of a jar of FLUFF,  marshmallows are like chewy, sugary snowflakes. No two marshmallows are alike and the stuff that they're made of is as mysterious as the Mona Lisa's smile:everyone thinks they know what it is, what it's made of and what it's about – but when it comes down to it, no one is really sure.
Imagine how I squealed with gleeful delight when I discovered that a friend from high school had taken these amazing culinary wonders to their next logical level – designer, gourmet delights. Presenting: Mitch Mellows.
Marshmallows flavored as Pretzels and Beer!, Wasabi Mustard, Covered with fun faces, or in colors that would thaw out the frozen head of Walt Disney.  AND THEY DO CATERING! It's all found at http://www.mitchmallows.com/ (they even have a heart shaped box with heart shaped marshmallows for for heart attack day, I mean Valentine's Day. How cool is this?