Ok, I'm bringing out the big guns now inspired by a conversation with Allee about Fluff last night (it's kind of long, bear with me). :)
I've been a fan of Fluff all my life. I grew up back East and always had a steady supply of Fluff on hand for a variety of things, Fluffernutters (natch), to top hot cocoa, and of course, my Mom's Annual Christmas peanut butter fudge.
In the mid-90s, I moved to Berkeley, California. No Fluff available. I repeat, no Fluff available. Grocery stores tried to convince me that Kraft Jet-Puffed Marshmallow Creme was a suitable substitute for this brand they could not provide me. It. is. not. and it never will be.
Late 1995, I wrote a letter to Durkee-Mower Co. and asked them some hard-driving questions:
1) Is Lynne White, the company spokeswoman who you send a quarter to and get a Fluff cookbook from, real? I asked because she had been on the package for as long as I could remember and at some point, they stopped using her (Betty Crocker-like) image. Perhaps, I inquired, was she named for the town Fluff is made in, "Lynn", Massachusetts and 'white' for well, the white stuff we know and love.
2) Why only a quarter? Cost of production and postage must be higher than that!
3) Why no Fluff in California? Something about hippies and too much health food here…
4) Where can I get Fluff merchandise?
———-
I received an answer, on embossed Fluff stationery no less…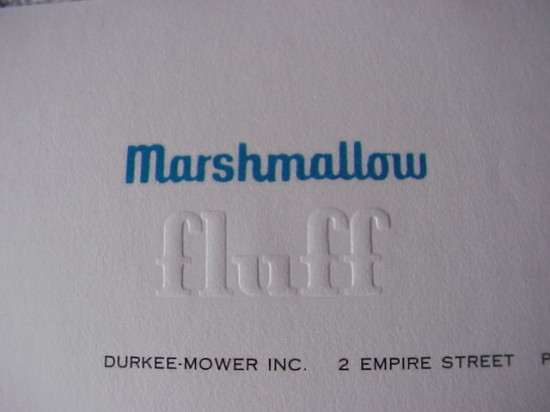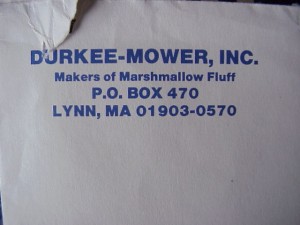 Apologies for the quality, it was 1996 after all and my first digital camera saved images on a floppy disk. I will translate for you:
February 12, 1996
Ms. Blazenhoff:
Congratulations, you are the first writer to have decoded the origin of Lynne White's name. She has been with us for over fifty years, but still maintains her youthful, attractive nature. She has also been fired a few times for someof the letters she has written in reply to customers complaints that were not favorably received.
I think the only reason that we charge $.25 for the recipe book is that it is too little for the mail department to steal but enough to eliminate those who want a complete freebie. Obviously, it is a loosing proposition because the booklet and envelope alone cost nearly $1.00.
Unfortunately, we have no Fluff paraphernalia at this time, but that may change sometime this year.
For your convenience, we are enclosing an order form which you can use to educate some of your California friends. It may be some time before Fluff is distributed there primarily of the introduction costs.
Thanks you for your letter and interests as well.
Yours very truly,
"Lynne White"
Cut to 2010…when I found Fluff distributed at Cost Plus World Market in Oakland, California. I waited a VERY long time to get my fix easily.
Over the years, friends and family would send me jars of Fluff. Two friends, who flew to Boston for their honeymoon, asked if there was anything I wanted from home and of course, I said Fluff. So, they thought it would be funny to bring home a case of it for me. When stopped at airport security screening, the woman asked "What is in this box?" and they explained it was for a friend that couldn't get Fluff on the West coast. She told them she loves Fluff and was horrified that it wasn't available everywhere. Then she upgraded them to first class.
These days, I stock up whenever I'm in Oakland and always have some for friends to try and even a jar to take home if they want. Every party I host, there is a dish with Fluff in it. Last year, my graphic artist boyfriend gifted me with an awesome pop art Fluff jar poster for the dining room. I'm not being funny when I say it makes me feel at home.